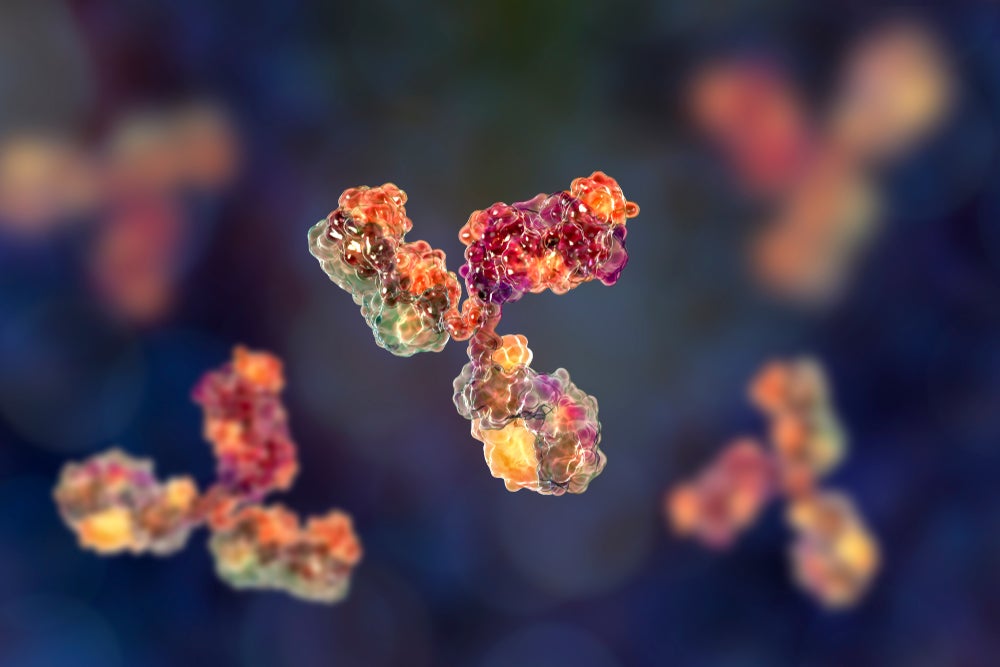 Shanghai-headquartered biopharma I-Mab has signed a partnership with pharma giant AbbVie. The deal centres around further developing and commercialising I-Mab's novel cluster of differentiation 47 (CD47) monoclonal antibody lemzoparlimab for multiple oncology indications.
Although I-Mab will maintain rights to lemzoparlimab in greater China, AbbVie will gain rights to the CD47 monoclonal antibody in the rest of the world. This means the companies will work together on sharing clinical data and exchanging manufacturing expertise, notes I-Mab founder, honorary chairman and director Dr Jingwu Zang.
To date, I-Mab has received $200m from AbbVie in the form of an $180m upfront payment, as well as the first milestone payment of $20m linked with lemzoparlimab's results in a Phase I trial. According to the terms of the agreement, I-Mab will also be eligible for $1.74bn in other milestone-related payments for lemzoparlimab, $600m of which will be received in the near term, according to I-Mab chief financial officer Jielun Zhu.
This deal will help to "fund and accelerate our clinical programmes that are already planned and underway," explains Zhu. "We are currently running 10 clinical trials in both China and the US and we expect that number to increase fairly fast over the next few quarters." This money will also support "our transformation from a clinical-stage company to a truly integrated biopharma company, which is competitive globally."
The company's progress will be further supported by the $418m I-Mab raised in a private placement this month. Investors from both Asia and the US participated in the funding. "Just as the AbbVie deal provides a lot of endorsement to our R&D capabilities and our ability to create worldwide meaningful innovation, having a roster of such reputable investors supporting us at this juncture is good validation for the brand," notes Zhu.
I-Mab and CD47 antibody, lemzoparlimab
Lemzoparlimab is a product in I-Mab's global portfolio. This strategy relies on producing first-in-class, best-in-class biologics using I-Mab's own research and development capabilities in Shanghai. The novel drugs are then studied in clinical trials in the US and China, explains Zang.
This differs from I-Mab's Chinese strategy where "we work with global partners in the US, Europe and South Korea to identify innovative critical-stage assets" and quickly initiate Phase II/III clinical trials in China. I-Mab's lead candidate, which it is hoping to commercialise in 2022, is part of the China strategy: TJ202, a CD38 antibody for multiple myeloma and autoimmune diseases, originally developed by MorphoSys.
Lemzoparlimab is a next-generation monoclonal antibody that targets CD47, often known as a 'don't eat me' signal. A challenge that has undermined CD47-targeting drugs is that CD47 is not only expressed on tumour cells, but also on red blood cells. This means that these products can cause haematologic side effects, such as severe anaemia, Zang explains.
Therefore, I-Mab's team realised that to make a first-in-class CD47 antibody, they needed to make a "CD47 antibody that did not turn to red blood cells". Enter lemzoparlimab.
Zang adds: "This particular antibody is unique because it has a comparable anti-tumour activity to all other clinical-stage CD47 antibodies, but it has a critical differentiation in that it bonds minimally to red blood cells, as compared to other clinical-stage CD47 antibodies that mostly bond strongly to red blood cells."
This was proven in both pre-clinical studies, as well as the Phase I dose escalation study; the latter demonstrated that "our antibody is differentiated because at all the dose levels, the antibody did not induce severe side effects or severe anaemia", notes Zang.
AbbVie as the ideal partner
The promise and attraction of lemzoparlimab as a next-generation CD47 monoclonal antibody is clear, but what makes AbbVie the right partner for I-Mab?
Dr Zang explains the answer hinges around multiple factors. First, "AbbVie is very strong in the oncology space, especially in haematologic malignancies. An expert clinical development team is going to help us commercialise this unique CD47 globally."
Since AbbVie has its own innovative products for haematologic malignancies, this partnership provides an opportunity for I-Mab to combine lemzoparlimab with other products and "establish increased efficacy through synergy", notes Zang. One therapeutic combination being considered is lemzoparlimab plus AbbVie's venetoclax.
In addition, Zang adds, "AbbVie is very strong in the biologics space; they have Humira," the world's best-selling drug. As a result, "they have built technical expertise in antibody manufacturing", expertise which will be critical to facilitate both clinical development and future commercialisation of lemzoparlimab.
Beyond lemzoparlimab
Although AbbVie and I-Mab's partnership centres around lemzoparlimab, according to the terms of the deal, the former has the right to initiate in-licensing of two additional lemzoparlimab-based, CD47-targeting bispecific antibodies that are currently being developed by I-Mab. To do so, AbbVie would need to pay I-Mab a minimum of $500m in upfront and milestone payments.
One of the bispecific antibodies is composed of a cytokine granulocyte-macrophage colony-stimulating factor attached to lemzoparlimab, whereas the other sees checkpoint inhibitor programmed death-ligand 1 added to CD47. They are both designed to treat solid tumours.
Zang explains: "We felt many years ago that CD47 antibodies alone would be sufficient for haematologic malignancies, but in order for CD47 to work better for solid tumours, you need a second component, which is why we generated these bispecific antibodies".