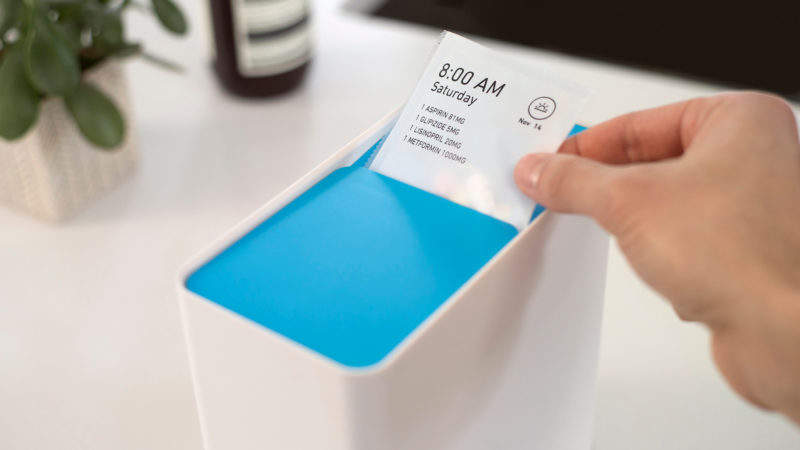 The US pharmacy industry has been bracing for an Amazon-shaped avalanche for several years now. The online retail giant has been dropping hints – albeit rather mysterious ones – implying its interest in entering the healthcare market for a while, from high-profile healthcare hires and joint ventures to launching online over-the-counter (OTC) drug sales in Japan and even reportedly setting up a secret health tech lab looking into remote healthcare and electronic medical records.
At the end of June, the curtain on Amazon's healthcare plans was partly raised with the company's announcement that it has struck a deal to buy online pharmacy company PillPack. The deal, which is expected to close in the second half of 2018, is reportedly worth $1bn. This represents a triumph for PillPack, which was valued at $361m as recently as 2016.
The proposed deal prompted a flurry in the market, sending Amazon's share price up by 2.5% and wiped almost $15bn in market value from pharmacy sector giants such as Walgreens Boots Alliance, CVS Health and Rite Aid. With that many billions knocked out of the industry by a single $1bn deal, some observers have noted that market may have overreacted to the prospect of Amazon's arrival, while others have argued that this outsized reaction reflects a sea-change that will fundamentally change the dynamics of the market.
So what are the implications of the deal that could be troubling to the traditional pharmacy titans, and could it change the retail drugstore business forever?
Amazon and PillPack: digital dream team
After years of speculation, what is it about PillPack that makes it so well-suited as Amazon's vehicle into healthcare? On a fundamental business level, the two companies seem to complement one another well.
Like Amazon, PillPack takes a strongly customer-oriented approach to its online pharmacy model. PillPack subscribers can have their prescription or consumer drugs delivered direct to their door, with daily doses pre-packed in individual sachets that are pulled from a dispenser. In addition to the convenience of home delivery, the user-friendly packaging of medicines is designed to make it easier for patients – especially elderly people – to take the right dosages at the right time.
"Recently, we're looking for well-run companies with highly-differentiated customer experience, and a real sense of customer obsession that matches ours," said Amazon chief financial officer Brian Olsavsky on a July earnings call, transcribed by Seeking Alpha. "We think PillPack has got all those traits, and we look forward to the deal closing and working with them."
Although PillPack's revenues are still small by Amazon's standards – the company expects to achieve around $100m in sales in 2018 – it brings one crucial component that Amazon has so far been missing: wholesale pharmacy licences in all 50 US states. Amazon has previously struggled to gather these licenses, having reportedly been licensed in only 12 states before the deal. PillPack will unlock nationwide licenses and bring with it a stable and growing business, allowing Amazon to do what it does best – scaling up to dominate the market.
"PillPack has the content while Amazon has the market access," says GlobalData healthcare analyst Atif Nawaz. "Amazon will be able to scale the business much better compared to anyone else within the space."
PillPack provides a value that wasn't only spotted by Amazon. CNBC reported in April that Walmart, America's top retailer, was in talks to acquire the online pharmacy before Amazon swooped in to clinch the deal.
US pharmacies: cause for concern
The executives of large US pharmacy chains have generally been sanguine about the Amazon threat, expressing the importance of medical expertise, person-to-person interaction and the market's relatively high barrier to entry.
"Most people are thinking about pharmacy as another distribution point, but pharmacy is also about the clinical outcomes that are provided," CVS chief executive Larry Merlo told analysts last year. "In an environment where there's a migration to more value-based care, those clinical capabilities are going to continue to grow in importance. It's highly regulated, so the barriers to entry are high."
However, just as Amazon has transformed other retail sectors by applying its aggressive business model – high volumes, tight margins, speedy deliveries and a focus on customer convenience – pharmacy seems ripe for disruption as well.
"I think [pharmacies] should be concerned," says Nawaz. "There is a paradigm shift [underway] within the market itself. PillPack offers a service that is so unique in its way – they're creating better patient outcomes by making changes that are minimal and easy for not only patients but pharmacists and physicians. It'll be in the next five to ten years, when all of the people that are purchasing medications want them in a specific way. Once that becomes the industry mainstay, it's very hard to go back."
Despite the relaxed posture of pharmacy execs, the Amazon/PillPack deal is likely to accelerate digital innovation throughout the industry, an already-growing area of competition in the sector. All the major pharmacy chains are developing digital plans of their own, but there has been a noticeable uptick in announcements since Amazon made its move, including CVS rolling out a new telehealth initiative for acute conditions and Walgreens announcing a new digital platform to connect its customers to doctors and therapists.
"Once someone forces your hand in a specific direction, you have to compete," Nawaz says. "If I think something is a minimum as I move forward, if something like PillPack becomes the industry mainstay, and you don't have anything equivalent as an offering, then you can't compete for my business, because I, as a consumer, only have one option."
Healthcare challenges for Amazon
Nawaz is optimistic about Amazon's odds in the pharmacy market, partly because it has stuck to its patch and played to its own strengths.
"[Amazon is] not going completely into left field and saying something like, 'We're going to start making pacemakers, and this is the Amazon cardiac department,'" he says. "So they're staying within the space that they excel at already, and they're tying it into the healthcare industry. That's why this merger will be very important. They're making the right moves. If they start buying companies that don't traditionally make sense in a med tech space, then that would be kind of a red flag. But I think they're moving in a direction that they're sure of."
Nevertheless, there are potential stumbling blocks on the retail giant's road to healthcare hegemony. While acquiring PillPack's pharmacy licenses is a shortcut around many of the industry's regulatory burdens, leveraging a small online pharmacy into the kind of dominant position it's used to will be no mean feat.
Another potential concern in the US market is the prevalence of pharmacy benefit managers (PBMs), which manage patients' prescription drug plans and essentially act as middlemen between the patient and drug manufacturing and distribution channels. An invading Amazon will need to find a way to work with or subvert major players like Express Script, OptumRx and CVS Caremark.
"PBMs are extremely consolidated," wrote Alex Moazed, founder and CEO of marketplace advisory firm Applico, in a July editorial for Inc. "Collectively, PBMs managed some 80% of drug benefits in the US in 2017. And just three companies controlled in excess of 70% of the market. These companies, Express Scripts, CVS Caremark and OptumRx have worked with PillPack in the past, but they will be wary of Amazon's entrance into their industry."
Circumventing these power players will be difficult, and the option of Amazon transforming itself into a PBM itself, while viable, would require a massive investment and a huge capacity increase in medical and pharmaceutical expertise. So finding a way to work with PBMs without compromising its healthcare vision will be a key challenge.
Trust around data could also become a hidden snare for Amazon; tech firms have been guilty of high-profile data breaches in the recent past, and the sensitivity of healthcare data means security will be a key consideration, as well as how far the business can push the use of this data – there will undoubtedly be immense opportunity to incorporate Amazon's traditional retail offerings in its new pharmacy venture, but customer sentiment towards this kind of cross-marketing is likely to vary.
"If you take a look at Google or Facebook, those are the companies that have had lapses in data management just from a consumer standpoint," says Nawaz. "And health data is very important – it's something that people care about, it's personal, and it can have effects on your life.
"If Amazon is able to meet current regulations in addition to meeting the regulations that most countries will come out with as this paradigm shifts, I don't think they'll have an issue, but that would be my one concern."
The prospect of an 'Amazonified' retail pharmacy space may be a distant one right now – brick-and-mortar will remain an important part of the sector for years to come, especially for less tech-savvy consumers – but as demographics shift, an inflection point in digital pharmacy awaits. And whatever happens between Amazon and the traditional retail giants it's challenging, the consumer is likely to come out ahead.