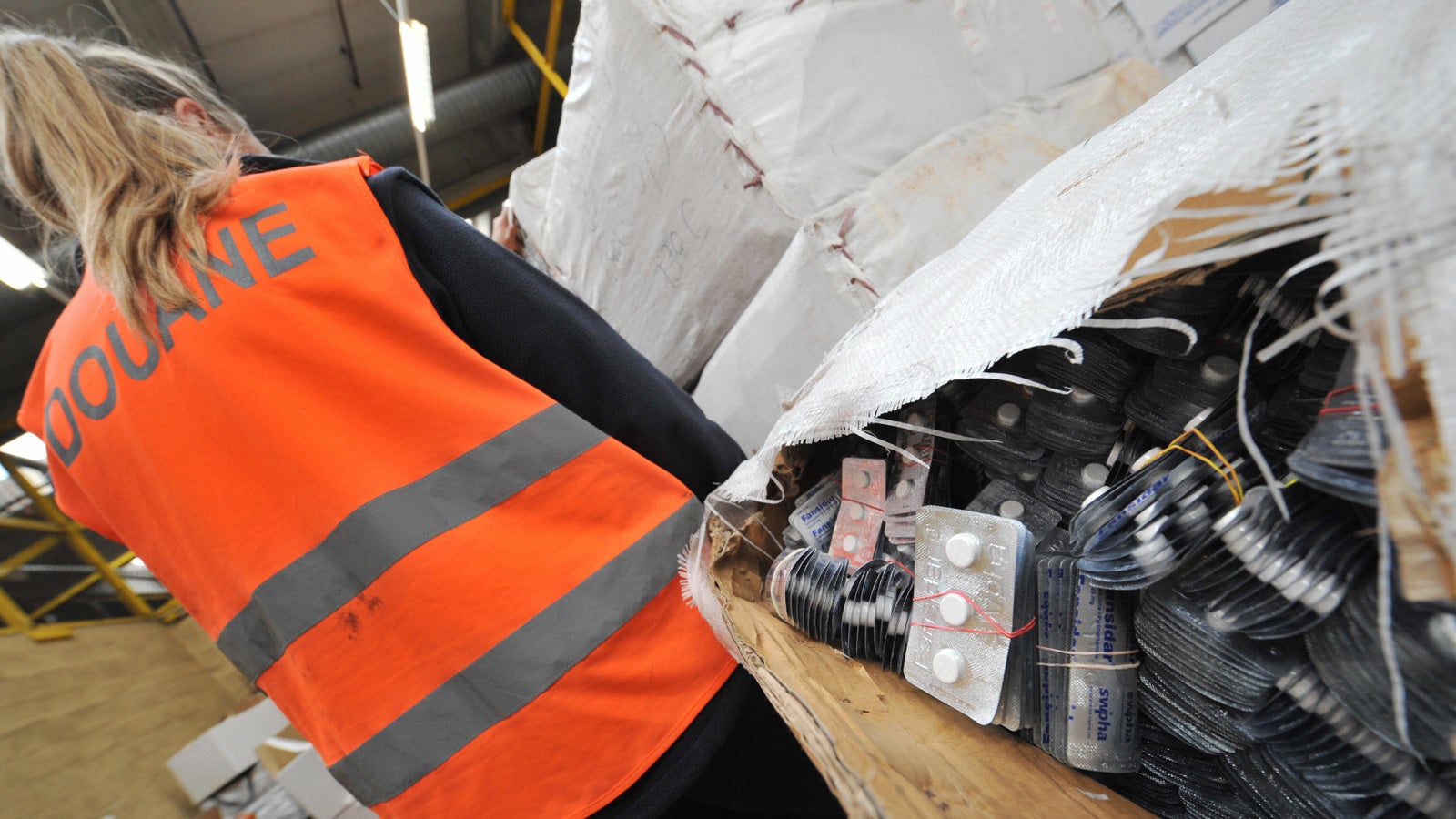 Counterfeit products are a global problem and fake pharmaceuticals are no exception, making up the world's largest fraud market worth over $200bn per year. Large scale fake drugs trafficking requires considerable financial and human resources, but small isolated traffickers engaged in localised illicit sales are also a substantial part of the problem. 
It's not just a matter of lost earnings for pharma companies. When fake products make their way into the supply chain, patients no longer have any guarantee that what they're taking is what it advertises itself as. In the best-case scenario, the fake drugs just won't work. But lead road paint, brick dust, floor polish and boric acid have all been found inside fraudulent pharmaceuticals; in the worst-case scenario, they can kill.
In a bid to tackle pharmaceutical counterfeiting, the EU introduced the Falsified Medicines Directive (FMD) in early 2019. The FMD made digital mass serialisation and tamper-evident design compulsory parts of pharmaceutical packaging production. Random 2D barcodes are generated for each product and verified in the databases of suppliers before going to market. Each barcode consists of a unique number used to identify the batch at the production stage, which is checked against once received and 'decommissioned' at the point of dispensing. 
The database is regulated by the European Medicines Verification Organisation (EMVO) and supported by the UK Medicines Verification Organisation (UKVMO) in the UK, placing responsibility on these bodies to verify each product.
UK-based online pharmacy Chemist Click pharmacist Abbas Kanai says: "FMD is a process whereby all medication is scanned onto a database from the point of manufacture, until the point of supply to the patient. It is an EU-wide legislation and most pharmacists are using FMD and have been for a while now. If the medicine's 2D barcode shows up as green on the system, it is legitimate. If the barcode is red, this means that the medication is counterfeit."
What methods does anti-counterfeit packaging use to combat fraud?
Such packaging-centric legislation means pharmaceutical packaging companies have been a vital part of implementing the FMD, according to Origin Pharma Packaging global head of marketing Rich Quelch.
"Pharma packaging companies have been key players in incorporating these barcodes in line with the new legislation, alongside developing tamper-evident features which are now compulsory," he says. "Digital watermarks are also becoming more widely used, offering an extra layer of protection by providing invisible, encoded data on packaging that can only be verified by specialised software. It can be captured using webcam, mobile phones and other scanning equipment, but is invisible to the human eye."
The big data systems behind traceable pharmaceutical packaging are key to giving pharma companies a to-the-minute understanding of events taking place along the supply chain, from the moment a unit leaves the manufacturing centre to being placed into a patient's hand.
Quelch says: "Advanced tracking systems, built into primary and secondary packaging, is an exciting area of innovation. By managing and recording all the typical activities that occur in the supply chain or designed to cover special requirements, tracking chips can log events or raise queries that occur across a product's lifespan.
"This is invaluable information for anti-tampering strategies, allowing companies to locate and interrogate a product anywhere in the supply chain. For example, the geographical location of a product and the route it took to arrive there can all be captured and stored, thus revealing any unauthorised journey routes or interventions. Collected data can also highlight inefficiencies and bottlenecks which can be addressed to streamline processes and drive cost-savings."
Holograms have a key role to play in fighting fake pharma
Holograms have also been a major component of anti-counterfeit packaging, due to the immense difficulty involved in forging them.
 "When holograms first started being used in this way they really became a deterrent, due to the fact that they're very difficult to make and manufacture," says International Hologram Manufacturers Association (IHMA) chair Dr Paul Dunn. "As counterfeiting increased, they because authentication devices. As you look at a hologram, all sorts of visible changes occur which you can't recreate by photocopying. You can even add machine readable features in there that can be detected by a laser or even smartphones."
The IHMA has acted as a key voice in urging the UK government to implement robust post-Brexit regulations when it comes to counterfeit pharmaceuticals. With the Brexit transition period coming to an end on 31 December, FMD regulation in the UK is set to change drastically – and many stakeholders are worried that there's no real safety net in place.
Dunn says: "The concern from the UK is that come 1 January, that directive will cease to apply. The question is what the UK government is going to do once we don't have access. As yet, we're not aware of what the government's going to do about this. It's just uncertain."
Brexit could leave the UK supply chain vulnerable to counterfeit medicines
The FMD will close in Great Britain at the end of 2020, with pharmacies in Scotland, England and Wales told to ensure their systems are no longer connected to the UK Medicines Verification System by the end of the year. 
This has prompted apprehension from a number of industry stakeholders, with the Royal Pharmaceutical Society warning that the end of FMD could leave the UK supply chain vulnerable to infiltration by counterfeit medicines. Unplugging from the system without a robust backup in place would leave UK pharmacies without access to the EU's central database of medicines, and unable to upload or store product data. 
The Medicines and Medical Devices Bill aims to introduce a new regulatory framework to be updated following Brexit, and includes proposals to develop a UK-only anticounterfeiting scheme. But these proposals are broad and non-specific – not ideal, with less than two weeks to go until they're put into place.
The requirements differ between Great Britain and Northern Ireland due to the Northern Ireland Protocol, which means Northern Ireland remains in compliance with EU legislation requirements when it comes to pharmaceuticals and medical devices. 
Emerging Covid-19 treatments have created a lucrative market for criminals
Concerns that the completion of Brexit could allow counterfeit medicines to infiltrate the UK supply chain couldn't have come at a worse time, with numerous Covid-19 vaccines on the horizon for mass distribution. The huge worldwide demand for these and other treatments, as well as the speed and scale of their output, has created a lucrative market for criminals.
In April, the World Health Organisation (WHO) warned of a surge in fake medicines as a result of the crisis, particularly in the developing world. In the same week, Interpol's global pharmaceutical crime fighting unit Operation Pangea made 121 arrests across 90 countries in just seven days, seizing dangerous counterfeit pharmaceuticals worth over $14m. Three months later in July, Northern Ireland's health minister Robin Swann warned of unlicensed antiviral drugs being illegally imported into the UK via Northern Ireland.
Now that several vaccine candidates have proven highly effective, further avenues for criminals to exploit have emerged.
Dunn says: "The Covid situation really enhances the speed of product in the marketplace and doesn't provide a lot of time to provide all the really high security anti-counterfeiting systems that can usually be put in place."
Still, it's worth noting that a vaccine candidate is highly unlikely to be ready for mass distribution in the UK by 1 January 2021. Even if legislation is ropey to start with, the MHRA is unlikely to sit idly by for the following weeks when so much is at stake. By the time a vaccine is ready to be rolled out, the Medicines and Medical Devices Bill is hoped to be far more robust than it is in its current form.
"It's likely the UK will see similar product regulation to the FMD in some capacity," says Quelch. "If anything, leaving the EU could mean the UK Government places even greater responsibility on the pharmaceutical industry to protect patients from falsified medicine and become a world-leader in tamper-proof design."