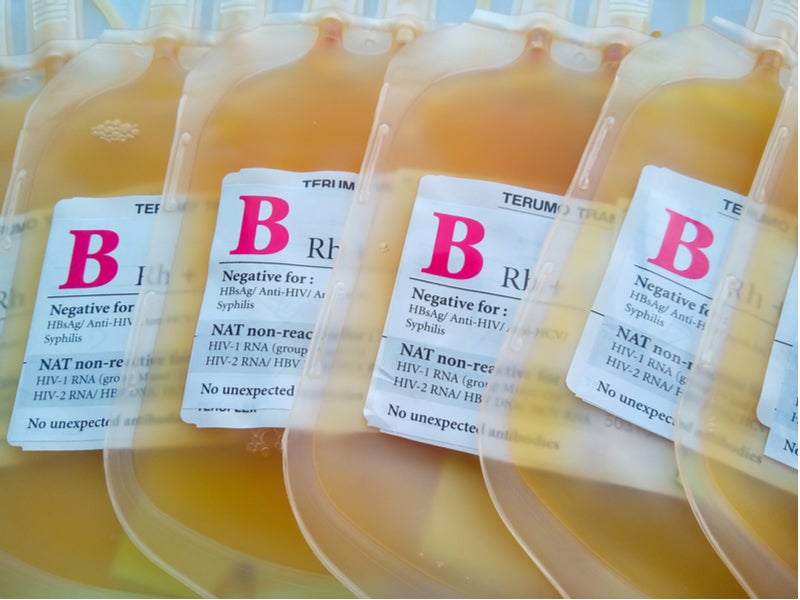 Automation in intralogistics is widely accepted and adopted in the pharmaceutical industry generally, whether that's for raw materials, work in progress or for the finished product. Standards for the storage and transport of delicate blood plasma products are, understandably, high. In Grifols' Dublin facility, Jungheinrich's technology makes sure blood finds itself in the right place at the right time.
One of the warehouse's special features is a cold store bay with a capacity for 1,152 pallets of blood which can be kept as cool as -35° for the safe stacking and retrieval of blood plasma. The second single-aisle, high-bay silo warehouse is set to a temperature of 5° and can accommodate 2,972 pallets. The entire warehouse complex in Dublin is designed for the transport and safe storage of both European and US blood pallets.
Cost of land, availability of resources, and the rapidly changing demand profile of consumers are all driving Jungheinrich's customers towards automation. We asked Jungheinrich UK director of logistics systems Steve Richmond how the facility works, and what similar concepts could offer companies looking to safely and securely store blood plasma.
Chloe Kent: How does the Grifols facility work – what goes on inside the warehouse?
Steve Richmond: Grifols take raw blood plasma from sources all around the globe. They bring in these products, identify them, and then prepare them for storage. There's a high degree of traceability from when the product arrives, it's all bar-coded and traced right through its entire life cycle within the site.
Once they have brought in the raw materials, they're distributed through the processing facility, depending on what type of process they need to go through. There's all kinds of different divisions made to the blood and it goes through various production lines, until it is put into cartons ready for either dispatch or storage. These can be large quantities of items for pallets, or they can be smaller quantities in smaller load handling units, boxes, cartons and that type of thing. Our automation makes sure that we can track and trace that product from when it arrives in the facility, through its life cycle to the end consumer or distribution point. We also keep a history of where the dispatchers have gone to, for batch traceability.
CK: What is the role of the human workers inside the facility?
SR: In terms of goods, receipts and some manual processes there are people who take the products from the delivery mediums and maybe do some quality checks. They'll prepare for the blood bags to be automatically conveyed into storage or processing so we can distribute the products to different parts of the facility. Once they're stored, which is all done fully automatically, products are called forwards, whether it's down to a certain type of process or a certain batch of products. That's all done automatically and then it's distributed to the processing and packaging machinery, and there are man-machine interfaces at those points. At the end of that they're either distributed or they can be routed back into the automatic warehousing and distribution facility. It's a combination of automation and man-machine collaboration.
CK: What are the practical benefits of automating this process?
SR: There's a number of benefits. At Grifols, and indeed other pharma installations, temperature control is really important; one of their stores operates at -35°. In manual warehousing where you've got doors opening and closing and people and trucks going in and out, it's more difficult to maintain the temperature. In terms of maintaining the environments, in terms of humidity and temperature, automated systems have significant benefits over manual systems.
Plus, automation gives you high degrees of traceability control and auditing from the software that is tracking and monitoring the product as it moves around the facility. That in turn gives you a high degree of safety. Millions of pounds can rest on a single pallet of blood in some cases, so you want to handle that pallet very carefully in a very controlled manner. The fewer humans, machines and forklift trucks interact with this product, the better that is. Driving it round on a forklift truck, for example, you want to minimise as much as possible because you don't want any damage to the pallets of the product. Automated stores give you a much higher degree of control in how you handle the product.
You also have a high degree of product security. You don't want people tampering with this type of product. The less access people have got to the raw material or work in progress, or indeed the finished goods, the better.
Also for insurance purposes, insurers will look more favourably on facilities that are automatic, black box facilities. The product goes in and we know it's secure and can't be tampered with. The risk of fire damage is very much reduced; we're seeing a lot of pharmaceutical companies using hypoxic fire suppression systems, which means we keep the level of oxygen very low and make it impossible for a fire to start in the first place.
CK: Can warehouse automation help the industry to save costs?
SR: When people are looking at automation, generally they'll have a higher initial capital investment, that's for sure. But your two biggest drivers are normally reduction in headcount and the land required to build a system. Through automation, you can reduce the number of people that you might employ in the same process, and build up to 45 metres high to achieve much better utilisation of the land.
CK: What is the current demand for automation in the pharma sector?
SR: We are seeing a distinct rise in the number of enquiries we get from the pharma industry, whether it's over the counter, whether it's blood plasma, or whether it's high-end cancer and meningitis drugs. The whole industry is moving at a rapid pace, it is a very dynamic environment that we live in at the moment. Pharmaceutical, in our experience, is one of the more dynamic and forward-thinking sectors within these kind of logistics.