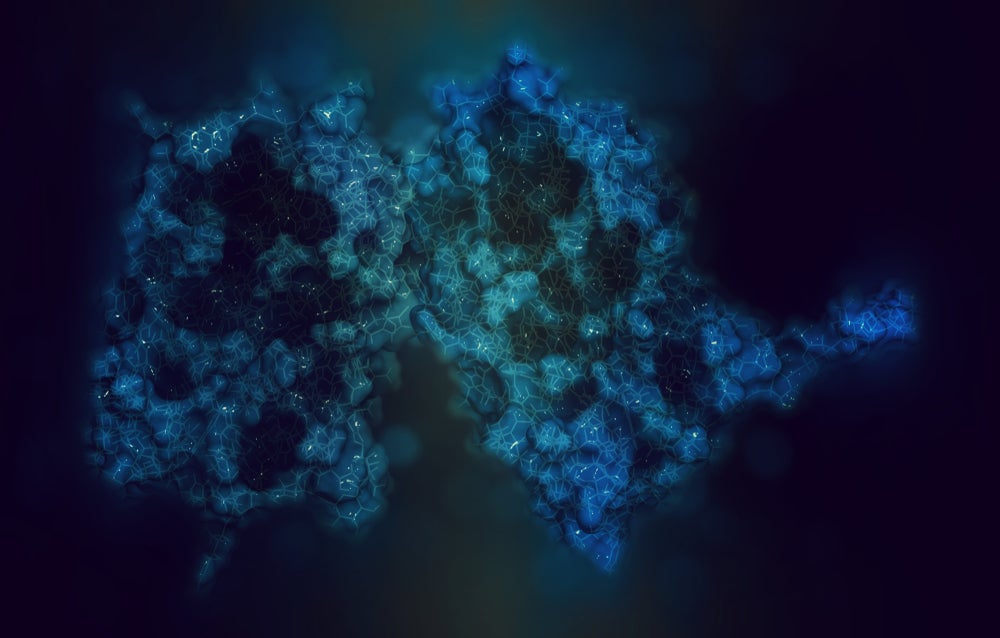 The Covid-19 pandemic has significantly upset clinical development. More than 1,000 clinical trials have been disrupted by the ongoing pandemic, primarily due to issues with enrolment and recruitment, according to GlobalData.
With many countries implementing nationwide lockdowns, it has become virtually impossible for patients to actually visit sites for monitoring.
To ease this burden, many companies have attempted to adapt and salvage their clinical trials by virtualising them, as this allows for remote monitoring of patients and a reduced need for participants to risk moving around during a pandemic.
Synairgen's response to Covid-19
As the pandemic emerged into the mainstream, Southampton-based pharma company Synairgen realised its interferon beta (IFN-beta) drug, SNG001, which it originally developed for asthma and chronic obstructive pulmonary disease (COPD), could play a role in fighting Covid-19.
The company's initial approach was to set up a Phase II trial of hospitalised patients with severe Covid-19. It has recruited 100 patients from NHS trusts across the UK and expects to publish initial results in July.
"It is very exciting to have accomplished that in the context of a pandemic and an over-strained healthcare system," notes Synairgen CEO Richard Marsden.
However, Synairgen believed SNG001 had promise earlier in the infection cycle, and had the potential to stop people suffering a severe lower respiratory tract infection and requiring hospitalisation, Marsden explains.
To test this hypothesis, the company teamed up with Professor Nick Francis at the University of Southampton to set up from scratch a fully virtualised study of the same drug in an at-home setting for those with less severe disease.
"The reason we are doing it this way is about minimising risk to patients and staff," says Marsden. Because of these risks, a virtual trial was the only viable option, Francis adds; there were no attempts by the team to adapt its existing in-hospital trial to include new, moderate patients.
"I don't think we had much choice," says Francis. "Right from the start we were looking at how could we reduce direct contact in a safe and convenient way."
They were helped by enthusiasm from the regulatory authorities; another theme of the Covid-19 pandemic. "They're very keen to see this kind of novel design," Francis notes, particularly given that so many trials are trying to adapt to remote recruitment and assessment, so it is "helpful to see a trial testing out these procedures" from its outset.
IFN-beta and Covid-19
IFN-beta is a protein that orchestrates the body's antiviral responses. There is evidence that older people and those with chronic health conditions have poorer IFN-beta responses, hence why Synairgen has studied SNG001 in asthma and COPD.
"What we saw emerging since January…[was] the people who were becoming very ill were the older people, and those with pre-existing comorbidities," says Marsden.  This is why the company is focusing its two Covid-19 clinical trials on these at-risk groups.
Marsden adds another element that is "quirky" about Covid-19 and other coronaviruses is that they evade the immune system by "suppressing the production of IFN-beta". This was another reason why SNG001 could have real promise in Covid-19, both in mild and severe patients. 
Practicalities of an at-home trial of SNG001
"It's quite a unique setup," notes Francis when discussing the virtual trial. "I'm not really aware of anyone else around the world who's doing the same thing."
To safely carry out an at-home, virtual study, the team had to set up a number of processes. The first was a website that leads possible participants through the screening process before they can join the trial.
The eligibility criteria for this trial are having developed Covid-19 symptoms within the last 72 hours – proven by a NHS or private lab test – and potential susceptibility to complications of Covid-19. Recruitment has been aided by working with several GP practices who have sent out text messages to their patients, Francis notes.
If a patient is eligible and enrolled into the trial, they will remotely monitored by "a virtual network of clinicians, doctors and nurses" using video and telephone calls. Francis explains: "They're on call around the clock…[and] help the patients in administering the drug [using a portable nebuliser] and making self-assessments of their oxygen saturations, as well as doing outcome assessments".
"One of the things that made this possible is the safety profile of this drug," Francis adds. The existing data in asthma and COPD suggest SNG001 is extremely safe and "doesn't interact with a lot of other medical conditions or drugs", which means there was no need to do "additional blood tests before we could give the drug to people".
Scalability of a virtual approach
Marsden emphasises that this virtual trial approach is incredibly scalable; the only thing that needs to change is the number of doctors and nurses doing the monitoring. This has been proven by Synairgen and the University of Southampton being able to move within a month from a local study in Southampton to a nationwide trial.
Taking a nationwide approach has combatted some challenges with recruiting the needed 120 patients that the team at Synairgen and the University of Southampton have encountered.
"The challenge we're experiencing is the number of patients is obviously dropping off at the moment nationwide, but particularly in the Southampton area", which, Francis explains, is why they went nationwide and are now "particularly targeting areas where there's a higher incidence".
Both Francis and Marsden are optimistic about this trial and the promise of SNG001 in the earlier stages of Covid-19. However, Marsden is clear that the challenge of recruiting patients means, unlike with the in-hospital trial, this at-home trial is not going to be finished before the end of summer.