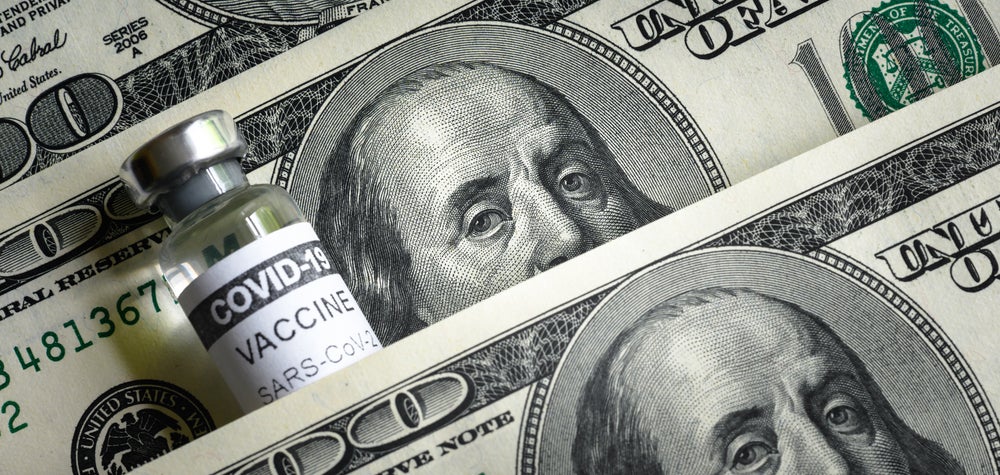 Pharma giant Johnson & Johnson (J&J) has offered its widely authorised, one-shot Covid-19 vaccine to countries on a not-for-profit basis since the jab was first approved – but it appears this could soon change. The company's executive vice president Ashley McEvoy suggested in a recent third-quarter results call that it was looking at moving into a commercial market either late next year or in 2023.
The switch to a commercial pricing model will come after full regulatory approval of the vaccine – J&J's shot is currently only available under emergency use authorisation – but McEvoy indicated that the company is gearing up to file for approval soon.
Major Covid-19 vaccine maker AstraZeneca has also pledged to provide jabs on a not-for-profit basis until the end of the pandemic – though it has reserved the right to decide when that is – while other frontrunners like Pfizer and Moderna have already made a fortune from their coronavirus vaccines.
Vaccine pricing policies
Last summer, Pfizer CEO Albert Bourla told TIME that he expected the company to make a "very marginal profit" at that stage in the pandemic. Just a year later, Pfizer forecasted it would reap $33.5bn in Covid-19 vaccine revenue, following a series of lucrative supply deals with the world's wealthiest countries.
Similarly, Moderna CEO Stephane Bancel said back at the start of the pandemic that "there is no world, I think, where we would contemplate to price [the Covid-19 vaccine] higher than other respiratory virus vaccines". While it's true that jabs for respiratory diseases can carry price tags ranging from tens to hundreds of dollars per dose, Moderna's Covid-19 vaccine is among the priciest on the market, with per-dose costs ranging between $32 and $37 for smaller supply deals.
Both Pfizer and Moderna upped European prices for their products this year; the EU will now pay $23.15 per dose of Pfizer's jab (up from €$18.40), while Moderna is charging $25.50 for doses that previously cost around $22.60. The latter's American-made vaccine is considerably cheaper in the US, where each dose costs about $15, while Pfizer is charging the US government around $24, up from the $19.50 paid in earlier deals.
Bourla told CNBC: "The price from the high-income countries is the cost of a takeaway meal … But for the middle-income countries, we are charging half of this price, and the low-income countries we are charging basically at non-for-profit."
J&J, which is currently offering its jab on a not-for-profit basis, has priced the vaccine at $10 per dose – though the EU is reportedly paying slightly less than other countries, at $8.50. AstraZeneca's Vaxzevria is the cheapest of the leading vaccines, costing as little as $3.16 per dose for Brazil and ranging between $3.50 and $6 elsewhere.
Which countries are paying more for vaccines?
As the debate about vaccine inequity in low-income countries rages on, even nations with access to the leading Covid-19 jabs are paying wildly different prices for doses.
African nations have struggled to secure sufficient vaccine supplies throughout the pandemic, and some are being charged considerably more for doses than their wealthy counterparts. South Africa – the worst hit of all African countries – is reportedly paying $5.25 per dose of the AstraZeneca jab, while European countries are being charged just $3.50. The price tag is even steeper for Uganda, which is reportedly paying $7 for each dose of AstraZeneca's two-shot vaccine.
Earlier this year, Moderna offered its vaccine to South Africa at $30 to $42 per dose – significantly more costly than the $32 to $37 range paid by higher-income countries for the same jab. Botswana's government also confirmed this summer that the country is paying almost $29 per dose, a far higher price point than those agreed for the US and EU.
Colombia, another country hit particularly hard by the virus, is paying around $30 per dose of Moderna's vaccine – double the amount the US has been charged. Analysis by the People's Vaccine Alliance, based on the estimated production costs of Moderna and Pfizer's Covid-19 vaccines, found that Colombia has potentially overpaid by as much as $375m for both companies' shots combined.
Bangladesh is reportedly paying $4 for each dose of AstraZeneca's vaccine manufactured by the Serum Institute of India, compared to the $3.50 paid by EU member states buying directly from the British vaccine maker.
Though some of the prices negotiated between vaccine makers and governments are publicly available, a general lack of transparency regarding vaccine supply deals makes it difficult to scrutinise and understand the discrepancies in fees paid by rich and less wealthy nations.
Commenting on the findings by the People's Vaccine Alliance, UNAIDS executive director Winnie Byanyima said: "Health workers are dying on the frontline all over the world every single day. Uganda alone lost more than 50 health workers in just two weeks.
"A reminder of the time when millions of people were dying of HIV in developing countries because the medicines that could save them were priced too high."
Additional research and data visualisation by Andrew Hillman