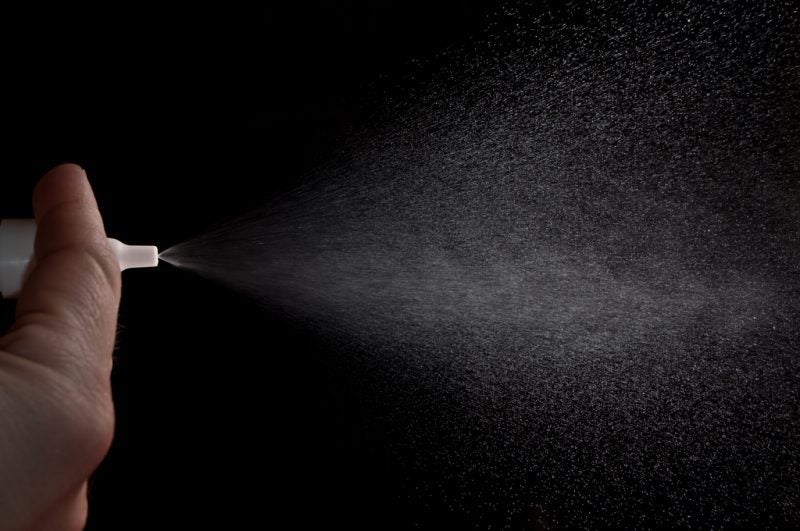 On 5 March 2019, the US Food and Drug Administration (FDA) approved Spravato (esketamine) nasal spray for patients with treatment-resistant depression (TRD). This medication, developed by Janssen Pharmaceuticals, is a first-in-class therapy and the first new antidepressant to be approved in 20 years.
"Esketamine is the first truly novel antidepressant since fluoxetine. It is only the second drug approved to treat treatment-resistant depression," says Tiffany Farchione, acting director of the Division of Psychiatry Products in the FDA's Center for Drug Evaluation and Research. "The esketamine development program received Breakthrough Therapy Designation based on preliminary evidence that it could provide an advantage over existing therapy for TRD."
The need for such a drug is clear. Depression is one of the commonest, and most debilitating, mental health problems out there. In the US, 17.3 million adults had at least one major depressive episode in 2017 (or around 7% of the population).
For many of these people, existing treatments work well, with antidepressant medications setting them on the road to recovery. Unfortunately, a significant minority do not respond to medication at all. Among patients with major depressive disorder (MDD), it is thought that up to a third are treatment resistant.
While the definition is subject to debate, a patient is generally considered to have TRD if they've tried at least two antidepressants, at the right dose, for the right time period, with no let-up in symptoms.
Clearly this represents a major unmet need. One study found that TRD may cost the US as much as $48bn a year (factoring in healthcare costs and lost productivity). In recent years, there has been a growing research focus on novel ways of treating these patients.
How does estketamine work?
In contrast to most other antidepressants – which act via the serotonin or norepinephrine system – esketamine is an N-methyl D-aspartate (NMDA) receptor antagonist, meaning it blocks the NMDA pathway in the brain. While the biology of depression is still poorly understood, it is thought that this pathway could play an important role in the condition.
Unlike existing medications, which take weeks or months to take effect, esketamine has been shown to work very rapidly (within hours or days). As Farchione explains, the ability to detect a treatment difference by Day 2 sets it apart from other antidepressants.
"The treatment effects observed in the esketamine clinical studies were of similar magnitude to the effects for drugs approved to treat MDD," she says. "However, for oral antidepressants, clinical studies to support approval are typically at least six weeks. The esketamine studies were only four weeks, demonstrating similar treatment effects in a shorter period of time."
Of the trials presented to the FDA – three short-term studies and one longer-term study – the evidence base was actually fairly mixed. Only one of the short-term studies showed that esketamine made a statistically significant difference. However, the longer-term trial yielded positive results. This was enough for the FDA to rule that the benefits outweighed the risks.
Ketamine vs esketamine
As the name suggests, esketamine is derived from a much better known drug, ketamine. First synthesised in 1962, ketamine has long been used as an anaesthetic and painkiller (and has also enjoyed notoriety as an illegal party drug).
Since the 1990s, researchers have speculated that it might prove helpful in treating depression, with the first trial taking place in 2000. Early trials showed that ketamine could produce a dramatic improvement in symptoms, and that the benefits of a single dose could last days or weeks.
Since then, there have been dozens of studies exploring the potential of ketamine – not to mention hundreds of psychiatrists who will administer it to patients off-label.
Unfortunately, the path to the clinic has not been straightforward. In 2016, researchers in Australia made a start on what would have been the largest ever randomised control trial into ketamine. Two years later, their pilot study was halted due to unexpected problems with tolerability. They found that its effects fluctuated dramatically between one person and the next.
Janssen took a different tack, by focusing on esketamine. Compared to ketamine itself, this compound appears to be safer and better tolerated.
"Ketamine is a racemic mix, so it contains equal amounts of s-ketamine and r-ketamine enantiomers," explains Alessio Brunello, pharma analyst at GlobalData. "So Janssen has developed this effective drug that has a reduced dose needed to achieve the same antidepressant effect as racemic ketamine, but with an improved safety and toxicity profile."
Safety first: the side effects of esketamine
All that said, esketamine does have side effects. In trials, the most commonly observed adverse reactions were dissociation, dizziness, nausea, sedation, vertigo, numbness, anxiety, lethargy, increased blood pressure, vomiting, and feeling drunk.
There was also mild to moderate sedation, and some patients experienced loss of consciousness (which resolved in most cases within two hours). As a side note, it's hard to say whether this trippy state is in fact an adverse reaction, or whether it's somehow integral to the mechanism of the drug.
In any event, its approval comes with a caveat: the drug is only available through a restricted distribution system, under a Risk Evaluation and Mitigation Strategy (REMS).
"The Agency was particularly concerned about the risk of serious adverse outcomes resulting from sedation and dissociation caused by esketamine administration, as well as the risks of abuse and misuse. The Agency has required a Risk Evaluation and Mitigation Strategy (REMS) to address these risks," says Farchione.
Rather than administering the spray themselves, patients will receive it in a doctor's clinic, and will be monitored for at least two hours. The recommended course of treatment is twice a week for four weeks, with boosters as required.
"At the end of four weeks of treatment, it is important to assess whether the patient's symptoms have improved; if they have not, the prescriber should reevaluate the need for continued treatment," says Farchione. "Before esketamine administration, patients should be instructed not to engage in potentially hazardous activities, such as driving a motor vehicle or operating machinery, until the next day after a restful sleep."
For the time being, esketamine should be used in conjunction with an oral antidepressant; however, Janssen is conducting a study to determine whether it can be used on its own.
How esketamine will affect the depression landscape
The drug's approval is very good news for people with TRD. While many have sought out off-label ketamine treatments, they've had to fund these treatments out their own pocket – and subject themselves to an intravenous infusion. By contrast, this is a nasal spray that should be covered under many insurance plans. (Janssen has said the cost for a one-month course of treatment will be between $4,720 and $6,785.)
It may also pave the way for other treatments that work via a similar mechanism, targeting the glutamate pathways in the brain. Most notably, it will face competition from Allergan's rapastinel, which is now in Phase III of clinical development and is expected to launch in 2021.
"Rapastinel is also an NMDA receptor antagonist, but it binds to the glycine site of this receptor rather than blocking the channel, so it's thought that it's potentially safer than esketamine," says Brunello. "This result has to be proven in clinical trials of course."
Competitors aside, he thinks that esketamine is likely to perform well commercially.
"Esketamine will reach a very good phase by 2025 I think," he says. "Since it is partly reimbursed by the insurance system, that's a positive point for the market side of the drug."
If all goes according to plan, we can expect to see esketamine approved in Europe next year. There may be a second indication too – Janssen is currently investigating whether esketamine works for patients with suicidal ideation.
"TRD is a debilitating and life-threatening condition with limited treatment options. FDA has a responsibility to facilitate development of drugs for such conditions, and to make them available to help patients," says Farchione.