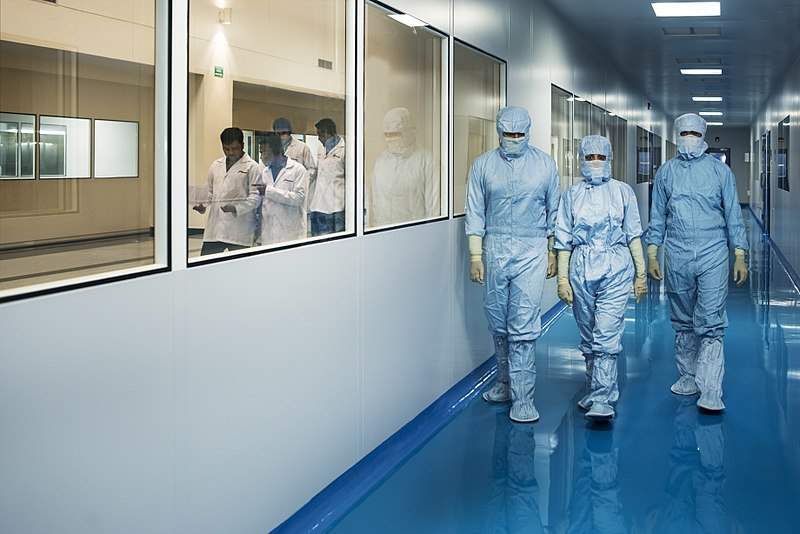 India has firmly established itself in the global pharmaceutical market; it has been predicted that India will be the sixth largest market for pharmaceuticals by 2020, and the country exported pharmaceutical products worth more than $17bn in 2017-8.
Indian pharmaceutical companies are especially known for producing generics, identical copies of branded drugs marketed under different names once the patent for the original drug has run out.
Many of these companies are starting to move into the global biosimilars market. According to Associated Chambers of Commerce of India's 2017 report, biosimilars are worth $2.2bn out of the $32bn total Indian pharmaceutical market and are expected to reach $40bn by 2030, which represents a 30% compound annual growth rate. This growth will be aided by a range of biologic patents expiring in the next few years.
Biosimiliars are medicines that are highly similar and clinically equivalent to complex, biologic medicines approved for use against serious and life-threatening diseases in fields including immunology, gastroenterology and oncology.
They differ from generics because they are similar, rather than identical, to the original, branded medicine. However, like generics, they are more affordable versions of the branded drug – sometimes as little as 0.04% of the originator price.
Biosimilars in India: successes to date
India's first biosimilar, a vaccine for hepatitis B, was marketed and approved in 2000, according to the global Generics and Biosimilar Initiative (GaBI); more than a decade before the US Food and Drugs Administration (FDA) approved its first biosimilar.
Approximately 70 biosimilar products have been approved in India and, according to GaBI's list, more than 25 have been developed in India since 2000.
The promise of the market for biosimilars in India is reflected in the many major global pharmaceutical firms establishing partnerships with Indian companies.
Swiss-based Roche withdrew Herceptin indicated for human epidermal growth factor 2 (HER2) positive metastatic breast cancer and gastric cancer from the Indian market and instead entered into an agreement with Indian firm Emcure. Emcure then marketed the drug under the name Biceltis in India.
Global pharmaceutical company Mylan, which has a large generics portfolio, has a long-standing biosimilars partnership with Bangalore-based Biocon. They have made significant progress in getting biosimilars approved in Europe and the US. In the first quarter of the 2018 financial year, Biocon recorded 36% revenue growth to $120m from its biosimilars business.
Biocon and Mylan's fulphila (trastuzumab), a biosimilar of Neulasta indicated to minimise febrile neutropenia while cancer patients undergo chemotherapy, was approved by the US FDA in June 2018. This is the first biosimilar produced by an Indian company to be approved in the US. Fulphila is currently under review in Australia and the European Union.
The success of Indian companies has been spurred by government subsidies for creating biosimilars in India. The Indian Government has also sought to ensure and approvals in the country is consistent with regulations elsewhere to make it easier for Indian companies to gain approval in other jurisdictions. In 2012, India's Central Drugs Standard Control Organisation published regulatory guidelines for biosimilars, with revised guidance added in 2016.
Dr Reddy's Laboratories executive vice-president of biologics Dr Catikeya Reddy said in an interview with Biospectrum India: "The CDSCO has issued guidelines on biosimilars which provide granular clarity on the requirements at different stages of development as well as bringing in procedural simplifications.
"In most other Emerging Markets, on the contrary, limited regulatory maturity has meant that the emergence of biosimilars has been delayed significantly with each country attempting to strike a balance between the high bar being set by the EU and US, which would mean long expensive programs, limited competition and minimal price reductions."
Challenges to producing biosimilars in India
Despite successful development and marketing of biosimilars in India and by Indian companies, research and development (R&R) departments continue to face challenges in developing biosimilars. As well as differing from generics because they are similar rather than identical to the branded drug, biosimilars are much more complex and expensive to create.
Therefore, pharmaceutical companies in India primarily focused on the development and production of generics need to adapt their R&D manufacturing processes since they are producing more than simply a copy.
Biosimilars are subject to stringent clinical timelines because biologic products are subject to clearly defined regulatory procedures that require large-scale, comprehensive clinical programmes proving their safety and efficacy in treating the indicated disease. The process needs to be highly controlled to ensure quality across the system.
"Biosimilars are highly complex molecules manufactured by living cells," Reddy told Biospectrum India. "Their manufacturing needs to be managed through a highly controlled processes and manufacturing environments because of the risk of even minor variations introducing unacceptable changes to product quality. This entails a high focus on quality across the entire manufacturing process and raw materials, equipment used as well as the people who undertake the process.
"Significant investments are required in setting up these facilities as well as increasing capacities, so it is imperative to ensure facilities are fully utilized in order to keep costs under control.
Biocon managing director Kiran Mazumdar-Shaw noted that bringing a biosimilar to the market in India can cost more than $150m, with 80% of that money spent on R&D.
She explained in an interview with Forbes India: "A biosimilar can do the same job as the biologic drug. Therefore, the efficacy, safety and immunogenicity of such drugs are important factors. They require extensive clinical trials and studies over hundreds of volunteer patients, which is expensive.
"[Through] the approval for biosimilar trastuzumab by the US FDA, we have demonstrated that strong commitment alongside deep pockets are needed to make breakthroughs in biosimilars," Mazumdar-Shaw told BusinessLine.
The novelty of the biologic and biosimilar development process makes it difficult for new companies to enter this space. Four of India's largest pharmaceutical companies, Dr Reddy's Laboratories, Cipla, Lupin and Aurobindo, have created and now market approved biosimilars.
As more Indian pharmaceutical companies develop the capability to produce biosimilar products amid a stable regulatory and legislative regime, this barrier to entry will gradually be lowered.
With a larger slice of India's pharmaceutical sector embracing biosimilar development in the coming years, it would not be surprising to see the country build as a strong a position in biosimilars as it has in the generics space.
For patients and healthcare systems worldwide waiting on more affordable versions of life-saving biologics drugs, a strong biosimilar market in India could be just what the doctor ordered.