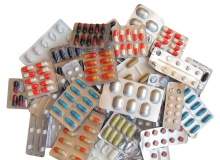 Pharmaceutical company TauRx Therepeutics last month started to enrol Alzheimer's patients in a third-stage clinical trial for its experimental new drug LMTX.
The company announced it would be going ahead with vital third-stage trials in October which are needed for regulatory approval, saying it will test LMTX on 1,300 people in 21 different countries.
It will be a two-phase clinical trial, testing people with mild Alzheimer's and people with mild-to-moderate Alzheimer's, with the goal of halting the progression of the disease.

Last month the European Parliament voted in favour of a trade pact between Israel and the European Union that will allow easier access to medicines from both markets.
The Agreement on Conformity Assessment and Acceptance of Industrial Products (ACAA) was passed after a two year delay, and will provide EU patients with access to life-saving drugs at lower cost, while boosting EU pharmaceutical exports to Israel.
There had been concerns that upgrading trade relations might undermine the EU's condemnation of Israeli policy towards Palestinians, but 379 MEPs agreed on Tuesday that removing trade barriers will be beneficial to both constituencies.
A drug compounding company embroiled in a US meningitis outbreak repeatedly failed to uphold basic sterility measures, officials in Massachusetts said.
The New England Compounding Center (NECC) – which is believed to be responsible for 29 deaths and 368 diagnoses of meningitis – sacrificed sterility procedures in order to ship drugs around the country more quickly.
The company even failed to wait for drug sterilisation results to come back for a batch of steroids implicated in the meningitis outbreak before shipping them. Operations at the company have since been suspended.

Teva Pharmaceuticals were asked last month by the US Food and Drug Administration to stop shipping a generic version of a bupropion anti-depressant, after analysis revealed it does not work properly.
Analysis of the drug was prompted after patients complained of reduced efficiency after being switched from Wellbutrin XL 300 to its generic counterpart, Budeprion XL 300.
Further investigation revealed Budeprion XL 300 releases its key ingredient much faster than Wellbutrin XL 300, which is made by GlaxoSmithKline.

Boehringer Ingelheim Pharmaceuticals last month agreed to pay $95m to resolve allegations that it promoted three drugs for medical uses they were not approved for.
The settlement ended a Federal False Claims act lawsuit which claimed Boehringer Ingelheim falsely promoted stroke-prevention drug Aggrenox, chronic obstructive pulmonary disease drug Combivent and the high-blood-pressure drug Micardis.
The claims were brought to the Maryland court by whistleblower and former company sales representative, Robert Heiden, who will received $17m of the payout.
More than £6.5m worth of counterfeit and unlicensed medicines were seized around the world in October as part of an international crackdown coordinated by Interpol.
In the UK alone, the Medicines and Healthcare products Regulatory Agency (MHRA), in conjunction with the UK Border Force, discovered more than 2.3 million doses of unlicensed medication worth £3.8m, plus 68,000 doses of counterfeit pills.
During the week-long international crackdown, called 'Operation Pangea V', 79 people were arrested worldwide.

A powerful painkiller was found in the toxic venom of the black mamba snake, scientists in France said.
The venom, said to be as powerful as morphine but without most of the side-effects, is able to abolish pain through the inhibition of acid-sensing ion channels (ASICs).
Snake toxin activating ASICs in nociceptive neurons have been recently shown to evoke pain, but a research team at the Institute of Molecular and Cellular Pharmacology near Nice discovered the opposite was true when ASICs are blocked in central or peripheral neurons.

Two US cardiologists who discovered vital information on how cells in the body respond to chemical messages were awarded the Nobel Prize for Chemistry.
Dr Robert Lefkowitz of Duke University Medical Center and Dr Brian Kobilka of Stanford University School of Medicine were honoured on the 10 October by the Royal Swedish Academy of Sciences for their breakthrough work. They were informed of the prize by phone.
Before their breakthrough, it was widely known that hormones controlled cells.
However, Lefkowitz and Kobilka, through their research, effectively discovered how to unlock this process so medicines such as beta blockers could be created.
---
Related content
---
A new Alzheimer's drug study begins as an inquiry into a UK organization is planned, while scientists make new discoveries involving snake venom. Pharmaceutical-technology.com wraps up the key headlines from September 2012.
Pfizer and GSK fought against law suits, while UK scientists discovered a life-saving pill. Pharmaceutical-technology wraps up the key headlines from July 2012.
---