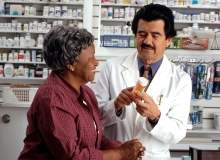 The pharmaceutical industry has been responsible for a host of medical miracles over the past century, from disease-eradicating vaccines to revolutionary new treatments for a wide range of cancers and long-term chronic conditions like diabetes. Research undertaken by private pharmaceutical companies and bio-tech firms, alongside public research institutions, has improved the length and quality of millions of lives.
In light of the industry's achievements, it's natural to think of it as something of a sacred cow, a special case that should, to a certain extent, be given extra leeway to ensure it can continue bankrolling life-saving medical innovations. That status also makes it easy to forget the price tag that comes with many of these innovations – a price tag that has been rising steadily over time.
The trend for soaring prices
In the US, for example, annual cancer care costs are expected to rise from $104bn in 2006 to $173bn in 2020, according to the American Society of Clinical Oncology. A major component of that increase is the rising number of cancer diagnoses along with other factors, but with data from the Memorial Sloan Kettering Cancer Center showing that 15 cancer treatments launched in the last five years cost more than $10,000 a month, and many existing drugs getting pricier every year, the fact remains that the cost of innovative, patent-protected drugs is becoming increasingly difficult for patients and cash-strapped health systems to cover.
Of course, a core component of rising drug prices is built into the system we've created. As more and more blockbuster drugs slip over the patent cliff to face the plummeting prices that generic competition brings, it's all the more important for companies to maximise their profits on drugs that are still IP-protected. According to data from the IMS Institute for Healthcare Informatics, price rises on existing branded drugs accounted for $20bn in the industry's sales growth for 2013, just enough to cover the $19.3bn in lost revenues due to patent expiration.
The mounting cost of drugs has provoked a debate that penetrates to the heart of the pharma industry's business model, including the funding of innovative research and the balance that developed economies have struck between the interests of drug innovators, healthcare providers and the patients that they exist to serve.
---
---
Big Pharma is increasing the amount of clinical trial data available to researchers, but do the new EFPIA and PhRMA rules go far enough?
---
Drug licensing and the cost debate
One recent flashpoint in this wider debate was sparked by a University College London (UCL) School of Pharmacy report, published in March 2014, called 'Licensed to Cure? Public and patient interests relating to the use of unlicensed products as comparators in cost-effectiveness appraisals of licensed medicines'.
The report, which was led by the School of Pharmacy's professor of pharmaceutical and public health policy David Taylor, questioned the use of unlicensed, 'off-label' alternatives – drugs that might have the same therapeutic effect as more expensive treatments, but are not specifically approved for the condition being treated – for the sole purpose of saving costs.
In the context of the UK, Taylor and co-authors Tina Craig and Jennifer Gill criticised the National Institute for Health and Care Excellence (NICE), the UK's health technology assessment body, for implicitly or explicitly recommending the use of off-label alternatives to save money. While acknowledging NICE's vital role in the UK's health system and emphasising that this practice is unlikely to have harmed public health, the report argues that undercutting proper licensed drugs with unlicensed substitutes "[challenges] the integrity of medicines licensing, and may threaten overall public interests in sustained innovation". After all, if licensed and patent-protected medical innovations are consistently undercut by cheaper stand-ins, what incentive is there for pharma companies to invest millions in new, high-risk R&D?
It's a reasonable conclusion, on the face of it, and it certainly tallies with European law, which stipulates that unlicensed medicines should only be used if they are likely to give the patient an extra clinical benefit. However, the report soon received vocal opposition from medical aid organisation Médecins Sans Frontières (MSF), which primarily provides aid in developing countries and has long campaigned for better access to quality medicines.
MSF's medical innovation and access policy adviser Katy Athersuch maintained that the report, which was primarily funded by pharma giants Bayer Healthcare and Novartis, formed "part of a wider campaign to increase drug prices across Europe. In calling on NICE to abandon its narrow focus on the NHS budget, the report says that the only answer to innovation and new medicines are ever-increasing prices. This is simply not true."
"15 cancer treatments launched in the last five years cost more than $10,000 a month."
Licensing and intellectual property: protecting innovation?
In the aftermath of this minor skirmish, Taylor is keen to downplay any hostility, stressing the importance of MSF's work providing aid to communities in crisis, as well as its campaign to improve access to treatment. "It's important to rise above petty conflict," he says.
Nevertheless, Taylor is a staunch defender of licensing laws and the pharma industry's right to recoup its costs and fund new research through high prices when patented drugs hit the market. "The core essence of [MSF's] campaign is about better access, which I'm in agreement with," he says. "The way it can get mileage is sometimes to be talking about intellectual property [IP] as if it was wrong, because that's topical. If you just went along with populist ideas, what you get is the things we've got, distributed as cheaply as possible. But you'd have undermined, in fact, the long-term capacity to do better."
Taylor also rejects any aspersions cast regarding the report's sponsorship by two of the industry's biggest players. All funding was channelled to UCL and the authors made no personal gain from the project. "Was it part of some international conspiracy? No, I just tried to tell the truth as I saw it," he says.
So what is the truth as Taylor sees it? He certainly doesn't contend that off-label drugs should never be used, and notes that the practice can be "very sensible", especially in tricky therapeutic areas where even the best treatments have uncertain outcomes. Developing countries should receive special consideration, too. "Where we have a drug that is genuinely life-saving and poor people need it, where the industry I think has genuinely moved on, is we recognise worldwide now that it's unacceptable not to supply," Taylor says. "But we have to find a way of doing that, which doesn't ruin the research funding process."
At its heart, the argument for protecting big pharma's profits through strict licensing and IP is about safeguarding private innovation under the existing drug development system that modern society has built over the last half century. "If you've got skilled pharmacists differentiating between a licensed and unlicensed product and making a judgement, then the immediate health risk isn't higher," says Taylor. "The risk is to your research process and the ongoing innovation. That's how you kill people – by slowing down innovation."
---
---
Clinical trials are the bedrock of medical research, but recruiting patients to fill trials has become increasingly difficult.
---
The value of ideas, and who should fund them
A fundamental issue with the public perception of drug pricing is the yawning gulf between the cost of production and the actual market price. But as Taylor explains, the value of medicines, contrary to most other products and commodities, is in their therapeutic effect and the years of R&D that goes into them, rather than the substance itself.
"The thought of valuing a drug which costs only £10 to produce at £100 is anathema to [traditionally-minded people] because they're locked in the value of the substance. In one context you may use only a nanogram to get an effect which is valuable, and in another context you may use a gram to get an effect that is less valuable. It is perfectly reasonable, in those circumstances, to charge different amounts per gram depending on the therapeutic value, at least while they're under any form of IP."
Campaigners for pharma industry reform want to see more public money spent on early-stage pharma R&D as a way of introducing high-quality but inexpensive and non-exclusive drugs to the market. But for Taylor, there's no substitute for private investment.
"This is really common sense stuff, unless you're prejudiced against the current funding of innovative research. Some people who I really respect – the guy who runs [UK genomics research centre] the Sanger Institute believes that if we didn't have bloody capitalists spending money on drugs, the state would fund it all and it would all be perfectly all right and we could sell it for next to nothing because we'd raised the money out of taxes. I actually don't believe for one minute that that's true; I think public money often follows private money, and if we manage to destroy the private market for innovation and the private funding system, we're in danger of destroying this thing which, in global terms, has done so much for humanity."
Monopolies and zero transparency: is the system broken?
"That's how you kill people – by slowing down innovation."
Of course, others disagree with Taylor's pessimistic view of a public-led R&D landscape. MSF's Katy Athersuch, who raised the initial objections to the UCL report, argues that public institutions – and by extension, taxpayers – are already footing the bill for ongoing industry R&D through the prices they are paying at the coal face of public healthcare.
"I think governments need to understand that they are already paying huge prices for R&D through paying higher and higher prices for each new medicine," says Athersuch. "If you take the newest Hep-C drug from Gilead that's just been approved [Sovaldi], it's a thousand dollars a pill. That is incredible; they've made so much money just in the first quarter of sales. Why are we accepting that system?"
These are the sorts of prices that come with monopoly conditions, a situation that society usually takes great pains to avoid but tends to accept unquestioningly in the drug market. And if drug developers are being given free rein to dictate prices, shouldn't they at least be obliged to justify those prices by revealing the details of their R&D costs?
"We have no idea, other than the pretty vague figures that the industry puts out, as to how much it's really costing," Athersuch says. "We have no transparency on R&D figures whatsoever, so [companies] can say to us, 'Oh, we've invested billions to get this drug to the market.' There's no auditing of that, and there's no way of knowing. We are paying for R&D through the purchase of drugs in a monopoly context; we're doing that on the assumption that it's costing loads of money, and we have no idea."
The other major disadvantage of the current R&D system is the risk-averse tendency that market forces instil in large pharma companies, to the extent that many companies are cutting their annual spend on innovative research. Meanwhile, the industry has been increasing the pace of mergers and acquisitions, buying up small teams that have often been publicly funded, and then developing their products to sell at the same monopoly prices. What research money remains naturally flows to the most profitable therapeutic areas, leaving drug pipelines perilously underpopulated for certain conditions, especially those that primarily affect communities that don't have the budget to pay a premium.
Athersuch gives drug-resistant tuberculosis as an example – MSF is treating people affected by the disease with ageing drugs that cure less than half of patients and have a laundry list of unbearable side effects. Despite the urgent need, big pharma players like Pfizer and AstraZeneca have been closing down anti-infective research facilities due to the economic realities of developing drugs to treat them.
An alternative vision for funding pharma innovation
---
---
Cancer Research UK wants to tap into the power of the crowd with a pioneering new mobile game that feeds genetic data back to researchers.
---
Clearly the R&D and research funding system is far from perfect, but what's the alternative? For MSF and many other critics of the pharma industry, the answer lies in a much more assertive public sector, and a complete reversal in the way it pays for drugs.
"One [option] is to create additional incentives outside of the patent system. So, for example, rather than thinking that you will pay for the innovation through high prices, could you set up a prize fund to pay for the R&D upfront, at the point where you have the technology delivered and then you have immediate generic competition? So you don't have this period of market exclusivity for the company to make back that profit, but you pay through the giving of a large amount of money – I'm not talking about a token – upfront and then you have drugs made at the cost of production by multiple manufacturers."
Athersuch notes that large-scale public-private research partnerships between the industry and the public sphere would have the extra benefit of giving governments and taxpayers a much greater say in the industry's drug development priorities, opening the door to greater innovation in urgently required treatments like, say, new antibiotics to combat the looming threat of antibiotic-resistant superbugs. "We know that the pharmaceutical industry does not see the patent system as a profitable way to invest in new antibiotics, so can we afford not to think of alternative incentives to ensure that this innovation takes place?"
And contrary to Taylor's criticism of NICE's narrow cost focus, Athersuch contends that health technology assessment bodies need to retain that focus to stand up for the public interest against monopoly prices, citing NICE's recent rejection of Roche's breast cancer drug Kadcyla on the grounds that, at up to £90,000 per patient, the treatment was unaffordable.
"Because we allow companies to sell under monopoly conditions, we have no leverage on them at all to make sure they're not profiteering," she says. "We need public health systems to be able to give back a voice that says, 'Actually, we think you're asking too much for that drug.' And having NICE in that strong position to be able to do that is hugely important, not just for the UK but for the precedent it can set in the rest of the world."
To change or not to change
This alternative concept for financing medical research is compelling, and few would argue that if it could be made to work, the alignment of industry R&D with public need and the elimination of premium drug prices would ultimately benefit public health systems and their patients.
Still, considering all the variables of such a radical change to the pharma paradigm is a daunting task. Transferring the financial focus from the end of the drug pipeline to the beginning would require a seismic shift in the industry, one that would benefit researchers but also bring massive lay-offs in big pharma's sales and marketing departments.
And the value of the public sector playing a larger funding role in early-stage R&D is dependent on publicly-funded drugs actually making it to market for cheap distribution; otherwise taxpayers are getting the worst possible return on investment. Given the number of drugs that never make it through clinical trials, do we need the private sector to absorb the cost of failure?
The debate on drug pricing is really a question of the value that the pharma industry offers to society, and whether we believe the current financing and licensing regime is fit for purpose. Taylor and the industry's supporters are looking to protect precious innovation within the existing system, whereas Athersuch and organisations like MSF would like to flip that system on its head and build something new and more democratic. It's the difference between the imperfect present and the ambitious vision that always seems to lie just out of reach. But whether or not a radical reshuffle would be workable in today's world, or if some middle ground could be found, perhaps the time has come for a wider and more open-minded debate on the fairest way to deliver essential medicines to the people who need them.