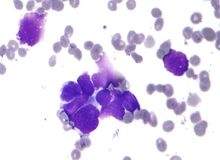 US-based biopharmaceutical company AbbVie planned to acquire biotechnology company Stemcentrx for nearly $5.8bn.
AbbVie will take over Stemcentrx along with its major late-stage asset rovalpituzumab tesirine (Rova-T), which at present is in registrational trials for small cell lung cancer, also known as small-cell carcinoma (SCLC).
Rova-T is a biomarker-specific therapy and obtained from cancer stem cells and targets delta-like protein 3 (DLL3), which is expressed in more than 80% of SCLC patient tumours and is not present in healthy tissue.
German pharmaceutical company Bayer made a major move into the chemicals industry with its proposal to acquire American agrochemical company Monsanto for $62bn.
Bayer proposed an all-cash offer in a bid to take over all of the issued and outstanding shares of common stock of Monsanto at a value of $122 per share.
With the acquisition, Bayer will be able to reinforce its position as a life science company.
UK health technology company PolyPhotonix unveiled its latest treatment for diabetic retinopathy that causes blindness among working-age adults.
The new Noctura400 sleep mask, launched in the country by PolyPhotonix, will be able to treat diabetic retinopathy patients at their early stages of the condition.
As a human eye adapts to the dark whilst sleeping at night, it needs more of an additional supply of oxygen compared to during the day.
Pfizer entered into a definitive merger agreement to acquire US-based, biopharmaceutical company Anacor for approximately $5.2bn.
Under the agreement, Pfizer will acquire Anacor with its each share valued at $99.25, with Pfizer paying the total transaction value in cash, assuming the conversion of Anacor's outstanding convertible notes.
The transaction was approved by the board of directors of both the companies.
A team of researchers from McMaster, a public research university in Hamilton, Ontario, revealed that female sex hormone Estradiol can work to prevent women from sexually transmitted viral infections.
Estradiol is a female sex hormone that is present during the menstrual cycle and found in oral contraceptives.
Led by Charu Kaushic, the research demonstrated the underlying mechanism that helps estradiol improve anti-viral responses in mice infected with the herpes simplex virus, type 2 (HSV-2).
Generic drugmaker Mylan agreed to acquire Renaissance Acquisition's non-sterile, topicals-focused speciality and generics business for $950m.
The acquisition is in line with Mylan's strategy to expand within the dermatology / topicals industry, which complements the company's existing assets and the pending addition of the Meda dermatology portfolio.
The deal will expand Mylan's portfolio of more than 1,400 generic and branded pharmaceuticals with the addition of Renaissance's range of approximately 25 branded and generic topical products, as well as an active pipeline of approximately 25 products.
US-based pharmaceutical company Bristol-Myers Squibb completed the $280m expansion of its biologics facility at Devens, Massachusetts.
The expansion project added two new buildings to the existing 89 acre Devens facility and is designed to enhance the company's presence in biologics medicines.
The two new constructions include the development of a Clinical Manufacturing Building and the Biologics Development Building.
The UPS Foundation entered into a public-private partnership with California-based robotics company Zipline, as well as the vaccine alliance Gavi, to use drones to deliver life-saving medicines across the world.
It was reported that critical life-saving drugs often get damaged or fail to reach the person who is in urgent need of them.
The partnership combines the global logistics expertise, cold chain and healthcare delivery from UPS with the national drone delivery network of Zipline, and the experience of Gavi in developing countries focused on saving lives and protecting health.
French pharmaceutical company Sanofi's Praluent (alirocumab) was recommended by the National Institute for Health and Care Excellence (NICE) as an effective treatment option for people with inherited high levels of bad cholesterol.
Alirocumab belongs to the recent cholesterol-lowering class of treatments called PCSK9 inhibitors, which is a protein that can effectively manage bad cholesterol by regulating the number of receptors for bad cholesterol on the surface of the liver.
The treatment enhances the availability of receptors for bad cholesterol by reducing PCSK9, thereby reducing the levels of bad cholesterol in a person's blood.
UK's Cancer Research Technology (CRT) signed a licence agreement with Spanish company Pangaea Biotech, to develop p21-activated kinase (PAK) inhibitor drugs to treat cancer.
Scientists at CRT's Discovery Laboratories, in collaboration with Cancer Research UK-funded scientists at King's College London, developed the new inhibitor drugs.
PAK helps in cell growth and survival, and is overexpressed in many cancers including ovarian, pancreatic, melanoma, breast and lung.