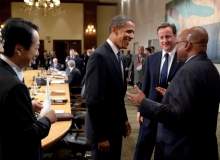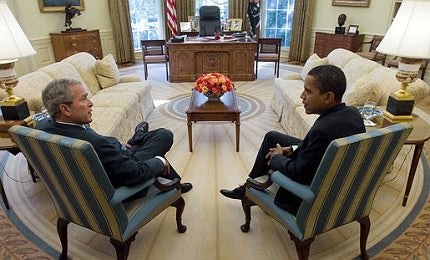 President Obama's ultimately comfortable triumph in the US presidential election might not have impressed Donald Trump, but it's being greeted by progressives with the kind of hands-aloft jubilation that only American politics seems able to inspire. On many issues, Obama's second term will indeed offer the US a more progressive vision.
"Working towards an 'AIDS-free generation' has been one of Obama's key goals on global health."
But four years in power hasn't left his reputation untarnished on issues that matter to the American left, his failure to close Guantanamo Bay and the continuation of deeply controversial drone operations in Pakistan foremost among the blotches on his presidency.
In an election race primarily focused on domestic issues, the US economy has hogged most of the spotlight from foreign affairs, especially an issue deemed as non-essential as funding for the treatment and prevention of HIV / AIDS in sub-Saharan Africa and other parts of the developing world.
Stopping the spread of AIDS
But now that Obama has secured four more years in the Oval Office, his track record on global AIDS funding, another issue on which many campaigners consider him to have been a bit of a let-down, has implications for the US's future role as the key instigator in halting the spread of the disease in some of Africa's poorest countries.
It's hard to believe that, in an age of Obama optimism, an AIDS activist would utter the phrase "I miss George W. Bush". But uttered it was, by leading AIDS campaigner Gregg Gonsalves during a critical speech in December 2009. Gonsalves' short declaration reflected a general recognition, both of President Bush's most significant humanitarian legacy – the President's Emergency Plan for AIDS Relief (PEPfAR) – and the risk that Obama isn't doing enough to build on the foundation laid by his predecessor.
"It's hard to believe that, in an age of Obama optimism, an AIDS activist would utter the phrase 'I miss George W. Bush'."
PEPfAR, introduced by Bush in 2003, was a programme that Democrats and Republicans could get behind, committing $15bn from 2003-2008 to the global fight against HIV / AIDS.
The scheme helped increase the number of Africans receiving antiretroviral therapy (ART) from 50,000 in 2004 to 1.2 million by the end of Bush's term in 2008.
President Obama has certainly made the right noises on global AIDS funding – working towards an "AIDS-free generation" has been one of his administration's key goals on global health. And to be fair, Obama has achieved important milestones in the last four years – the number of global patients receiving ART through PEPfAR now stands at nearly four million, and US-funded prevention strategies are gradually moving away from enforcing the ideological fantasy of abstinence and towards improving access to condoms.
But while Obama's mouth is in the right place, activists believe his money has got some catching up to do. For all the president's inspiring rhetoric on World AIDS Day in December 2011, during which he announced a new, higher target of getting six million people ART by the end of 2013, his fiscal 2013 budget cuts global AIDS funding by around $214m. In an irate statement, the AIDS Healthcare Foundation said that cut amounted to treatment for 640,000 people.
Is funding treatments for AIDS still a priority?
PEPfAR is set to take a hit of $546m under the budget. The administration says the cut will be counterbalanced by larger contributions to the multilateral Global Fund to Fight AIDS, Tuberculosis and Malaria, but given that the fund has lost support from various national donors after accusations of waste and mismanagement, the switch in US funding priorities is puzzling.
"Obama's fiscal 2013 budget cuts global AIDS funding by around $214m."
The PEPfAR cut, along with the administration's increasing insistence that developing nations play a larger role in managing and contributing to AIDS treatment funds, seems to suggest the US Government is keen to step down from its leadership role.
Obama's no-show at the 19th International AIDS Conference in July this year, despite it being held in Washington D.C. for the first time since 1987, was easy to dismiss as a simple scheduling clash. But in the context of a disappointing lack of momentum on global AIDS funding for the last four years, perhaps it's indicative of the kind of complacency that the president has warned against in the past. Certainly, America is facing harsher economic and political realities than it was when PEPfAR was created in 2003, but if the world is going to reach Obama's goal of an AIDS-free generation, the money is going to have to come from somewhere.
---
Related content
---
Stem cell research has always been a controversial practice in the US. Will the upcoming election prompt any change in the field's fortunes?
Treatment for HIV / Aids is more sophisticated than ever, but how much closer are we to finding a cure?
---