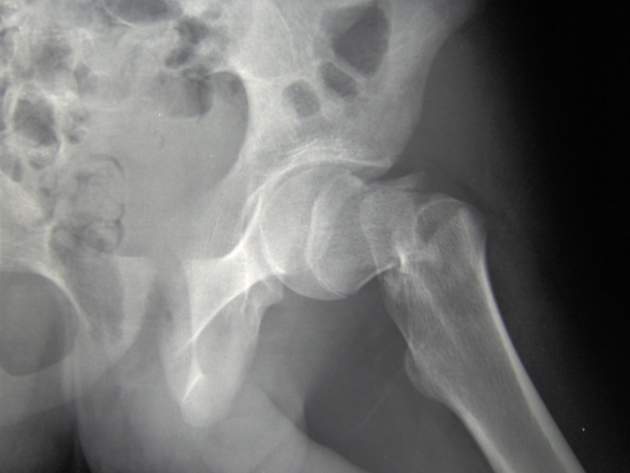 Published in JAMA by a group of scientists in Sweden, the new research found that among older patients using medium to high doses of the anti-inflammatory steroid prednisolone, which can lead to rapid bone loss and an increased rate of fracture, treatment with osteoporosis drug alendronate was associated with a significantly lower risk of hip fracture.
"Although the findings are limited by the observational study design and the small number of events, these results support the use of alendronate in this patient group," the authors from the University of Gothenburg wrote.
It's a rare piece of positive news in a field plagued by bad press. "In the UK, we've been doing what this study has just proved – or proved as well as you can with this type of study – for decades," says Dr Ken Poole, a senior lecturer and honorary consultant in metabolic bone disease and rheumatology at Cambridge University's Department of Medicine.
"We've probably got more effective treatments for osteoporosis than for most diseases but because osteoporosis drugs have got a lot of bad press due to their rare side effects, a lot of people have lost confidence in the medication. This is a nice example of the fact that these drugs actually stop you breaking your hips."
Rare side effects
That's not to say that the existing treatments for osteoporosis, a condition that causes bones to lose their strength and can lead to devastating fractures, particularly of the spine and hip, are without their limitations.
Take the class of drugs to which alendronate belongs: bisphosphonates. Although both the oral and intravenous versions of these medications have been proven to have incredibly robust effects at preventing osteoporotic fractures, the side effects – if rare – can be severe.
"They're so good at slowing down bone turnover that they can end up over-suppressing the bone, which could potentially lead to unusual fractures," says Sarah Leyland, osteoporosis nurse consultant at UK charity the 
National Osteoporosis Society
(NOS).
Another potential side effect is osteonecrosis of the jaw, for which a quick Internet search will return thousands of shocking images. As Poole is keen to stress, however, cases like this are incredibly rare. "We've probably treated 15,000 person years of people with osteoporosis and I have never seen a case like the images you see on the Internet," he says. "We've had a handful of cases of the bone in the jaw being affected and in all those cases, it has healed completely normally."
Bone-building drugs
Another approach to treating osteoporosis is using drugs that build new bone, rather than simply slowing down bone renewal. The problem with the one drug currently on the European market that works this way – teriparatide – is that it can only be used for two years in a patient's lifetime.
"Teriparatide is given as a daily injection and it's great – it stimulates bone formation and has an incredibly rapid effect on reducing the risk of vertebral fractures," Poole says. "But osteoporosis is a lifelong disease when it's severe and we need medications that are not limited by duration."
Even abaloparatide, a drug that has caused a lot of excitement since it became the first new bone-building hormone in more than a decade to be approved by the US Food and Drug Administration (FDA) in April for the treatment of post-menopausal women with osteoporosis, comes with the same two-year warning.
The injectable hormonal treatment, which will be marketed by Radius Health Inc., achieved an 86% reduction in spine fracture risk compared with a placebo in clinical trials. However, it is yet to pass muster by European authorities and its US approval follows disappointments for two other companies who had hoped to get similar drugs on the market.
Amgen and UCB recently announced that although their osteoporosis drug, romosozumab, prevented fractures of the vertebrae in post-menopausal women, it also may have increased the risk of heart attacks by 30%, a discovery that could push the FDA's decision – which had been planned for July – out by a year or more. Similarly, Merck has had to discontinue development of its osteoporosis drug odanacatib because it was found to carry an increased risk of stroke.
"We need drugs that are effective and are going to reduce your risk of fracture but are not going to have side effects or long term health risks – and it's only going to become a bigger problem as we all live longer," Leyland says.
Screening and risk assessment
Another huge challenge facing the osteoporosis research community is identifying who actually needs the treatments that are on the market. Around 200 million people worldwide are estimated to suffer from the condition, but many don't know about it until their first fracture. It's an area both Poole and Leyland are passionate about progressing.
"Something that really excites me is the field of opportunistic osteoporosis screening," Poole says. "There are 5 million CT scans done in the UK each year, 40,000 in our hospital alone. These are often in people who are at the right age to be at risk from osteoporosis and even if the scan is looking at your kidneys, bladder or chest, it also incorporates your spine.
"What we and other people are trying to do is put together really simple packages, including programmes that can identify fractures and measure bone density and a quick bone health questionnaire, so if people come in for a CT scan for another reason they can find out if they have osteoporosis or not."
Another potential way to screen for the condition is by using fracture risk assessment tools, such as the University of Sheffield's FRAX tool, which can work out from a patient's clinical risk factors – whether they smoke or have a parent who has had a hip fracture, for example – what their chance of breaking a bone is over the next 10 years. The FRAX website also features new guidelines, which advise doctors or nurses on the best course of action depending on the results of the questionnaire.
"The greatest confusion [in the field] is how to target treatments – who to treat and when to treat them. A lot of people get missed and there's not enough effectiveness is using DEXA [dual energy X-ray absorptiometry] scans to screen populations, so there's a lot of interest in finding out whether we can screen by using one of these fracture risk assessment tools instead," Leyland says.
In a similar vein, NOS has also been placing great emphasis on promoting Fracture Liaison Services (FLS). "When people first break a bone, it's a good opportunity to pick them up, assess them, possibly scan them and then possibly treat them," she explains. By identifying patients in a consistent, systematic way, it is estimated that up to 25% of hip fractures (about 20,000 a year) in the UK could be prevented.
Poole adds: "It's crucial for us to target our resources correctly as a community and make sure that we intervene in those people who are most likely to benefit from osteoporosis treatment."