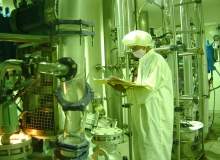 There are many reasons for India to be proud of its burgeoning pharmaceutical industry. For the last decade and more, Indian pharma companies and contract manufacturing organisations have been punching above their weight to forge partnerships and build one of the world's leading centres for generic drug production and contract manufacturing.
Indian companies' growing expertise in increasingly sophisticated generics, as well as manufacturing and clinical research, has fuelled a market that has tripled in value from $6bn in 2005 to $18bn in 2012, according to a McKinsey study published in summer 2013. The same report estimated that the market would grow to an astonishing $45bn by 2020.
India's 'decade of innovation'
Now the industry stands at a crossroads, with executives and government officials pondering the next step. In 2010, India's then-President Pratibha Patil described the period leading up to 2020 as the country's "decade of innovation", and the Indian government has stated its aim to transform India into a leading destination for end-to-end drug discovery and innovation by 2020.
Expanding from the more volume-based sectors of the pharma business towards the risks and rewards of innovative research and drug discovery makes an intuitive kind of sense. But wider market forces and domestic regulatory issues could add significant bumps along the Indian pharma industry's road to discovery. This is a transition that is easier said than done; taking a novel therapeutic from discovery to delivery involves a whole new league of proficiency, technology and administration.
"You've got to have the right skills, the right regulatory environment, the right understanding of science, and not all of those are present in the country," says PwC's India leader for pharmaceuticals and life sciences Sujay Shetty. "We're only talking about the early stages here; we're not even talking about launches because nobody's gotten that far."
Generics: still room for growth
One of the main obstacles slowing down any tentative moves towards domestic drug development in India is the low-hanging fruit that remains to be picked in the generics market. The progress made by India's top generics companies – the likes of Cipla, Sun Pharma and Dr. Reddy's – has paid off in the form of an established production capacity in a market that presents a high barrier to entry, especially for companies looking to crack into lucrative regulated markets like the US, Europe and Japan, which represent nearly 50% of the revenues of India's top-tier generics companies.
---
---
A new UCL report questioning the use of off-label drugs to save money has been criticised for propping up an unfair status quo in the pharma industry.
---
"In the regulated markets, Indian companies have been steadily building up their presence, so you've got nearly 200 plants in India that are US FDA-registered, which completely outstrips the number anywhere else outside the US," says Shetty. "The proof of the pudding is in the eating – for the last two years, if you look at the US market analyst coverage of the top companies, they've been launching on time and they've been extremely profitable on the US market in launches and market share."
Having done the hard graft of establishing a market presence and building an enviable production base, the top end of India's pharma industry is now eyeing opportunities to expand within the field of generics, according to Shetty.
"You've got the top-line firms, which have aggressively pursued Para IV opportunities, and from that they have visualised the next stage of growth, which is around specialities; complex, difficult-to-make generics at the moment, and later on if the biogenerics markets open up – which is a big if – I think they're positioning for that as well."
FDA pressure: pushing standards up
As India's big pharma players continue to tap into the generic export market for demanding customers like the US, meeting world-class production standards has been a challenge, and the FDA in particular has been putting its foot down over quality issues over the last couple of years. The US regulator has been stepping up inspections of plants exporting to the US, carrying out 111 checks in India last year, up from just 59 in 2009.
Non-compliant companies have been feeling the sting of settlements and import bans. Ranbaxy Laboratories, recently acquired by Sun Pharma, has borne the brunt of the agency's ire; in May 2013 the company agreed a $500m settlement with the US Department of Justice for fabricating safety data, and since then the FDA has enforced import bans on two Ranbaxy plants that failed to pass muster.
"You've got nearly 200 plants in India that are US FDA-registered."
Shetty describes the FDA's enforcement measures as "a rude awakening" for the industry's top-flight companies, but believes the incentive to bring all operations up to the most exacting standards is good for the market. "[Large pharma companies] understand that quality is paramount, and I think there's a lot of investment going on behind that," he says. "They could have been slightly complacent in the pre-FDA surprise inspection era, but right now whenever I meet the top-quality [companies], they are either hiring more outside help or looking very solidly at their internal systems.
"All of them now look at the US FDA as the principal regulator because the US is the principal market. So they look across their manufacturing assets and look at what they're doing. They're basically regulating themselves for the US FDA."
Domestic regulation in need of an overhaul
While the top end of the Indian pharma market is concentrating on satisfying external regulators like the FDA, the thousands of smaller companies serving the domestic market are operating in a far more chaotic and far less stable regulatory market. Shetty describes India's own regulatory environment, which revolves around the Central Drugs Standard Control Organisation, as "too fragmented" and plagued with problems, throwing up a major barrier to more consistent standards across the breadth of India's complex industry, as well as fostering resentment that the standards maintained for India's exported drugs are so far beyond those applied to medicines for its own people.
"You've got multiple bodies taking zero decisions, and in terms of some of the standards in manufacturing, they are clearly sub-par," says Shetty. "[Regulators] haven't been very good at enforcing GMP [good manufacturing practice] standards, so obviously quality in the local market sometimes takes a hit because of that.
"That's a challenge for the regulator – instead of waking up when the US FDA sounds the alarm, what can they do to ensure better quality for Indian citizens out of plants that make products for the Indian market? And there's a lot that can be done about that – they need to have more capacity, more inspectors; they need to at least get their standards up to a point where they are enforceable and appropriate for the local market."
More general improvements to India's basic infrastructure are also essential if pharma companies are going to increase access to their domestic products. Large cities, where Shetty notes an average pharmacy might stock 50 variations of the same molecule, are competitive and well-served, but rural areas, which still sustain a large proportion of the population, are difficult to reach due to a lack of roads, pharmacies and clinics.
"[Rural markets] have fabulous potential over the next ten-year period as India builds out more and more infrastructure, cold chain logistics, road support and so on," says Shetty. "But for the moment, I don't know whether anybody has really cracked going to all of those markets."
---
---
Big Pharma is 'dramatically' increasing the amount of clinical trial data available, but do new principles go far enough?
---
Early steps towards innovation
All these complexities and potential stumbling blocks lead to a natural question – who is going to take the lead and move India towards a more innovation-based pharma industry? For the most part, India's big guns are too preoccupied with the lucrative generic market to take the plunge on high-risk R&D, and Shetty is pessimistic about the role state regulators could play to incentivise innovation, drawing particular attention to regulatory authorities' "fear psychosis" over approving clinical trials in the wake of fatal incidents.
"You have to pass through so many regulatory hoops at every stage, which is unlike any other regulatory body anywhere else," he notes. "That adds enormous time delay and expense. Then they don't have the capacity to inspect, evaluate, investigate, research. So I think the regulatory authorities are far from creating an era that fosters innovation, product development or even product launches of small molecules, really."
The Indian government also has to maintain a tricky balance between providing affordable access to life-saving drugs and respecting the intellectual property (IP) laws that give pharma companies the profit margin to make high-risk research worthwhile. Price control measures have been grudgingly accepted by the industry for drugs that are recognised as essential to public health on a national level, but there is considerably more controversy surrounding recent price caps placed on a range of diabetes and heart disease drugs, which fell outside the list of drugs deemed essential.
Nevertheless a few companies of varying size have started to invest in new chemical entity research. Large companies like Glenmark and Biocon are starting to invest in developing compounds for out-licensing, while smaller biotech companies that have clustered around Bangalore have the high-tech drug discovery platforms to make proactive steps.
"You'll see a lot of innovative work come out of that, which might propel compounds into, say, Phase II in terms of proof of concept," Shetty says. "That's where we are and that would be the best-case scenario for the next two or three years. Out of those successes perhaps you could get something that goes on to become an approved novel therapeutic that can then be picked up for launch by a global partner."
It's true that, as things stand, India's pharma industry is far more suited to staying in its generic and contract manufacturing comfort zone than pushing out into the risky waters of drug discovery and development. With factors like regulation, rural infrastructure, income levels and price caps all propping each other up, it seems likely that the industry will only be able to rise to the next level as broader societal obstacles are removed. India's transformation into a global pharma innovation hub by 2020 seems optimistic at this point, but arbitrary deadlines are less important than the industry's ability, supported by a well-considered policy landscape, to organically expand its sphere of expertise and better serve its customers, at home and abroad.