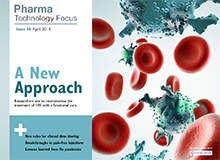 The discovery of a new HIV vaccine that may have the ability to stop the progression of the disease and potentially eliminate the virus has stirred up interest across the industry. We explore the potential of FIT Biotech's functional HIV cure and further steps in the trial.
We also ask whether the new clinical data sharing principles endorsed by EFPIA and PhRMA go far enough and review lessons the industry has learned since the influenza A pandemic five years ago. Moreover, we take a look at a new microneedle array technology that could eliminate the need for deep tissue injections and its possible applications in vaccination and diabetes treatment and find out how Cancer Research UK is trying to tap into the power of citizen science with a new mobile game designed so players unravel gene data, helping with low-level research.
In this issue
Sharing Responsibly
Big Pharma is increasing the amount of clinical trial data available to researchers and the public, but do the new principles endorsed by EFPIA and PhRMA go far enough? Elly Earls investigates
Click here to read more.
Injection Innovation
New microneedle arrays could eliminate the need for deep tissue injections with a hypodermic needle. Dr Nicola Davies finds out more about the technology and possible applications
Click here to read more.
New Hope for HIV Patients
A new form of HIV therapy could drastically reduce the cost of treatment and the patient's drug burden – but it's still early days for FIT Biotech's vaccine, as Elly Earls finds out
Click here to read more.
Better Prepared
Almost five years after the influenza A pandemic, nearly all mention flu outbreaks has disappeared from European headlines. Dr Nicola Davies asks what the industry has learned from the past
Click here to read more.
The Game is On
Cancer Research UK wants to tap into the power of the crowd with a pioneering new mobile game that feeds genetic data back to researchers. Chris Lo asks what citizen scientists can do that supercomputers can't
Click here to read more.
Drivers of Growth
As the market for prefilled syringes continues to grow, Klaus Ullherr of Bosch Packaging Technology examines trends that will influence future manufacturing processes
Click here to read more.
Next issue preview
Building a new pharmaceutical manufacturing facility represents a significant investment, but new capabilities can bring new opportunities. We find out about the challenges and benefits of investing in state-of-the-art facilities.
We also investigate how the looming patent cliff will affect business in Ireland, where nine of the top ten pharma manufacturers have their headquarters, find out about changing investment trends in the field of new drug research and investigate the debate over drug licensing costs sparked by a new UCL School of Pharmacy report.
Moreover, we review new guidelines for the use of statins to treat high cholesterol and prevent cardiovascular diseases and explore new research into the medical potential of honey.
Digital magazine FAQ
Pharma Technology Focus is available on the iPad and as a free desktop version*. You can download our app or read the latest issue here.
View the archive of back issues.
Sign up for your subscription here.
*Browser compatibility: The desktop version can be viewed in the latest two version of Chrome, Firefox and Safari, as well as in Internet Explorer 9 and 10. Some features may not be compatible with older browser versions.