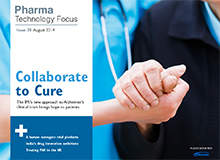 Alzheimer's now affects an estimated 44 million people worldwide, but the outlook for patients remains bleak, with a recent study finding that 99.6% of trials into potential drugs aimed at preventing, curing or improving the symptoms of the disease failed or were discontinued. We find out how a project launched under the EU's Innovative Medicines Initiative aims to change this with a collaborative approach to developing new treatments.
We also take a look at a new human surrogate trial platform which promises to boost the efficiency of early stage trials and find out what the EU's GETREAL initiative is aiming to achieve by integrating real-life data in to the drug development process.
Moreover, we ask whether India can fulfil its ambitious goal of making the leap from generics manufacturer to drug innovator, find out what the approval of PAH drug Opsumit means for the treatment of the rare disease in the UK and explore a new design concept for self-expiring drug packaging.
Click here to read this issue.
In this issue
Collaborate to Cure
Alzheimer's disease could affect 100 million people by 2050 but there may be hope on the horizon in the form of a €53m project launched under the EU's Innovative Medicines Initiative. Julian Turner finds out more.
Click here to read more.
Confident Investments
New human surrogate trial platform HuTrial may allow researchers to predict the efficacy of a prospective candidate early in the drug development process. Crown Bioscience president Jean-Pierre Wery tells Abi Millar more.
Click here to read more.
R&D Gets Real
A new EU project is investigating ways to integrate data from real-life settings into the drug development and approval process. Abi Millar finds out how real-world data be tapped before a drug is launched and what the GETREAL initiative is hoping to achieve.
Click here to read more.
A New Era for PAH Patients
The approval of PAH drug Opsumit in the UK brings new hope for the treatment of this rare and fatal disease. Elly Earls speaks to the developers and physicians to find out why.
Click here to read more.
Long Road to Discovery
The Indian Government aims to transform the country into a leading destination for end-to-end drug discovery and innovation by 2020. Chris Lo asks if market forces and domestic regulatory issues could make India's long road to discovery a bumpy one.
Click here to read more.
Staying Up to Date
With visual impairments and language barriers being a prominent obstacle to overcome in reading expiration dates of medicines, Sonia Sharma investigates whether self expiring packaging could be the solution.
Click here to read more.
Next issue preview
In this clinical trials special issue, we investigate the economics of clinical trials to find out which factors are crucial for financial success.
We also take a look at the pipeline for Type 2 diabetes treatments, current landmark trials for medical marijuana, the history of clinical breakthroughs in Ebola research and major clinical studies of obesity drugs underway.
Moreover, we find out how effective the WHO's International Clinical Trials Registry Platform really is for researchers and what the potential pitfalls of such as system are, profile Parexel International's Perceptive MyTrials platform for managing the diverse patient and back-end data involved in a clinical trial, and explore how the life science sector can make the most of the potential of cloud computing.
Digital magazine FAQ
Pharma Technology Focus is available on the iPad and as a free desktop version*. You can download our app or read the latest issue here.
View the archive of back issues.
Sign up for your subscription here.
*Browser compatibility: The desktop version can be viewed in the latest two version of Chrome, Firefox and Safari, as well as in Internet Explorer 9 and 10. Some features may not be compatible with older browser versions.