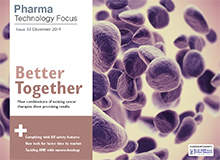 A first-of-its-kind study in the UK is evaluating whether the use of a combination of safe, tolerable, existing, generic therapies could slow down cancer growth and improve survival times in patients for whom other treatments are no longer available or working. We speak to the researchers about early promising results from the study and what they could mean for the future of cancer treatment.
We also take a look at lymphoma treatments in the pipeline, find out how researchers are tackling antimicrobial resistance with nanotechnology and chart the search for a dengue fever vaccine leading up to Sanofi's breakthrough this year on an interactive timeline.
Moreover, we explore emerging drug discovery technologies that could help speed up the time to market for new drugs and ask whether the UK is lagging behind the rest of Europe in preparing for the implementation of new EU-FMD safety features.
Click here to read this issue.
In this issue
Keeping the Euro-Vision
Former AstraZeneca serialisation expert Christoph Krähenbühl demystifies arguments around compliance with the forthcoming safety features regulations in the EU's Falsified Medicines Directive, and asks where European pharma companies are in their implementation strategies.
Click here to read more.
Better Together
A pioneering study looking into the possibility of combining existing therapies to slow down cancer growth is showing encouraging early results. Elly Earls asks what this could mean for future research.
Click here to read more.
Race for the Top
As new treatments for chronic lymphocytic leukemia and B-cell non-Hodgkin's lymphoma come to market at a premium price, GlobalData investigates what this trend will mean for competition and the healthcare system.
Click here to read more.
Ready, Set, Develop!
The drug development system as it is now is incapable of responding quickly enough to outbreaks such as Ebola, but new technologies in the pipeline could change that. Elly Earls investigate two of the most promising.
Click here to read more.
Nano Weapons
Antibiotic resistance is one of the greatest global health threats of the 21st century, but nanotechnology is offering new solutions to the problem. Chris Lo learns about nanotech-driven innovations in antimicrobial treatment.
Click here to read more.
Dengue Vaccines: A Timeline
News that a Sanofi-developed dengue fever vaccine candidate has successfully passed phase III trials has sparked hope that the disease could soon become preventable. Daniel Garrun charts the history of research leading up to this breakthrough.
Click here to read more.
Reassessing the Affiliate Model
Pharmaceutical companies are working to ensure a more global perspective on managing regulatory activities at headquarters and the affiliate level while elevating relationships with affiliates to a more strategic level. Erick Gaussens, co-founder and chief scientific officer at ProductLife Group, tells us more.
Click here to read more.
Next issue preview
While M&A activity in the pharma industry increases, innovation in drug development is slowing down. We investigate the effects of an increasing reliance on mergers and the subsequent decline of healthy competition in R&D. We also take a look at changes ahead next year, including an increasing push for harmonisation and transparency in regulation.
Moreover, we explore the success stories behind declining child cancer death rates in the UK, find out how adaptive trial designs are shaking up the use of placebos and take a look at neuropathic pain treatments in the pipeline. And, as the quick approval of ZMapp to treat Ebola raises questions about the circumstances that justify such a fast-track approach, we investigate the debate surrounding the efficiency of the drug approval system.
Digital magazine FAQ
Pharma Technology Focus is available on the iPad and as a free desktop version*. You can download our app or read the latest issue here.
View the archive of back issues.
Sign up for your subscription here.
*Browser compatibility: The desktop version can be viewed in the latest two version of Chrome, Firefox and Safari, as well as in Internet Explorer 9 and 10. Some features may not be compatible with older browser versions.