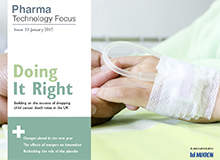 The rate of M&A activity in the pharma industry is showing no signs of slowing down, but will the resulting lack of healthy competition lead to a decline in research and innovation? We investigate the business considerations behind the growing M&A trend and what it will mean for new drug development.
With Cancer Research UK reporting that childhood cancer death rates in the UK have dropped by 22% over the last decade, we speak to cancer specialists to find out how the industry can build on this success in the future. We also take a look at the regulatory changes ahead in Europe in 2015, and learn how companies can prepare.
Moreover, we find out how 3D visualisation of genetic signatures is helping scientists in the search for new diabetes therapies, investigate how adaptive trial designs could reduce the size of the placebo group and provide more flexible treatment options for participants, and ask whether the rapid approval of ZMapps to treat Ebola could set a precedent for other experimental drugs.
Click here to read this issue.
In this issue
Big Business, Bad Science?
While mergers and acquisitions in the industry continue to increase, innovation in drug development is slowing down. Chris Lo discusses the effects of an increasing reliance on mergers and the subsequent decline of healthy competition in research and development.
Click here to read more.
Gearing Up for a Year of Change
As the European Union continues to push for harmonisation and transparency in regulation Markus Dehnhardt, senior toxicology and pharmacovigilance consultant at Kohne Pharma, explains how companies can prepare for changes that will come into force in 2015.
Click here to read more.
Building on Success
With children's cancer death rates in the UK having dropped by 22% over the last decade, Chris Lo asks childhood cancer specialist Professor Josef Vormoor about the best ways to build on this encouraging statistic in the future.
Click here to read more.
A Clearer View
Diabetes often manifests itself as a web of interconnected complications, making the search for a cure almost impossible. Ross Davies finds out how advanced data analysis could help in finding and validating gene signatures linked to the condition.
Click here to read more.
New Directions
Is it really necessary that 50% of trial subjects be placed on a placebo? Not according to a new wave of adaptive trial designs, including the Innovative Medicines Initiative's new €53m project. Abi Millar investigates this new approach to clinical trials.
Click here to read more.
Pipeline: Neuropathic Pain
Drug development for neuropathic pain is challenging but several promising treatments are expected to come to market over the next few years. GlobalData takes a look at existing players and new entrants.
Click here to read more.
Uncharted Territory
The rapid approval of ZMapp to treat Ebola this year raises the question; might the use of experimental drugs be justified in other, similarly dire circumstances? Abi Millar investigates a proposed UK bill currently debating this controversial approach.
Click here to read more.
Next issue preview
With the costs and associated risks of drug discovery at an all-time high, pharma companies are keen to find new indications for existing drugs. We find out how a newly developed method of analysing electronic health records for drug repurposing signals – indications that an existing drug may have previously unknown benefits – could help unlock the hidden potential of established medicines.
We also look at new research into stopping the recurrence of cancer after treatment, find out why regenerative medicine requires a rethink of regulation and take a look at the Japanese pharma industry's ambitions overseas. Moreover, we get a market outlook for asthma treatments and investigate the medium to long-term challenges and business opportunities for drug developers focusing on HIV treatments.
Digital magazine FAQ
Pharma Technology Focus is available on the iPad and as a free desktop version*. You can download our app or read the latest issue here.
View the archive of back issues.
Sign up for your subscription here.
*Browser compatibility: The desktop version can be viewed in the latest two version of Chrome, Firefox and Safari, as well as in Internet Explorer 9 and 10. Some features may not be compatible with older browser versions.