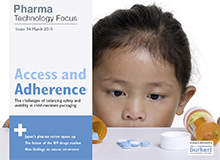 Pharma Technology Focus is now free for the iPad. Download our app from Newsstand to read the latest issue and browse our back issues for free.
Pharma packaging has to tread a fine line between preventing unauthorised access and keeping medicines user-friendly to support patient adherence. We speak to designers of child-resistant packaging about finding the right balance.
With the costs and associated risks of drug discovery at an all-time high, pharma companies are keen to find new indications for existing drugs. We find out how a newly developed method of analysing electronic health records for drug repurposing signals could help unlock previously unknown benefits of existing drugs.
We also look at new research into the possibility of stopping the spread and recurrence of cancer by blocking the mitochondrial metabolism of tumorigenic cells, investigate the medium to long-term challenges and business opportunities in the HIV treatment market and find out what Japan's more open attitude towards foreign markets will mean for Japanese companies branching out and foreign companies setting up shop in the country.
Get the app to read the latest issue for free on your iPad, or read it online in our web viewer.
In this issue
Unlocking Hidden Potential
For the first time, researchers have found a way to trawl electronic health records for signs that an existing drug may have untapped benefits. Lead study author Josh Denny tells Abi Millar how this data can be used in the search for repurposing signals.
Click here to read more.
Stopping Cancer's Engine
Cancer stem cells are difficult to eradicate with conventional therapies, but new research suggests they could be defeated by blocking their mitochondrial metabolism. Abi Millar finds out from study author Professor Michael Lisanti what the discovery could mean for future treatments.
Click here to read more.
Japan Opens Up
The Japanese pharma industry is increasingly opening up to foreign markets. Chris Lo explores the business opportunities for both Japanese companies branching out abroad, and international firms entering the world's second-largest pharmaceutical market.
Click here to read more.
Big Business
HIV is a lucrative business but as patent expirations loom and competition remains stiff companies must continue to innovate. Elly Earls gains insights into the HIV market from ViiV Healthcare's Dominique Limet and GlobalData's Moritz Herrmann.
Click here to read more.
On Target with Asthma
Valentina Gburcik, PhD, senior analyst for GlobalData, explains why the asthma treatment market is expected to grow faster than ever due to the uptake of targeted biologics therapies
Click here to read more.
A Balancing Act
Child-resistant packaging must keep a delicate balance between preventing unauthorised access and keeping medicines user-friendly. Margot Knight explores the regulations and requirements driving new designs.
Click here to read more.
Next issue preview
By combining pharmacology with genomics the field of pharmacogenomics is gearing up to revolutionise healthcare. We speak to researchers to find out how this discipline could be paving the way for individualised drug plans.
We also check in on the search for a new flu vaccine and promising candidates currently in trials and find out how project in the UK is coordinating research across all areas impacted by antimicrobial resistance in a bid to find new solutions to this growing problem.
Moreover, we ask scientists from Rockefeller University why they are digging into soil around the world looking for the best places to locate radical new drug elements, and speak to researchers in regenerative medicine about how updates to regulatory frameworks could help realise the potential of this field in treating previously incurable conditions.
Digital magazine FAQ
You can read Pharma Technology Focus for free on the iPad. Download our app from Newsstand to read the latest issue and browse the back issues in our archive. Sign up for a free subscription in the app and never miss a new issue.
You can also continue to read the desktop version for free on our web viewer. (Browser compatibility: The web viewer works in the latest two version of Chrome, Firefox and Safari, as well as in Internet Explorer 9 and 10. Some features may not be compatible with older browser versions.)