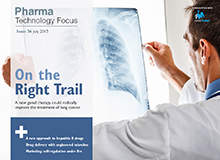 Pharma Technology Focus is now free for the iPad. Download our app from Newsstand to read the latest issue and browse our back issues for free.
In a bid to improve the survival rate in lung cancer treatments, a world-first clinical trial is testing the use of genetically modified stem cells to target tumours like a Trojan horse. We find out how far cell-based therapies such as this have progressed in oncology.
We also get an update on the trial of the therapeutic hepatitis B vaccine Abivax, which has already shown promising results in Asia Pacific, and ask how bioengineered bacteria created to tackle obesity could help create a new pathway for sustained drug delivery.
Apple's move into the medical field promises a boost to patient data collection – we speak to users of the ResearchKit framework about the opportunities it offers. We also find out how big data can solve some of pharma's biggest challenges, and investigate why several self-regulation systems for pharma marketing in Europe have come under fire recently.
In this issue
On the TRAIL of a Cure
Lung cancer is notoriously deadly, but a new combination gene-cell therapy could radically improve the outlook for patients. Abi Millar looks into the world-first clinical trial for this experimental new treatment.
Read the article.
Creating a New Treatment Paradigm
A new therapeutic vaccine for chronic hepatitis B currently being trialled in the Asia Pacific region has so far shown promising results. Elly Earls finds out more from Professor Hartmut Ehrlich, CEO of the company developing it.
Read the article.
A Good Gut Feeling
Scientists from Vanderbilt University have opened new frontiers in obesity research by bioengineering bacteria to generate a molecule that suppresses hunger in mice. Abi Millar finds out how this research could pave the way for sustained drug delivery through gut microbes.
Read the article.
Slide to Unlock New Breakthroughs
Apple's new open source software framework ResearchKit could help answer long-standing scientific questions at next to no cost, as Elly Earls finds out from Max Little, one of the collaborators behind a Parkinson's app developed using the platform.
Read the article.
Growing with Big Data
For an industry as data-intensive as pharmaceuticals, innovations in big data and analytics offer huge potential. Abi Millar finds out how big data can be leveraged to tackle some of pharma's most intractable problems.
Read the article.
Trust Well Placed?
Many countries trust industry-appointed bodies to self-regulate the marketing and promotion of drugs, but is that trust well placed? A recent study suggests violations are common under self-regulation, while proponents argue that these cases are simply proof that the system is catching misconduct. Chris Lo investigates.
Read the article.
Next issue preview
Fake medicines pose an urgent threat that could undermine decades of successful efforts to combat HIV/AIDS, malaria and tuberculosis, according to the collective findings of 17 journal articles published to highlight the issue. We find out more about the scale of the problem and what can be done to solve it.
New cancer research in the US could make it possible to predict cancer years in advance with regular blood tests. But with insurance companies routinely factoring medical data into the cost of premiums, what are the potential implications for the healthcare system?
We also explore the potential of biosimilars in offering cheaper alternatives to some of the most expensive drugs on the market, take a look at a range of new treatments for hearing loss currently being trialled, and find out what's new in pharmaceutical packaging.
Digital magazine FAQ
You can read Pharma Technology Focus for free on the iPad. Download our app from the App Store to read the latest issue and browse the back issues in our archive. Sign up for a free subscription in the app and never miss a new issue.
You can also continue to read the desktop version for free on our web viewer. (Browser compatibility: The web viewer works in the latest two version of Chrome, Firefox and Safari, as well as in Internet Explorer 9 and 10. Some features may not be compatible with older browser versions.)