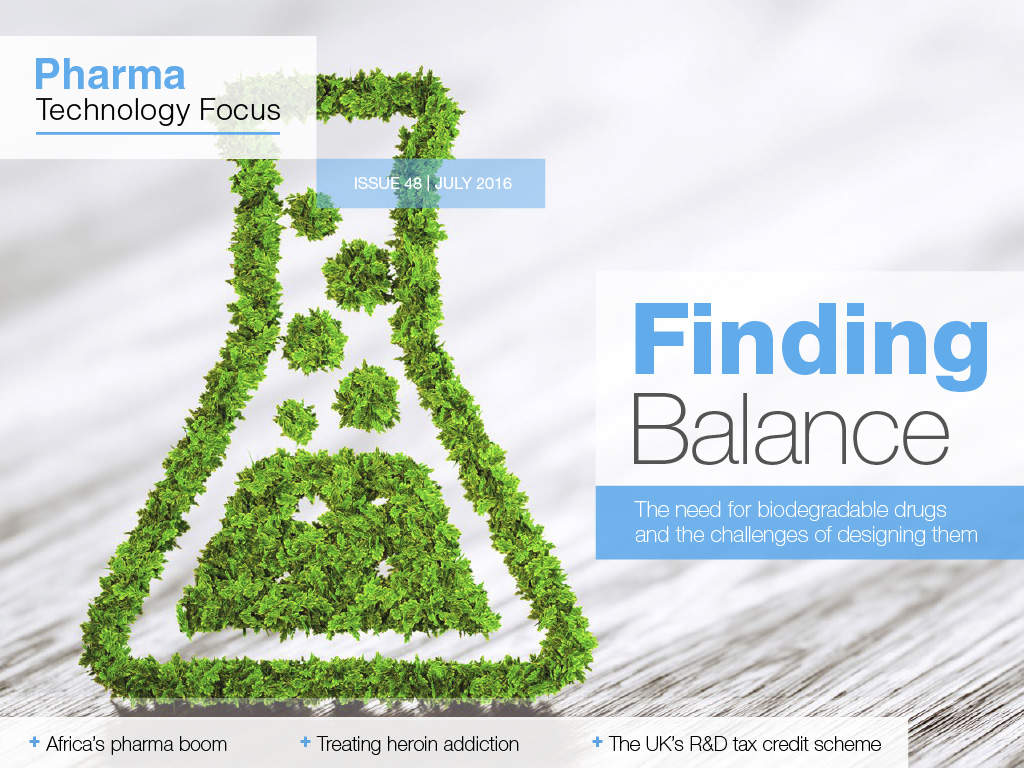 Pharma Technology Focus is free for the iPad. Download our app to read the latest issue and browse our back issues for free.
The UK's research and development tax credit scheme has the potential to offset some of the cost of innovation for pharma companies operating in Britain, but understanding the ins and outs of
this complex tax relief programme is no easy task. We find out more about the scheme and how new legislation could complicate matters.
We also consider ways to unlock the potential for the pharma industry to help drive socio-economic transformations in Africa, look at a new treatment for prostate cancer and find out more about the
benefits of treating chronic heroin addiction with hydromorphone.
Plus, we take a look at how scientists are finding ways to make pharmaceutical drugs more sustainable, and discover how eating blueberries could help to reduce the genetic and biochemical drivers behind depression.
Read the issue for free on your iPad through our app, or if you're on a desktop computer you can also read it in our web viewer.
In this issue
Nurturing an African Pharma Boom
Africa's pharma sector is on the rise, and could be a source of immense societal benefit. Chris Lo finds out more about the challenges still standing in the way of the country's burgeoning medicines industry.
Read the article.
Missing a Tax Trick
The UK's R&D tax credit scheme has the potential to offset some of the cost of innovation for pharmaceutical companies. Elly Earls speaks to consultant Jennifer Tragner to find out more.
Read the article.
Conquering Frontline Therapy for Bladder Cancer
Cai Xuan PhD, GlobalData analyst for oncology and hematology, discusses the excitement over the recent approval of Roche's PD-1 immune checkpoint inhibitor Tecentriq, and what it means for advanced bladder cancer.
Read the article.
Fighting Prostate Cancer with Photosynthesis
Researchers at Israel's Weizmann Institute of Science have developed a new treatment for prostate cancer that uses the principles of photosynthesis to selectively target cancer cells. Rod James finds out what makes it different from existing treatments.
Read the article.
New Hope for Heroin Addiction?
For some heroin users, conventional treatments do not work and there is a case to be made for medically supervised heroin injections. Abi Millar finds out whether a new study into the use of hydromorphone could help this group.
Read the article.
Benign by Design
The technology exists to create biodegradable drugs, but is the pharmaceutical industry ready for a new way of thinking? Elly Earls investigates.
Read the article.
Blueberries: A Potential Treatment for PTSD?
In a series of studies conducted on rats, researchers from Louisiana State University have found that eating blueberries could help to alleviate some of the problems associated with post-traumatic stress disorder. Abi Millar investigates the science behind this remarkable berry.
Read the article.
Protecting Patient Identities
Pharma organisations targeting European markets will need to comply with new EMA guidance on the anonymisation of clinical trial data from November. Although initial requirements focus on clinical study reports, companies can minimise their workload by making the underlying patient-level data their starting point, says Chris Olinger, CTO at d-Wise.
Read the article.
Next issue preview
A damning new report believes that, if unchecked, antimicrobial resistance could lead to ten million deaths every year. The author recommends that no one be allowed to take antibiotics without first taking an eligibility test, but what would this test look like and does the technology even exist?
We also look at the impact of French President Francois Hollande's commitment to an international drug price regulation, ask whether psilocybin, the active ingredient in magic mushrooms, could be used to treat depression, and investigate the online counterfeiting of Viagra.
Plus, we speak to Novartis to find out how they are planning to improve care for refugees in Lebanon, look at how advanced analytic tools can be used to streamline pharma supply chains, discover more about the latest technologies in temperature controlled packaging and ask how the UK is bridging the skills gap in the biopharmaceutical industry.
Digital magazine FAQ
You can read Pharma Technology Focus for free on the iPad. Download our app from the App Store to read the latest issue and browse the back issues in our archive. Sign up for a free subscription in the app and never miss a new issue.
You can also continue to read the desktop version for free on our web viewer. (Browser compatibility: The web viewer works in the latest two version of Chrome, Firefox and Safari, as well as in Internet Explorer 9 and 10. Some features may not be compatible with older browser versions.)