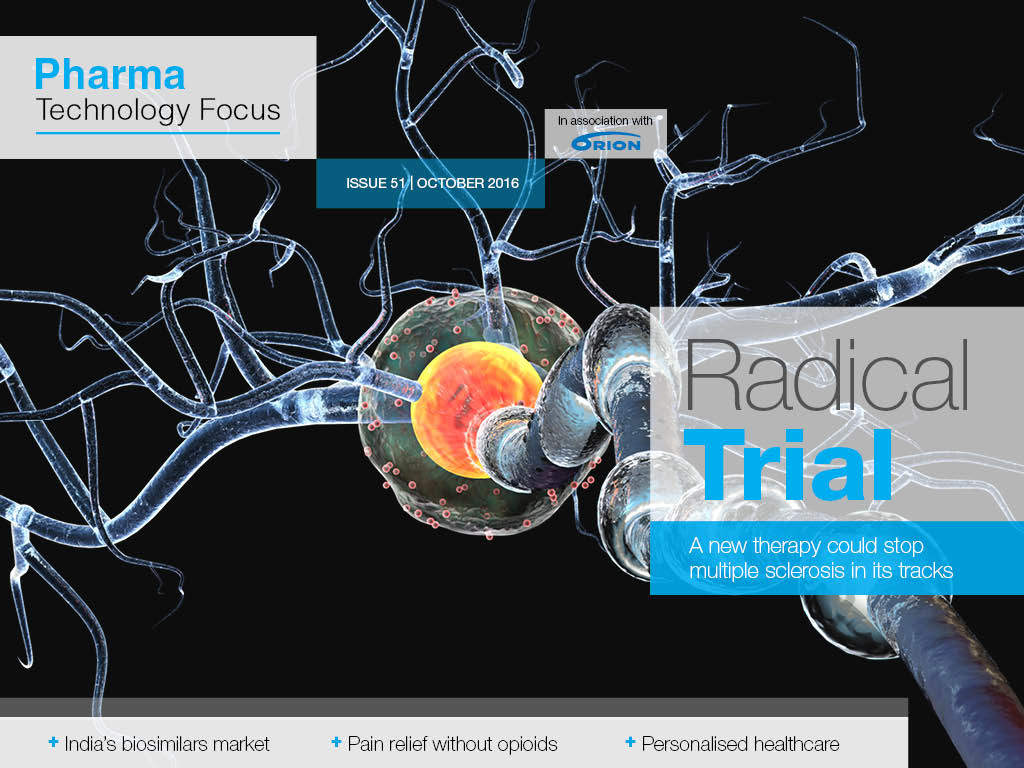 Pharma Technology Focus is free for the iPad. Download our app to read the latest issue and browse our back issues for free.
Despite some recent positive developments including the Pharmacy Guild's historic agreement with the government, a report by PwC slams the Australian pharma industry as inefficient for stakeholders, taxpayers, government and patients. We find out what's going wrong and how to fix it.
We also profile India's biosimilars market in the wake of legislation changes that open pathways for sale abroad, explore the latest innovations in painkillers that don't rely on addictive opioids, and find out more about NHS England's funding of the game-changing PrEP HIV drug.
Plus, we take a closer look at a study that has shown the efficacy of a combination of chemotherapy and stem cell transplants to treat multiple sclerosis, find out how a large-scale effort in the US to personalise medicine could make treatments more targeted and drive the direction of future drug development, and more.
In this issue
A Good Year
The last 12 months have seen positive steps towards a sustainable healthcare system for Australia, but there's still more work to be done. Elly Earls finds out more.
Read the article.
India's Big Biosimilar Move
With biosimilar versions of effective but expensive biologic treatments set to unlock major opportunities, Chris Lo asks whether India's pharma sector has what it takes to repeat its generics success with biosimilars.
Read the article.
Malta's Life Sciences Park
Funded by the Government of Malta, the BioMalta Life Sciences Park has been developed to foster the growth of the country's life sciences industry. Katie Woodward takes a closer look at the BioMalta campus.
Read the article.
Relief without the Opioids
The opiate epidemic has been much discussed, with the addictive characteristics taking a toll on public health. Abi Millar investigates the latest innovations in painkillers that don't rely on opioids.
Read the article.
The Next Step
Multiple sclerosis can be stopped in its tracks by a radical new therapy involving the complete replacement of the immune system, but what are the risks? Elly Earls investigates.
Read the article.
The ANTARCTIC Study
A trial to assess the adjustment of antiplatelet therapy using a new generation antiplatelet in patients stented for acute coronary syndrome has failed to achieve its objective. GlobalData analyst for cardiovascular and metabolic disorders Michela McMullan, PhD, reports.
Read the article.
Weighing the Costs
In August, the High Court ruled that NHS England can fund the use of PrEP – effective but expensive HIV prevention drugs. With the NHS appealing the decision, Abi Millar asks what can be done to make it more cost-efficient.
Read the article.
Cloud Reality Check
An industry debate at AMPLEXOR's annual user conference in June examined the role of cloud services in driving the next generation of regulatory information management in life sciences. Siniša Belina, senior life sciences consultant at AMPLEXOR, reports.
Read the article.
Precision Medicine
Personalised medicine has long been an aim of advanced health systems, and the US is looking to move ever closer to this goal with the Precision Medicine Initiative Cohort Program. Chris Lo finds out more.
Read the article.
Next issue preview
A new report commissioned by Bidwells has called for Oxford and Cambridge – home to two of the world's top four universities, five world-renowned research institutes, the UK's two largest pharma firms and over 600 biotech and medical technology companies – to set aside their rivalries and pool their skills and resources. We find out more from the report's author.
We also find out more about IBM's lab-on-a-chip breakthrough technology, ask whether harnessing telomerase could trick the ageing process, and catch up with pharma start-up Berg to find out how it's using artificial intelligence to drive its 'back to biology' approach to developing cancer drugs.
Plus, we speak to a group of scientists using nanoparticle tests to provide proof of concept for novel drug delivery, and ask whether it is ever justified to withhold clinical trial data from public scrutiny in the wake of two recent rival medical editorials.
Digital magazine FAQ
You can read Pharma Technology Focus for free on the iPad. Download our app from the App Store to read the latest issue and browse the back issues in our archive. Sign up for a free subscription in the app and never miss a new issue.
You can also continue to read the desktop version for free on our web viewer. (Browser compatibility: The web viewer works in the latest two version of Chrome, Firefox and Safari, as well as in Internet Explorer 9 and 10. Some features may not be compatible with older browser versions.)