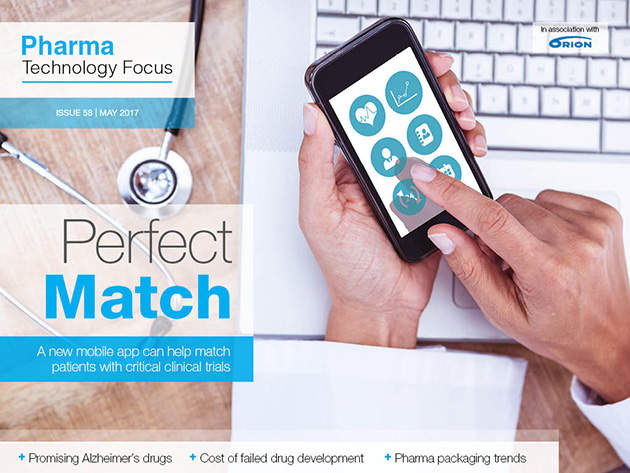 Pharma Technology Focus is free for the iPad. Download our app to read the latest issue and browse our back issues for free.
Last year ended with another disappointing result for Alzheimer's treatments with the announcement that Eli Lilly's solanezumab failed to slow progression in trials. While there has been no real breakthrough in recent years, the number of contenders has grown. We take a look at the most promising Alzheimer's drugs in development.
We also explore whether the hormone kisspeptin could improve the safety of IVF for women, take a look at the true cost of failed drug development programmes, and find out more about a new mobile app called Cancergraph which is working to improve access to clinical trials in an attempt to benefit both patients and drug developers.
Plus, we zoom in on nanoparticles to find out how better access to the nanosphere could improve medicine, and speak to the Association for Packaging and Processing Technologies about the key drivers for the pharmaceutical packaging sector moving forward.
In this issue
Better News for Alzheimer's
No new Alzheimer's drug has won approval since 2003, but the tide could soon start turning for this previously poorly understood disease. Elly Earls finds out what we can expect over the next few years.
Read the article.
Sealed with a Kisspeptin
Early-stage clinical research suggests that the naturally-occurring hormone kisspeptin could help stimulate arousal and romantic feelings. Chris Lo finds out more about the discovery from Imperial College London's Professor Waljit Dhillo.
Read the article.
The Cost of Failure
Around nine in every ten drug candidates fail to win approval, with huge implications for the cost of drug development. Chris Lo finds out what drives these failure rates and how they can be improved.
Read the article.
Finding a Match
While many cancer patients are interested in clinical trials, tough eligibility criteria and a lack of information mean few participate. Abi Millar finds out more about a new mobile app that can match patients with trials.
Read the article.
Hunting for Nanoparticles
Researchers from the Universities of Geneva and Fribourg have devised a rapid screening method to select the most promising nanoparticles for drug development. Abi Millar finds out more from lead author Inès Mottas.
Read the article.
Future Packaging Challenges
The future of pharmaceutical packaging operations is far from straightforward. Elly Earls asks the Association for Packaging and Processing Technologies where drug companies should be focusing their efforts.
Read the article.
Next issue preview
A team of researchers has challenged the standard pharma industry defence of high US drug prices, which states that these premiums fund global R&D efforts. We find out more about drug pricing and innovation, and whether the industry is perpetuating a misleading conception between the two.
We also speak to regenerative medicine biotech BlueRock Therapeutics to ask which stem cell-based therapies the company is working on, examine the results of a study to measure the effects of cognitive-enhancing drugs such as Ritalin and caffeine, and consider whether crowdfunding could unlock the potential of repurposed cancer therapies.
Plus, we find out more from industry experts about trends in pharmaceutical contract manufacturing, and take a closer look at the potential applications of synthetic DNA motors in living cells, including controlling the release of drug doses in patients' own cells.
Digital magazine FAQ
You can read Pharma Technology Focus for free on the iPad. Download our app from the App Store to read the latest issue and browse the back issues in our archive. Sign up for a free subscription in the app and never miss a new issue.
You can also continue to read the desktop version for free on our web viewer. (Browser compatibility: The web viewer works in the latest two version of Chrome, Firefox and Safari, as well as in Internet Explorer 9 and 10. Some features may not be compatible with older browser versions.)