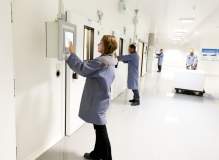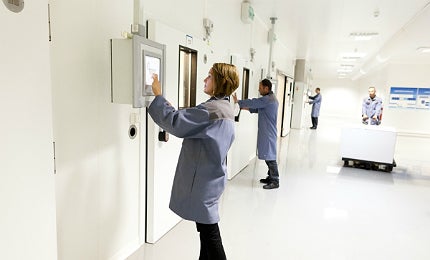 Modern, innovative and reliable cold chain logistics
---
Sofrigam chose the coldest day of the year to open its doors to members of the press, an irony that was not lost on visitors or staff alike. Built in 2008, the bright, modern factory, warehouse and laboratory complex in Monch-le-Preux is situated near the Belgian border and Lille Eurostar station, both convenient for international transport and the continent's pharmaceutical manufacturing hub.
The company aims to support pharmaceutical laboratories address security, productivity and temperature-control issues when shipping heat-sensitive products in passive packages at controlled temperatures, to ensure preservation for their heat-sensitive medication.
Sofrigam is a certified insulated packing specialist with a 25-year heritage of supplying B2B customers. Having started creating custom packaging tailored to individual distributors, it recently launched a direct sales web portal, called "La Boutique du Froid" in France, and more prosaically "Coldshop" in the UK and Ireland, while it is planning to launch in the US market soon.
Sofribox: innovative and optimised
"Sofrigam is a certified insulated packing specialist with a 25-year heritage of supplying B2B customers."
Founder Gilles Labaranque created Sofrigam's insulated packaging system specifically for the pharmaceutical industry, though the company is now seeking to expand into niche markets such as luxury food transport. Its main product is the Sofribox insulated packaging, constructed from high-density rigid polyurethane panels covered in cardboard.
With a capacity of up to 500 litres, Sofribox can maintain a target temperature range of 2/+8°C, +2/+25°C or down to -18°C for up to four days, using gel packs made from Sofrigam's own high-performance eutectic gel, a mixture of substances with a lower melting point than any of its ingredients. The size and shape can tailored to optimise the customer's logistics, so boxes can be combined to use all the space available on the transport vehicle.
"We provide an a la carte service for cold chain logistics enabling customers to design their own packing to suit their needs," says Laetitia Perche, Sofrigam marketing director. "The containers are designed to minimise empty space on vehicles, reducing costs and minimising recycling."
The refrigerant packaging can be fitted with Sofrigam's innovative patented locking mechanism; the result of two years of research by the company's engineering team. Secure and tamper-proof, they provide security for the contents of the package, as well as traceability for the duration of the trip, both essential when transport high-value pharmaceuticals. Quick and easy to install, Sofrigam claims they speed up package preparation time by up to 50% when compared to traditional closure using straps.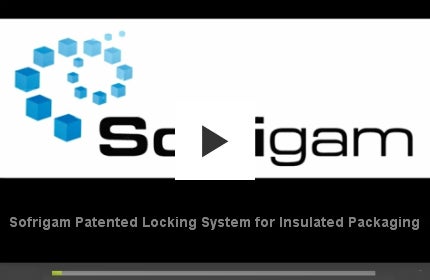 Ater Métrologie: replicating the supply chain
All packaging is tested by Sofrigam's on-site partner ISTA and ISO 9001 certified metrology laboratory, Ater Métrologie. It occupies a 400m² area split into three main functional spaces – preparation, loading and testing – and features 11 programmable climatic test rooms, which analyse how well the packing contents maintain their temperature in different outside conditions.
"Sofrigam claims they speed up package preparation time by up to 50% when compared to traditional closure using straps."
"External temperatures of -25 to +50 can be set, simulating the logistics of starting in Canada and transporting to Israel, for example," says metrology engineer David Stienne. "Sofrigam keeps a standard profile for different seasons in each country."
The climatic test rooms test solutions from 50 to 200 litres, but the laboratory works with partner companies with bigger spaces for testing up to 3,000 litres, simulating the conditions on transport trucks. The laboratory is equipped with advanced hardware and software as part of its partnership with Eurotherm, an Invensys company.
Probes inserted into the packaging are linked to a central wall for data transfer to laboratory workstations, where they are analysed with Eratis software for measuring probes. Outside of each room a graph records the temperatures the probes record over time, and an alarm sounds if anything goes wrong.
To ensure the entire cold chain is replicated, the loading space simulates where the pharmaceutical laboratories transfer the product from the laboratory to transport trucks, at external temperatures between 0 and 40°C. The laboratory also tests the container's suitability to transporting drugs. This is significant, as some can cost as much as €20,000 per vial and will spoil if kept outside the recommended temperatures.
"We carry out 2,000 tests a year," says Stienne. "Sofrigam is the main client, but the laboratory is independent."
On the factory floor
"External temperatures of -25 to +50 can be set, simulating the logistics of starting in Canada and transporting to Israel."
Sofrigam's manufacturing staff assembles standard and custom Sofribox containers from sheets of high density rigid polyurethane, automatically machine-cut to a precision of 1mm to minimise waste.
"Before we begin cutting, we research with the engineer, select the right thickness and estimate the number of gel packs required, then test our projections in metrological lab," says Alexis Marchand, industrial director.
The panels are then automatically glued and sent along a conveyor belt for skilled manual assembly. Each different size and shape is prototyped before going into production. "Once the quality is assured, then we cut and create," adds Marchand.
The factory also assembles prototype textile boxes for last-mile logistics delivery to patients.
Sofrigam makes its own cooling gel packs, called Snowgam, to support products that need to be stored within three different temperature ranges, each designed to release cold slowly. For larger containers, they are bound together with film into a block and put in freezer for ten days before being used in boxes.
The warehouse is capacious, but although Sofrigam maintains extra stock for seasonal variations such as the flu season, its response to a sudden spike in demand is limited. "It's like poker," says Marchand.
Looking ahead
As well as manufacturing the packaging, Sofrigam also provides training to ensure the rest of the cold chain supports its correct use. "It is not easy to use refrigerated packaging," says Perche. "Companies really need their mother, and are always calling the manager".
Sofrigam's turnover in 2012 was $23m, of which more than 85% was in the international market, and it plans to increasingly focus its attention on export, mainly to European and US customers – it already has a base in Canada and is looking to transfer production to Texas.
It is also looking to expand its French headquarters with more warehousing and manufacturing space, and to bring the gel pack manufacture on site.
But to Sofrigam, its raison d'être extends far beyond basic logistics.
"Controlling the cold chain logistics can save the life of a patient," says Perche. "Every patient has a special relationship with their drug packaging."
---
Related content
---
The commencement of the European Commission's Falsified Medicines Directive (FMD) in January 2013 marks that latest step in the bid to rid Europe of dangerous medicines.
Growing medicines in open fields could slash the cost of drug production and make life-saving vaccines easily available to people in the developing world. But current regulations mean it can't happen on a large scale.
---