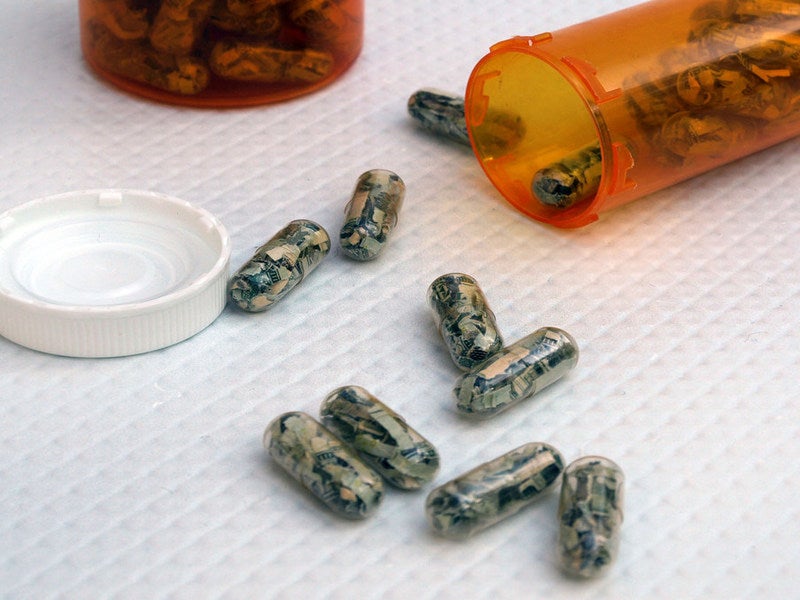 Top executives from seven major pharmaceutical companies have appeared before the US Finance Committee to testify about the high prices of prescription drugs in the country.
Earlier this month, senate chairman Chuck Grassley and ranking member Ron Wyden sent invitations to AstraZeneca, Pfizer, Sanofi, Johnson & Johnson, Bristol-Myers Squibb, AbbVie and Merck for the hearing.
The hearing on 26 February follows the first held last month, when the majority of companies declined the invite.
---
US-based conglomerate General Electric (GE) has entered into a definitive agreement to divest its Biopharma business to science and technology innovator Danaher for approximately $21.4bn.
As per the terms of the agreement, Danaher will pay $21bn in cash and assume the rest in certain pension liabilities.
Part of GE Life Sciences, the Biopharma business offers instruments, consumables and software to support the research, discovery, process development and manufacturing of pharmaceutical products.
---
Novartis and private investment platform Blackstone Life Sciences have launched a new biopharmaceutical company Anthos Therapeutics focused on targeted therapies for cardiovascular diseases.
Based in the US, the new company will develop and commercialise genetically and pharmacologically validated treatments for high-risk cardiovascular patients.
Blackstone Life Sciences has contributed $250m for Anthos Therapeutics and will be responsible for the product development.
---
A new report by Cancer Research UK has concluded that a new drug payment system, dubbed an outcome-based payment (OBP), could accelerate treatment of cancer patients.
Commissioned in alliance with the Greater Manchester Health and Social Care Partnership, the report suggests that payment for cancer drugs should be adjusted based on how well they work in practice.
The OBP method would mean that the National Health Service (NHS) could pay a company less for a medicine that doesn't work as expected, but more if it does.
---
Roche has signed a definitive merger agreement to acquire all outstanding shares of US-based gene therapy company Spark Therapeutics for $114.50 per share, corresponding to a total of around $4.8bn on a fully diluted basis.
Spark Therapeutics noted that the total equity value includes approximately $500m of projected net cash that is expected to be paid at closing of the transaction.
The company is primarily engaged in the discovery, development and delivery of gene therapies for genetic disorders, including blindness, haemophilia, lysosomal storage disorders and neurodegenerative conditions.
---
Brexit in all forms will cause harm to the UK National Health Service (NHS), however, a no-deal scenario will result in the worst outcomes, according to a new review published in The Lancet.
The review, which was co-authored by the London School of Hygiene & Tropical Medicine (LSHTM), warns that Brexit would have negative impact on the NHS financing, workforce, medicines and vaccines availability, sharing of information and medical research.
With the time to leave the European Union (EU) fast approaching, the UK is yet to secure a formal agreement. The parliament rejected UK Prime Minister Theresa May's withdrawal plan last month.
---
French pharmaceutical company Ipsen has agreed to acquire Canada-based Clementia Pharmaceuticals for an initial aggregate cash consideration of $1.04bn to boost its rare disease portfolio.
The terms of the agreement also include additional potential payment of $263m on certain milestones.
Clementia Pharmaceuticals focuses on the development of therapies for ultra-rare bone diseases.
---
US District Court for the District of Delaware has upheld Amgen's patent on cholesterol drug Repatha, rejecting a challenge filed by Sanofi and Regeneron.
The jury upheld the validity of three of the total five claims asserted by Sanofi and Regeneron for two Amgen patents associated with proprotein convertase subtilisin/kexin type 9 (PCSK9) antibodies.
Repatha is a human monoclonal antibody designed to inhibit PCSK9 from binding to the low-density lipoprotein (LDL) receptor (LDLR). The drug holds approval in more than 60 countries, including the US, Japan, Canada and European Union members.
---
Johnson & Johnson has announced plans to disclose the price of its prescription medicines directly to customers on TV advertisements in a bid to improve transparency.
The pharmaceutical company is said to be first to implement the proposal suggested by the US Department of Health & Human Services (HHS) last year.
Beginning late this quarter, the company's pharmaceutical ads will include information on the list price, as well as estimated patient out-of-pocket costs.
---
GlaxoSmithKline (GSK) has entered into a global strategic collaboration with the Merck group for an immunotherapy candidate M7824 (bintrafusp alfa) in difficult-to-treat cancers.
As part of the deal, which is valued at approximately €3.7bn ($4.2bn), the companies will jointly develop and commercialise the product for multiple indications.
M7824 is Merck's investigational bifunctional fusion protein compound that acts simultaneously on transforming growth factor-β (TGF-β) trap and an anti-programmed cell death ligand-1 (PD-L1).