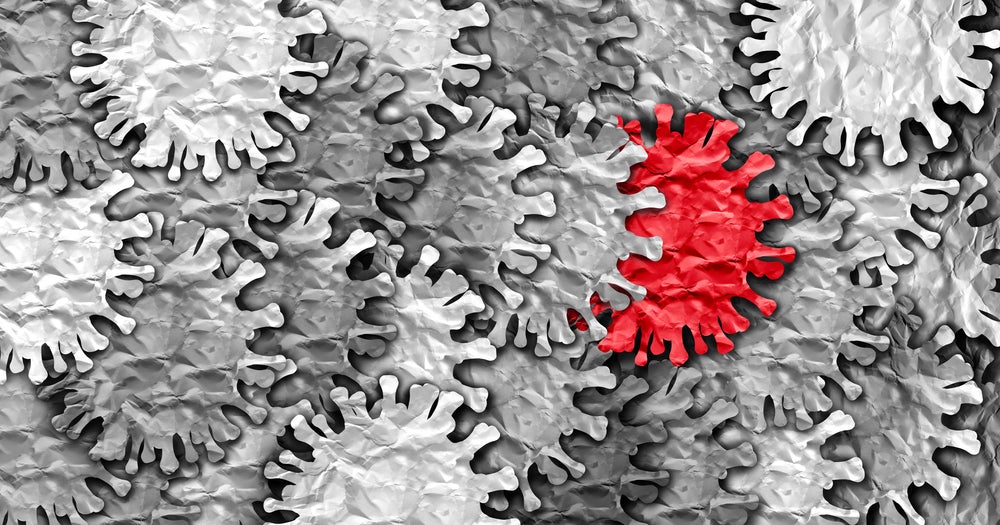 The UK has been hit incredibly hard by the Covid-19 pandemic. To date, the country has experienced 3.2 million cases and more than 84,000 deaths related to SARS-CoV-2, the coronavirus causing Covid-19, according to John Hopkins University's coronavirus resource centre. 
Unfortunately, the UK Government's tiered approach to easing a month-long lockdown in early December failed to curb the spread of the viral pandemic – particularly in London, the East and South East of England. On 14 December, Secretary of State for Health and Social Care, Matt Hancock, revealed that this was probably linked with the emergence of a new variant of SARS-CoV-2 that is spreading significantly faster than existing viral variants. This new variant, and its impact on escalating case numbers, was one of the reasons why the UK had to re-enter lockdown on Tuesday 5 January. 
This new variant of the novel coronavirus, which involves a N501Y mutation in SARS-CoV-2's spike protein used to infect humans through the ACE2 receptor, was identified through the efforts of UK public health agencies and with the support of the Covid-19 Genomics Consortium UK (COG-UK). Created in late March 2020 with £20m funding from UK Research and Innovation, COG-UK is bringing together researchers from 16 sites across the UK, including the Wellcome Sanger Institute, to sequence positive samples of SARS-CoV-2 to track the emergence of mutations and how they are spreading over time. 
The identification of this new variant using genomics illustrates how crucial whole genome sequencing of SARS-CoV-2 is to inform public health responses to the ongoing Covid-19 pandemic. 
Role of genomic sequencing in Covid-19 response
In mid-January 2020, researchers in China and Australia published the whole genome sequence of a virus that was causing a respiratory disease outbreak in Wuhan, China. Understanding the genomics of what would later be named SARS-CoV-2 enabled governments and researchers to track the emergence of Covid-19 outbreaks in their country. 
For instance, COG-UK director of strategy and transformation Dr Ewan Harrison explains that during the first wave of Covid-19 in the UK, the research consortium was able to figure out that the first importations into the UK came primarily from France and Spain, not Italy or China as many assumed. 
Whole viral genome sequencing also allows for better understanding of the transmission of the virus, including whether it is mutating and becoming a larger threat. In addition, genomics can help to explain why people respond to Covid-19 in different ways, therefore helping to identify and better protect those at greater risk of severe disease.
To do this, according to Harrison, COG-UK has leveraged the UK's impressive genomics capacity to capture Covid-19 diagnostic test samples from both NHS and Lighthouse labs in order to sequence the viral genomes. The results are then uploaded into COG-UK's central server where they are analysed to look for the presence of mutations and phylogenies of SARS-CoV-2 in an automated fashion. 
To find out if certain viral variants are linked with more severe diseases, Harrison notes, COG-UK is also linking its viral genome sequences with NHS patient data and a human genome sequencing project being carried out with Genomics England. 
All the data then flows to those doing research and into the public health agencies responsible for overseeing Covid-19 response, explains Harrison.
Need for real-time surveillance
COG-UK and its partners have been incredibly successful at identifying viral variants to help to understand existing outbreaks. Not only was their work instrumental in understanding the variant responsible for the rapid spread of Covid-19 in the South East of England, but genomics has also been useful to determining the source of highly local outbreaks. Harrison provides the example of Addenbrooke's Hospital in Cambridge and how COG-UK researchers used genomics to identify the source of a local outbreak as a minibus transporting dialysis patients to and from the hospital. 
However, there is a need for genomics to be able to help public health bodies respond faster to outbreaks as they emerge. To this end, COG-UK and the Sanger Institute have raised £12.2m in funding from the Department of Health and Social Care's Testing Innovation Fund to create a real-time surveillance system of emerging outbreaks. This system will be supported by new software being developed by the Sanger Institute and involves researchers from across the consortium's network. 
Instead of relying on epidemiological exceedance, which "often requires a large number of cases to detect" outbreaks, genomics can help identify and respond to large clusters maybe a week earlier, according to Harrison.
This is because, for example, genome sequencing can show there are five identical SARS-CoV-2 viruses within one workplace on the same day, thereby suggesting there is Covid-19 transmission going on in that workplace. "If you didn't have genomics you might know you had five cases, but you wouldn't know if they were related" and constituted an outbreak. It is possible that all five cases could be different, meaning they have separate sources and do not represent a cluster. 
However, for a real-time surveillance system to be effective, there is a need to speed up genomics sequencing. This is what COG-UK, the Sanger Institute and all the consortium's researchers are working on currently. "We are constantly working to reduce the turnaround time for the moment that a sample tests positive to the sequence being generated and uploaded," notes Harrison. 
Harrison adds: "We have been looking at some outbreaks retrospectively and there is a good chance we could have detected them if we had been sequencing the virus in near real-time." 
Informing vaccine roll out
Not only will the real-time genomics surveillance support earlier responses to local outbreaks, COG-UK and the Sanger Institute also hope it will allow them to monitor the virus's response to vaccines and identify any viral mutations associated with vaccine failure. Vaccine failure suggests that the virus has evolved to evade the induced immune response. 
Harrison explains that in the case of vaccine failure, which leads someone to get Covid-19 after being vaccinated, the consortium could sequence the virus and identify any "particular mutations that seem to reduce the ability of an antibody to bind to the virus". 
This is extremely important as the UK was the first country to emergency approve Pfizer/BioNTech's mRNA vaccine BNT162b2 and AstraZeneca/University of Oxford's adenovirus Covid-19 vaccine. The rollout of these vaccines has begun, therefore, if there are any issues with the virus evolving to resist the vaccines, this needs to be known and dealt with as rapidly as possible.