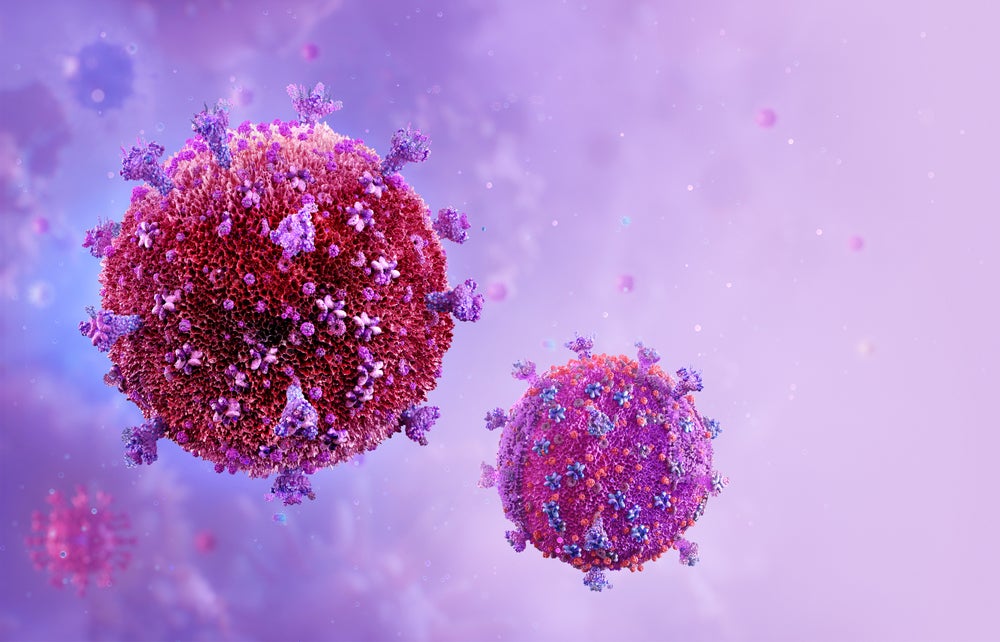 Treatments for HIV have come a long way since AIDS was first recognised by the US Centers for Disease Control and Prevention – and HIV was identified as its cause – around 40 years ago. Once effectively a death sentence, the virus is now a manageable condition, thanks to the development of antiretroviral therapies (ART). The first ART, azidothymidine, was approved by the FDA in 1987, and today there are more than two dozen different anti-HIV drugs on the market.
HIV requires lifelong treatment, and almost all currently available ART involves taking medicine at least once daily to keep the virus at bay. For people living with HIV, a lifelong treatment regimen requiring such frequent dosing can be inconvenient and difficult to maintain, interfering with day-to-day life and potentially resulting in reduced adherence.
A study conducted by HIV-focused pharmaceutical company ViiV Healthcare found that 55% of participants would prefer not having to take medication every day, as long as their HIV stays suppressed. What's more, 58% said that taking daily medication acts as a constant reminder of HIV in their lives, while up to 38% reported anxiety around the fact that taking daily treatment could increase the chances of revealing their HIV status to others.
As the effectiveness of antiretroviral drugs can be significantly impacted when taken incorrectly, more convenient HIV treatment regimens that reduce the burden of the virus are crucial.
Pharmaceutical Technology takes a look at the long-acting HIV regimens currently being explored, and how they could improve the lives of the approximately 38 million people living with the virus worldwide.
Long-acting drugs
There is currently only one complete long-acting regimen available for the treatment of HIV in adults: ViiV's Cabenuva, which was approved by the EU in December and by the FDA in January of this year. The therapy, consisting of one cabotegravir injection and one rilpivirine injection, is administered just once a month. ViiV have since submitted a supplemental New Drug Application to the FDA to expand Cabenuva's label to every-two-month dosing, after a study found that administering the therapy every two months was noninferior to dosing once a month.
ViiV's efforts to deliver long-lasting anti-HIV drugs doesn't stop there. This month, the US-based company announced a collaboration and licensing agreement with Halozyme Therapeutics. The deal gives ViiV exclusive access to Halozyme's Enhanze drug delivery technology – recombinant human hyaluronidase PH20 enzyme – for specific targets used in the treatment and prevention of HIV. The PH20 enzyme temporarily breaks down a barrier under the skin, allowing large amounts of fluid to be injected subcutaneously. ViiV hopes the larger dose the technology enables will lead to the development ultra-long-acting medicines, with dosing intervals of three months or even longer.
Drug giants Gilead Sciences and Merck are also on the hunt for HIV therapies with reduced dosing requirements, having signed an agreement in March to co-develop and co-commercialise long-acting treatments for the virus. The collaboration will see Gilead's lenacapavir and Merck's islatravir combined into a two-drug regimen, for which both oral and injectable formulations will be explored. Clinical studies of the oral combination are expected to commence in the second half of this year.
Broadly neutralising antibodies
To date, the main focus of HIV treatment has been on ART, but broadly neutralising antibodies (bNAbs) are another strategy that shows promise. bNAbs develop naturally in some people with HIV and can be effective in broadly neutralising diverse strains of HIV-1 (the predominant virus worldwide). Applied therapeutically, certain subsets of these antibodies have the potential to kill HIV-1-infected cells and prevent cell-to-cell transmission of the virus.
The first clinically relevant HIV bNAb was identified in 1994, and by 2006 several bNAbs that worked on multiple HIV strains had been isolated. The first HIV bNAbs seen in a decade were identified and characterised by researchers in 2009, and the discovery of these antibodies has increased in recent years.
Research into bNAbs as an HIV therapy is still in  early stages, but the approach appears to have several advantages over ART, including lower toxicity and the potential to be modified to last for long periods of time in the body.
In 2019, ViiV announced it was developing the investigational bNAb N6LS for long-acting HIV treatment and prevention, as part of an exclusive licensing agreement between parent company GlaxoSmithKline and the US National Institute of Allergy and Infectious Diseases (NIAID). The NIAID itself is funding and conducting research to evaluate whether periodic infusions of two highly potent bNAbs, 3BNC117 and 10-1074, are safe in people living with HIV.
Therapeutic vaccines
Unlike a vaccine designed to prevent HIV infection, a therapeutic HIV vaccine could be administered to people who already have the virus, stimulating their immune system to halt the progression of HIV and eliminate the need for other treatments.
While we're a long way from seeing such a vaccine become a reality, researchers are eagerly pursuing the development of the potentially life-changing therapy. Immunotherapy for HIV Cure Collaboratory (I4C), for example, is one of six US-based research groups funded by the NIAID to investigate potential cures for HIV. I4C is pursuing, among other approaches, the development of therapeutic vaccines to boost HIV-specific immunity.
AELIX Therapeutics, a Spain-based biotech, is dedicated to developing novel vaccines to cure HIV infection. The company this year reported positive results from a Phase I/IIa trial of its investigational T-cell therapeutic HIV vaccine, which showed that some vaccinated participants were able to remain off ART for over 22 weeks while maintaining a low viral load.