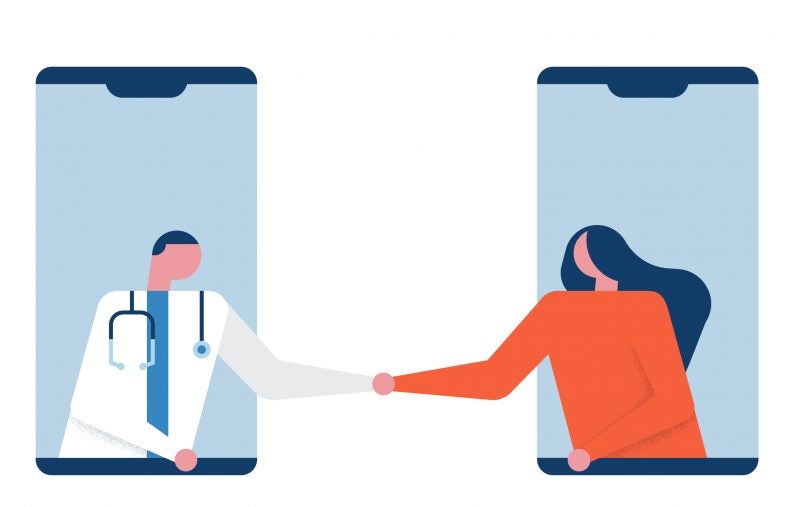 Due to the Covid-19 pandemic, life sciences software vendor Medidata recently held its NEXT conference virtually. In her welcoming remarks, executive vice-president and head of product Jackie Kent focused on Medidata's actions to support its customers during the disruption of the pandemic.
Kent talked about how the company has created a whitepaper, which it updates regularly, about how Covid-19 is disrupting clinical trials and focusing on how regulators and companies are responding to the crisis, such as through virtualisation of trials.
In addition, Kent mentioned that Medidata had expedited the launch of myMedidata, a unified platform for patients that relies on the company's Rave and Patient Cloud tools.
The first release includes a Covid-19 symptom tracker, which is free to customers. The aim of this tracker is to improve understanding of the virus, as well as support the continuation of some trials.
Medidata co-founder and co-CEO Glen de Vries said in a statement: "We need to do everything we can to help patients continue their care in existing clinical trials.
"We can't allow the public health threat caused by COVID-19 to create another set of threats for these patients. myMedidata is a crucial step in keeping patients involved and supported, regardless of their location."
Medidata's patient portal was developed as part of the company's 'patient-centricity by design' programme; the prioritisation of the patient perspective in clinical trials was a major theme of the company's New York City NEXT conference last year.
Medidata senior director of patient engagement and three-time cancer survivor Alicia Staley explains why Medidata is so committed to patient-centricity, including through this new myMedidata portal, and how this will help the company better support its customers in the new, post-Covid-19 era.
Allie Nawrat: What are the principles behind 'patient centricity by design' at Medidata?
Alicia Staley: 'Patient-centricity by design' is a programme that we've worked on at Medidata for the last year and a half. When I joined Medidata two summers ago, we really looked at what it meant to be a patient-centred company. We spent some time digging into what it means for a software company to become patient-centric.
We spent some time doing industry research on patient-centricity and gravitated toward a definition that we felt would make sense. We anchored ourselves and our work to the definition that was presented in a paper in the British Medical Journal in 2016 by Guy Yeoman.
With that in mind, we [decided to] work with patients and we actually brought patient advocates from around the US into a number of sessions, which we call design studios. We work with them to refine the definition of patient centricity and how we wanted to execute that within Medidata.
We felt like it was an opportunity for us to begin to build relationships with patient advocates across different disease states that could help us really begin to see how we could present as a company that's patient-centric.
We've had excellent feedback from the patients that we've worked with. These advocates have been very enthusiastic because they feel like we're addressing something that the market needs to be doing on a larger scale. They have really taken to the design studios we've set up.
For them, because we've done this on a very consistent basis – they're not afraid to tell us if we've got something wrong. If you were calling on them on a one-time basis, you might not get that honest feedback.
I like that because I feel like that challenges my team to consistently think of the patient perspective. Because if we're not, we will miss the mark.
AN: Why is it important to Medidata that patients are brought into discussions about how to design technology for clinical trials?
AS: Typically, we work with sponsors that are setting up the clinical trials, [which means] the patients have historically have been an afterthought. Patients are sometimes consuming technology in the clinical trial, but they're not typically the end user who would buy these solutions. What we're finding is because the patients are one step away from the business cycle, they've been this forgotten participant in the whole development cycle.
What we've done at Medidata is just bring the patients back to the centre focus for what we're trying to do with our technology. If we are working with patients to bring their perspective into what we're doing, it does two things.
One, it makes our process internally much more efficient, because, by talking to patients, we're finding potential issues and efficiencies much earlier in the whole development lifecycle. Gone are the days of delivering a software solution in a clinical trial to find the patients don't like it or won't use it.
Two is [that] there is an element of acceptance that comes much quicker. We're developing solutions that we know patients are going to use out of the gate. They will be engaged in using them throughout clinical trials.
For us, it is about efficiency and a much better user experience for the patients using the technology we're putting on the market. If you want to be an industry leader, you can't afford to put a product out that potential end users are going to have a hard time using.
AN: How did Medidata's existing work on patient centricity allow for the early launch of myMedidata during the Covid-19 pandemic?
AS: It put us in a very good position to respond in an expedited fashion [with myMedidata]. We were able to reach out to some of our patient advocates and show them what we were working on. What they said was as a clinical trial participant, I need to be able to track my symptoms and watch how I'm doing as I continue in my clinical trial journey to just be aware of anything that's changing in my health.
We were able to really iterate with our patient advocates and the design teams very quickly. Because we had established these relationships, we knew how our teams work together and we were really able to take advantage of that to expedite a solution. With patient input, our designers, developers and engineers were really working at full speed.
myMedidata is about giving patients a gateway to their entire clinical trial experience. It gives them a place where they can go and have a dashboard experience that allows them to really fully engage in their clinical trial and stay informed about what's going on.
It gives the patient the ability to remotely consent to a clinical trial and engage with the clinical trial team. We're rolling out actual video visits so patients and clinicians can actually meet online.
Any tools that allow for virtualisation of a clinical trial essentially allows the patient to continue through their clinical trial journey wherever they are. It's so important, and particularly during a pandemic.
 AN: What lessons has the pandemic taught the industry with regard to patient-centricity?  
AS: We've hit an interesting point in the industry. I feel very strongly that that patient centricity is needed now more than ever before. Without being a patient-centric company or adopting patient-centric principles, it's going to be very hard to continue in clinical research.
We've had some very fundamental shifts not only in the industry, but in the way that patients are responding to healthcare and clinical research. The patient's perspective has been altered dramatically by this experience, and without having these core relationships with patient advocates, or a deep understanding of the patient perspective, I think some companies will miss the mark.
We're going to need the life sciences industry to become a services industry for the patient. It is no longer about checking regulatory items off as you go through a clinical trial, it is a very holistic experience and we need to be able to provide a continuum of care and a platform that supports that.
That's the biggest lesson that the industry will learn as we go through this pandemic together.