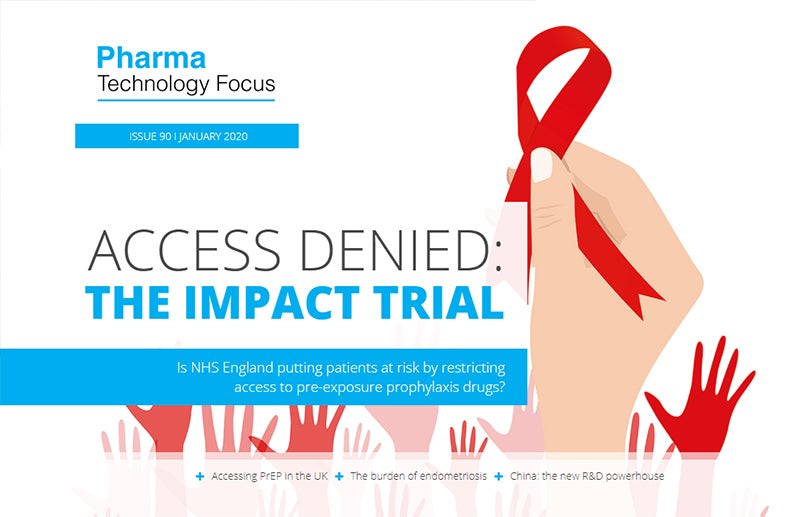 Pharma Technology Focus is now available on all devices. Read it for free here
Breast cancer is the second most common type of cancer, but despite its wide-reaching impact, the number of deaths caused by the condition has fallen by almost 50% since the 1980s, according to Cancer Research UK. We take a look at how breast cancer oncology has developed over the past three decades. Plus, we investigate the decision to restricting PrEP access to a small pool of patients in the NHS England Impact Trial even though the same medication is freely available elsewhere in the UK.
In other news, we debate the viability of Democratic candidate Pete Buttigieg's plan to tax Big Pharma, examine prominent issues patients face when undergoing endometriosis treatments, and track the rise of fake medicines in Africa as well as the organisations working to put a stop to the counterfeit drug trade.
Also, we explore the potential of off-the-shelf CAR-T therapies, review Nobel Prize-winning research into the ways that cells sense and adapt to oxygen availability, and find out why pharma industry bigwigs are pulling out all the stops to gain access to China's pharma market.
In this issue
Breast cancer timeline: charting three decades of success
A new report from Cancer Research UK shows cancer deaths have fallen by almost half since the 1980s, with better tests and treatment playing a large part in this achievement. Allie Nawrat charts how breast cancer treatments have developed and improved over the last three decades.
Read the article here.
PrEP drugs: is the NHS letting down patients at risk of HIV?
The efficacy of HIV-prevention drug PrEP is long-established, but access to the drug in England is restricted to participants on the NHS Impact Trial. At least 15 men who were waiting for trial places have acquired the lifelong disease – so how is limiting trial places for a crucial drug already proven to work justified? Chloe Kent investigates.
Read the article here.
Debate: can us pharma be taxed into behaving?
In the US, Democratic primary candidate Pete Buttigieg has proposed a punitive tax on drugmakers that refuse to renegotiate drug prices. Could taxation be an effective and fair way of bringing US medical costs down and punishing abusive pricing? Allie Nawrat and Chris Lo explore the pros and cons.
Read the article here.
Can new therapies tackle the burden of endometriosis?
Endometriosis causes debilitating period pain and can lead to fertility problems, bladder issues and even suicidal thoughts. But treatments for the condition, which do not have severe side effects, are sorely lacking. Natalie Healey explores whether there are any promising therapeutic candidates in the pipeline.
Read the article here.
The rise of fake medicines in Africa
According to the World Health Organization, sham drugs are the world's most lucrative counterfeit goods, with a global market worth roughly $200bn, and Africa accounts for around 42% of the world's cases. But what is behind this scourge, and what can be done to stop it? Abi Miller finds out.
Read the article here.
Off-the-shelf CAR-T therapy: broadening the reach of precision medicine
Although it seems like a contradiction in terms, creating off-the-shelf versions of precision medicines, such as CAR-T therapies, is increasingly being seen as an answer to manufacturing challenges facing the current autologous approaches. Allie Nawrat explores Celyad's allogeneic, off-the-shelf CAR-T therapy CYAD101 as a case study of the model's promise.
Read the article here.
Nobel Prize 2019: how a breathtaking discovery unlocked new drugs
Three scientists have jointly been awarded the 2019 Nobel Prize in Physiology or Medicine for their discoveries around cells' response to oxygen availability. Their revelations have changed biology textbooks, but what are the implications for new pharmaceutical treatments? Chris Lo finds out.
Read the article here.
China in 2019: a prime destination for R&D deals
Big pharma's race for access to China's pharma market has become bizarre at times; with displays of showmanship and cultural homage conducted alongside deals with and investment into the country. Allie Nawrat takes a look at the trends that have marked 2019 as a big year for big pharma's presence in China.
Read the article here.
Next issue preview
In the next issue of Pharma Technology Focus, we review the most successful projects to be funded by the EU's Horizon 2020 scheme, dig through the fine print of the Lower Drug Costs Now Act to find out how the proposed legislation could impact the industry in the US, and talk the future of pharmacies and batch testing with Valisure.
Also, we explore the relationship between old age and drug development after the World Health Organization proposed classifying ageing as a condition, find out how 'just-in-time' medications that can be manufactured aboard space shuttles could help protect astronauts during deep space missions, and examine the comeback of Biogen's Alzheimer's treatment aducanumab.
Plus, we find out about Ehlers-Danlos syndromes and the treatments available to patients suffering with the condition, and take a look at pharma's role in improving global access to medicines.