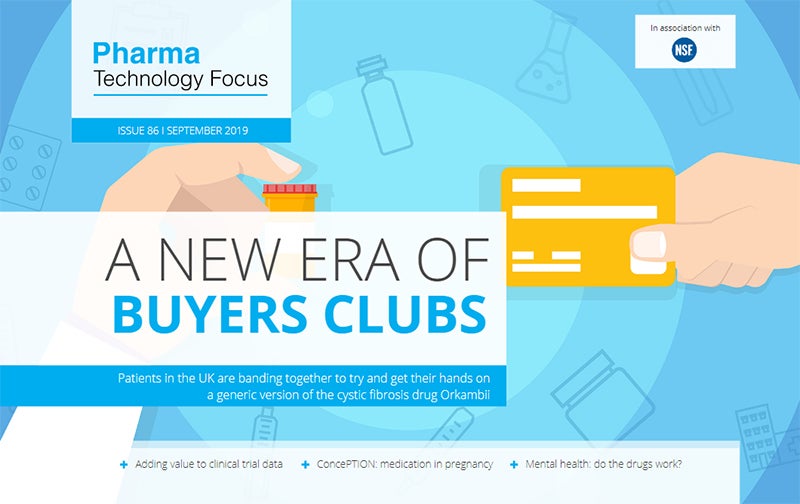 Pharma Technology Focus is now available on all devices. Read it for free here.
Regulators are warming to the opportunities real world data provides in assessing drugs in both the pre and post-approval phases. We explore the benefits of tapping into this rich new data source. Also, following the passing of renowned immunologist Dr Teruko Ishizaka we take a look back at the life and achievements of the trailblazing scientist.
Plus, we investigate the rise of buyers clubs in the UK as patients attempt to access a generic version of the cystic fibrosis drug Orkambi, speak to Smart TMS to find out about attitudes to pharmaceutical treatment for mental health conditions, and explore what pharma is doing to address the overuse of antibiotics in animals.
And finally, we examine the work of a pan-European body called ConcePTION, which is tackling unknowns of medication in pregnancy, find out what makes SIX Swiss Exchange a good home for life sciences, and take a look at the cancer-killing power of halichondrin.
In this issue
Real world data: improving clinical trial outcomes
In a world where data is crucial, scientists are increasingly looking beyond the confines of a traditional clinical trial, as was proven recently by the first FDA approval of a drug based purely on real world data. But how can such data be used, and can regulators be convinced by the results? Allie Nawrat finds out.
Read the article here.
Understanding allergic reactions: chronicling the work of Dr Teruko Ishizaka
Renowned Japanese immunologist Dr Teruko Ishizaka passed away in June at the age of 92. She has been credited with co-discovering IgE, a novel class of antibodies related to allergic reactions, changing the allergy field forever. Allie Nawrat takes a look at the life and achievements of this trailblazing, female scientist.
Read the article here.
Buyers' clubs: the first step toward universal UK access to Orkambi?
In response to failing negotiations between the UK's National Health Service and Vertex over the CF drug Orkambi, parents of children with CF have created a buyers' club to get access to an Argentinian generic version of the drug. Allie Nawrat examines whether buyers' club can triumph where negotiations have failed.
Read the article here.
Prescription dread: measuring psychiatric drugs against the alternatives
Mental health clinic chain Smart TMS has completed a UK-wide research project to answer some key questions about attitudes to psychiatric drugs. Allie Nawrat speaks to the company's medical director and consultant psychiatrist Dr Leigh Neal to find out more about these attitudes to pharmaceutical treatment for mental health conditions.
Read the article here.
Herd health: agriculture's role in the global AMR crisis
The majority of antibiotics used globally are also administered to farm animals, and evidence is showing the impact it's having on the antimicrobial resistance crisis. Chris Lo finds out how the animal-focused pharma industry feeds into AMR in humans, and what the alternatives are to important shared-use antibiotics.
Read the article here.
ConcePTION: tackling the unknowns of medication in pregnancy 
The gaps in knowledge when it comes to the use of medication during pregnancy and breastfeeding are vast. A pan-European body called ConcePTION has been awarded a five-year grant by the Innovative Medicines Initiative to fill in the research gap. Abi Millar finds out more.
Read the article here.
From start-ups to the Six Swiss Exchange – a Swiss success story
Switzerland is consistently ranked the most innovative country in the world, especially when it comes to life sciences. Abi Millar looks at how the country promotes the creation of new biotech companies and supports them as they grow.
Read the article here.
Cancer drug discovery: unravelling the mysteries of halichondrin
A joint Harvard-Eisai project has achieved a breakthrough by fully synthesising the highly potent anti-cancer molecule halichondrin, sourced from marine sponges, at scale. It has taken 30 years of research to reach this point, so what has made halichondrin synthesis so difficult, and what are the implications for the treatment of cancer now that the molecule can be synthesised for clinical testing? Chris Lo finds out.
Read the article here.
IDMP is back: what next?
As ISO IDMP becomes a renewed priority for EMA, life sciences firms must redouble their efforts to ensure compliance by 2021. AMPLEXOR's Siniša Belina proposes a practical way forward.
Read the article here.
Global labelling management: why does it continue to cause problems?
In contrast to other areas of regulatory information management, labelling continues to stand apart as a disconnected tangle of systems and processes which lack any real consistency across the global business. Over-reliance on manual tracking, checks and edits risk the introduction of risk, delay and cost. AMPLEXOR's Agnes Cwienczek offers some pointers on how to put this right.
Read the article here.
Next issue preview
In the next issue of Pharma Technology Focus we take a look back at the ways that viruses have been used to fight diseases, speak to Paris-based biotech company SparingVision to discuss the future of specialist eye interventions, and explore the potential of an advanced smart pill bottle designed to improve patient adherence.
Also, we find out how the WHO's essential medicines list is compiled and its commercial significance for the pharma industry, examine why pharma is starting to move away from animal testing and the alternative options being developed and implemented, and analyse why pharma is so bad at sharing clinical trial information.
Plus, we learn about the trials of building the world's first and largest pan-African biobank from new enterprise 54gene and explore whether Netflix-style subscription payment models for drugs are a good idea.