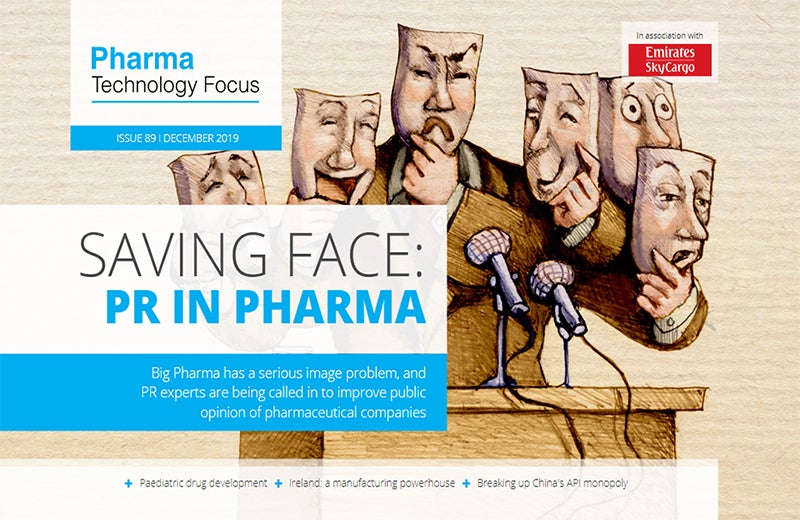 Pharma Technology Focus is now available on all devices. Read it for free here
Every year, at-risk patients are encouraged to get the flu vaccine to prevent the spread of influenza and minimise the number of serious, or fatal, cases. The vaccine is commonly administered via intravenous injection, but in recent years researchers have been on the hunt for a needle-free solution. We chart the evolution of the flu vaccine to find out how practitioners are adapting to fight this virus hydra.
Also, we explore the challenges of developing drugs for children following the news that paediatric patients in the US are commonly prescribed drugs that have not been studied or approved for use in children, argue whether countries should repatriate API manufacturing to break up the China/India monopoly, and take a look at Ireland's surging drug manufacturing industry and the interesting impact it appears to be having on local residents.
Plus, we examine the link between recurrent miscarriage and endometriosis, find out how PR spin doctors are helping Big Pharma companies to improve their public image, speak to the Gavi alliance about its role in immunising 300 million people by 2025, and investigate the problems with cancer trial design and administration.
In this issue
Coughs and sneezes spread diseases: charting the development of flu vaccines
Vaccines have been established as the most effective method of preventing flu since the early 20th century, however, much has changed in the past century to improve effectiveness, administration and adherence in the face of flu viruses' constant mutation. Allie Nawrat charts the development of flu vaccines.
Read the article here.
'Don't put baby in the corner': overcoming challenges in paediatric drug development
A study by Rutgers University has found clinicians are increasingly prescribing drugs off label to children although there is no evidence of efficacy or safety. Allie Nawrat explores the challenges to paediatric drug development and asks, why there are still so few drugs developed specifically for children?
Read the article here.
Debate: should countries bring critical drug production home?
Regulatory breaches at drug manufacturing sites in India and China have fuelled concerns over the safety of the API supply chain and sparked calls for countries to repatriate production of critical medicines. But is this a good idea? Chris Lo and Allie Nawrat explore the pros and cons of taking back control of API manufacturing.
Read the article here.
Beyond Viagra town: profiling the Irish pharma industry
The vast majority of the world's supply of Viagra is manufactured by Pfizer in a small village in County Cork, Ireland, leading to comical rumours that the vapours of the erectile dysfunction drug is causing an aphrodisiac effect on the town's men. This modern folk tale highlights the outsized pharma manufacturing capacity and expertise that exists in Ireland. Allie Nawrat charts the development of Ireland's pharma industry.
Read the article here.
Recurrent miscarriage: could this devastating condition have a simple cure?
Recurrent miscarriages are often caused by endometriosis, a condition that affects one in ten women and leads to inflammation and lesions within the womb lining. Researchers now believe the condition could be caused by an imbalance within the gut microbiome, and could be treated with a simple course of antibiotics. Abi Millar profiles two research groups exploring this theory.
Read the article here.
Public image limited: the role of PR in pharma
Appearance is everything, at least that's how the saying goes, and for pharma companies maintaining a positive and trustworthy reputation isn't easy. So how does Big Pharma establish and keep its public image in check, and how do companies recover when things go very wrong? Chris Lo finds out.
Read the article here.
Q&A: Gavi alliance talks immunising 300 million people
Gavi, the Vaccine Alliance, has initiated a $7.4bn fundraising drive to support the immunisation of 300 million children against 18 diseases, which they say could save up to eight million lives between 2021 and 2025. Abi Millar spoke to MD Aurelia Nguyen to find out more.
Read the article here.
Bias remorse: are cancer drug trials clear enough on outcomes?
New analysis published in the British Medical Journal has found that almost half of pivotal trials forming the basis of EMA approvals of new cancer drugs were at high risk of bias based on their design, conduct or analysis. What exactly are the problems with cancer trial design and administration, and what needs to change? Chris Lo speaks to study co-author Dr Huseyin Naci to find out more.
Read the article here.
Next issue preview
In the next issue of Pharma Technology Focus, we delve into the biggest topics set to influence the global market in 2020 and beyond. But first, we take a look back at the development of breast cancer treatment following the news that the number of cancer deaths has declined by almost 50% since the 1980s.
Looking forward, we investigate why access to PrEp drugs in England is restricted to patients in the NHS Impact trial despite the proven efficacy of the treatment, ask if Big Pharma can be taxed into putting patients before profits, and find out how companies are addressing the burden of endometriosis.
Plus, we track the rise of fake medications in Africa, examine a CAR-T therapy that protects non-diseased T cells, explore how 2019 Nobel Prize-winning research into how oxygen levels affect cellular metabolism and physiological function will change drug discovery, and finally, we look to the East to find out what is next for China's surging market.