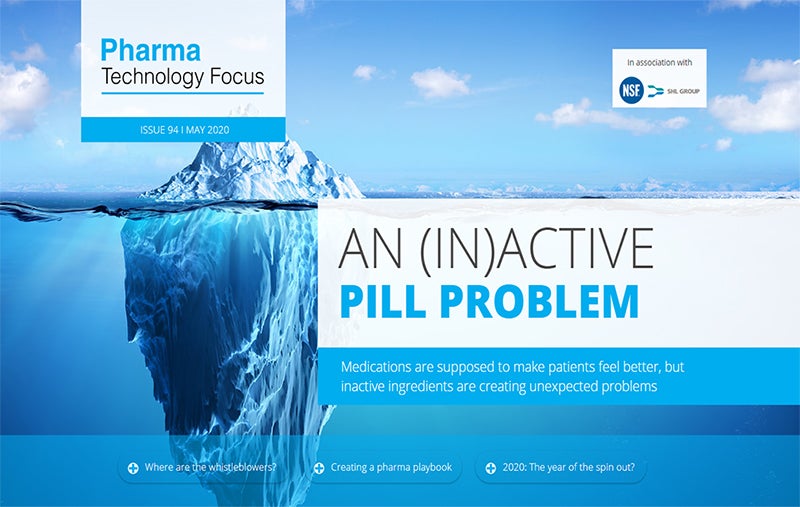 Pharma Technology Focus is now available on all devices. Read it for free here
The arrival of Covid-19 has put pharma companies under increased pressure to deliver positive results, but this is not the first time that the industry has been forced to rapidly respond to global health threats. One such threat is the mumps, a viral disease that is once again on the rise in England despite the existence of the MMR vaccine. To find out what is behind this ten-year peak in cases, we track the history of the condition and the treatments developed to prevent it. Plus, we investigate the role that whistleblowers play in global pandemics, and find out what happened to the individuals who went above and beyond to warn people about the spread of diseases.
Moving away from viruses, we take a look at a cancer treatment that shuns the personalised medicine trend by targeting the oncoprotein Myc, which is found in most cancers, talk to supply chain management company Origin about pharma's role in dealing with the health effects of climate change, and find out what manufacturers do to maximise the tolerability and safety of medications and their inactive ingredients.
Plus, we ask if 2020 will be the year of the pharma spin out company, speak to Genocea CEO and president Chip Clark about improving cancer treatments, and get a step by step guide through Signals Analytics' pharma playbook to find out how the system can support drug development and partnerships.
In this issue
Another bump in the road for mumps treatment 
In 2019, the number of mumps cases in England reached heights not seen since 2009, despite the availability of the MMR vaccine on the NHS. This peak follows similar trends in the US and has sparked concerns about the spread of anti-vaccination fervour, and its impact on the decline of vaccination rates. Allie Nawrat charts the history of mumps and vaccines throughout history.
Read the article here.
From Covid-19 to SARS: what becomes of the whistleblowers? 
Following death of Chinese doctor Li Wenliang, the man who tried to warn officials about the threat of Covid-19,  Chloe Kent finds out about the role of whistleblowers in healthcare and what happened to those who tried to warn us about the threat of serious health risks in the past.
Read the article here.
Eptomyc: the quest for a 'universal' cancer treatment
Startup company Peptomyc is looking to develop a 'universal cancer treatment', which inhibits an oncoprotein called Myc that is integral to the mechanism of cancer cells. The company has described its strategy as 'the opposite of personalised medicine' – so could it work? Abi Millar reports.
Read the article here.
Q&A: is pharma ready to address the health effects of climate change?
As climate change makes its presence felt, is pharma ready to play a leading role in addressing the global health threats that global warming presents? With the anticipated growth of vector-borne diseases, respiratory disease, bacterial diarrhoea and malnutrition, how can pharma R&D and the supply chain be reformed to help tackle the threat? Abi Millar finds out.
Read the article here.
Not-so-inactive ingredients: a sore spot for patients? 
Pills are made up of more than just active pharmaceutical ingredients; in fact, 75% of the average tablet is made up of inactive ingredients. Almost all of these contain a potential allergen; worryingly, some drugs prescribed for GI conditions, such as IBS, actually contain allergens known to worsen symptoms. Allie Nawrat investigates.
Read the article here.
Beyond M&As: will 2020 be the year of the spin-off? 
Last year saw extensive M&A activity in pharma, centred around large scale multi-billion-dollar megamergers. With the year of the megamerger now behind us, what will the new commercial trend of 2020? Allie Nawrat explores big pharma's move to spin-off portions of its portfolio and its benefits for the industry.
Read the article here.
Q&A with Genocea: improving cancer treatment with precise, personalised targets
Genocea's ATLAS platform can determine the best target for each individual cancer patient, primarily by identifying and excluding a new type of antigen, called an Inhibigen, which can undermine a therapy's anti-tumour effect. Allie Nawrat talks to Genocea's CEO and president Chip Clark about the company's approach and how it improves on existing immune-focused approaches in oncology.
Read the article here.
Pharma playbook: an inside look at Signals Analytics vast therapeutic database
Signals Analytics has created a Pharma Playbook, which collects, connects and visualises all external data related to an enormous number of targets and therapeutic areas, including 1,600 rare diseases. Allie Nawrat finds out more.
Read the article here.
Next issue preview
As pharma companies around the world race to develop a viable treatment for Covid-19, a number of therapeutic candidates have emerged as potential solutions. One of the most promising drugs currently being trialled is Remdesivir, an antiviral medication originally developed by Gilead Sciences to treat Ebola. We take a look at the current state of Remdesivir and other Covid-19 candidates to find out more about the race to find a cure.
Also in the next issue, we investigate ongoing backlash against Aspirin and ibuprofen, find out if a sophisticated laboratory model of the human body could help practitioners to detect harmful or adverse effects of drugs before they are prescribed to patients, and delve into the complex subject of drug pricing to see if crisis situations should change the way that regulators approach the issue.
Plus, we take a look at the next wave of anticoagulants, examine ViiV Healthcare and UNC-Chapel Hill's "induce and reduce" approach to eliminating HIV, investigate what the Veeva vs IQVIA anti-competitive lawsuit means for pharma data issues and ownership, and find out if nano-particles are the solution to unlocking the pharma benefits of turmeric.