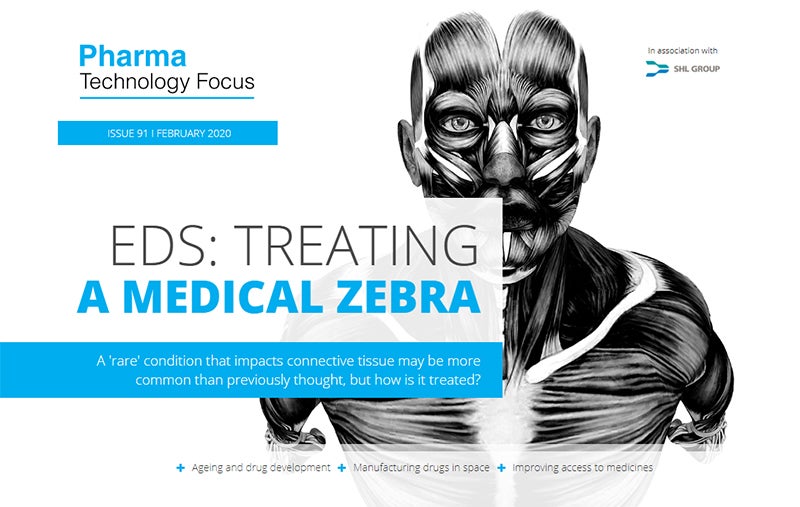 Pharma Technology Focus is now available on all devices. Read it for free here
Horizon 2020, the European Union's research and innovation programme, is entering its final year. But how has the money been used to drive pharma developments in the region? We round up the most successful and innovative projects to emerge from scheme. Plus, we examine the potential consequences of matching US drug prices with the rest of the developing world.
Also in this issue, we learn about the unique testing process implemented by US pharmacy Valisure to ensure drug quality, investigate the understanding of ageing in drug development, and find out how in-space drug manufacturing is being floated as a way to maintain the health of astronauts on deep space missions.
Plus, we explore the science behind the surprise return of Biogen's Alzheimer's treatment aducanumab, take a look at the future of EDS treatment, examine pharma's role in improving access to medicines, and get insights into the patient agenda and IDMP from Iperion Life Sciences Consultancy.
In this issue
Horizon 2020: a look back at flagship EU pharma projects
As we enter into a new decade we leave behind the EU's €80bn innovation funding drive, Horizon 2020. To mark the end of this sizeable EC commitment to scientific research and innovation, Allie Nawrat takes a look at some particularly interesting Horizon 2020 projects in the personalised medicine, drug resistance and drug delivery fields.
Read the article here.
Sky high: should US drug prices fall in-line with the rest of the world?  
Democrat politicians in the US Congress have thrown their weight behind new bill HR3, otherwise known as the Lower Drug Costs Now Act, which proposes that Medicare set drug prices based on international prices. This could save US taxpayers $345bn over seven years, but would have huge ramifications for the global pharma industry. Abi Millar looks into what the legislation could mean.
Read the article here.
Q&A: talking drug quality with Valisure, the first analytical pharmacy
Grounded on personal experience of complications from taking below par drugs, Valisure is the only pharmacy in the US that puts each and every batch of medicines it buys through rigorous chemical tests before selling them to patients. Allie Nawrat talks to Valisure co-founder and CEO David Light about the company's business model and why it has taken on the responsibility of quality assurance.
Read the article here.
What does 'ageing' mean when it comes to drug development?  
The WHO is considering a new framework, which proposes the classification of ageing as a condition in all organs, along with the comprehensive classification of all ageing-related diseases. This will notionally drive resources towards unmet needs, and improve drug development and use. Abi Millar finds out more. 
Read the article here.
Manufacturing medicines in space: how astronauts will make their own drugs 
NASA's TRISH has funded innovative projects seeking to better protect astronaut's health during deep space missions. Two of the six projects focus on 'just-in-time' medications, which allow drugs to be manufactured on-demand and on-board the spacecraft. Allie Nawrat talks to the TRISH scientist Dr Emmanuel Urquieta about the two on-demand projects.
Read the article here.
Aducanumab's surprising revival: how an Alzheimer's drug came back from the dead  
Despite halting development after disappointing trial findings in March, Biogen now plans to submit Alzheimer's candidate aducanumab for FDA approval, after new analysis showed the drug just might work. Natalie Healey explores whether this high-profile comeback is justified.
Read the article here.
Ehlers-Danlos syndrome: the zebra in the room
The Ehlers-Danlos syndromes cause a range of debilitating symptoms. Once thought to be rare conditions, new research suggests their true prevalence is much higher.  Natalie Healey explores what this could mean for patients who are frequently dismissed by healthcare professionals.
Read the article here.
Stop ignoring the two billion: pharma's role in expanding access to medicine
Despite pharma's growing commitment to broadening access to medicines in poorer countries, progress has been fragile, according to a ten-year review by the Access to Medicine Foundation. Allie Nawrat explores how to ensure access to the two billion people who remain forgotten.
Read the article here.
IDMP: turning attention to patient benefits
If there is one priority that must rise above all others as progress towards IDMP implementation continues in 2020, it is the patient agenda, says. Frits Stulp of Iperion Life Sciences Consultancy. Here, he reflects on recent developments and what the next year has in store.
Read the article here.
Next issue preview
The opioids crisis was a key talking point in 2019. With high-profile legal battles putting the pharma industry under a spotlight, the ongoing fallout from the scandal has left a deep dent in both the finances and reputations of many pharma companies. But how will the industry address the epidemic moving forward? We find out.
Plus, we examine two concepts that could bridge the gap between precision medicine and blanket drug development, take a look at the first recyclable unit dose packaging, and explore the benefits of Trikafta the world's first triple combination therapy for cystic fibrosis.
Also, we find out about innovation in the cannabinoid industry, talk to Cidara about resistance to anti-fungal medications, investigate pharma's attitude to whistleblowers and data leaks, and find out what is causing medication shortages around the world.