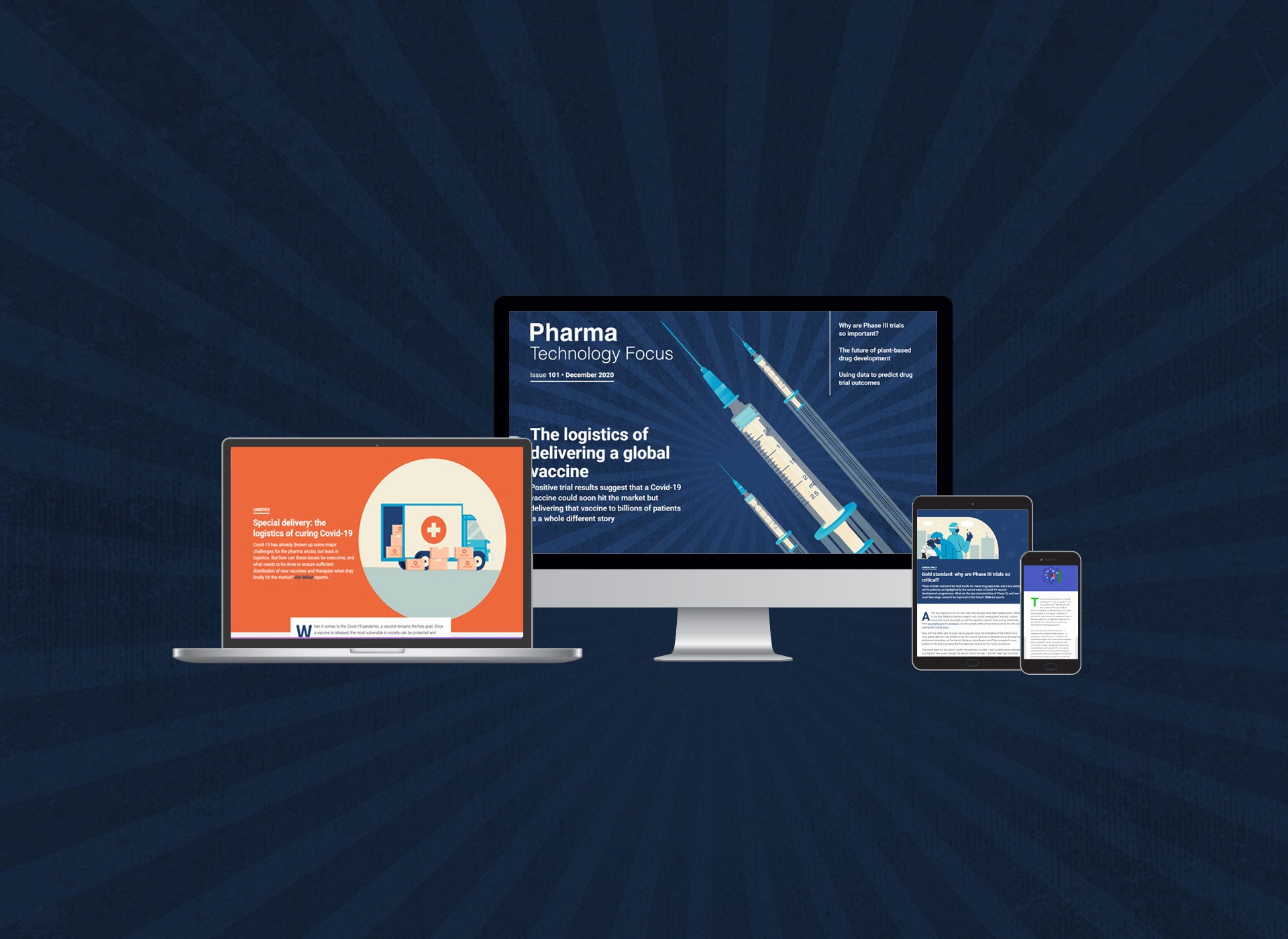 Pharma Technology Focus is now available on all devices. Read it for free here.
News that two notable Covid-19 vaccine candidates had demonstrated 90% or greater efficacy in clinical trials has been music to the ears of many. The idea that the medical, financial and social impact of the pandemic may soon come to an end is a very welcome notion but, unfortunately, getting a vaccine from the lab, to market and then most importantly to the patients that need it – well, that's a very complicated process.
With that in mind, we take a deep dive into the vaccine supply chain to find out what it will take to deliver a vaccine to patients around the world, as well as the hurdles that may stand in the way of a speedy distribution.
Before a vaccine even hits the market, it has to undergo Phase III trials. But what does that actually mean? We review the Phase III trial process to learn what goes into this 'gold standard' of testing.
Switching gears, we examine vaccine research in HIV to find out why a preventative vaccine has so far eluded researchers despite ground-breaking treatment innovation in the sector, find out what makes yeast a promising solution to supply chain vulnerabilities in plant-based drug ingredients, and investigate cancer treatment disparities across Europe.
All this and more in this latest issue of Pharma Technology Magazine.
In this issue
Special delivery: the logistics of curing Covid-19
Covid-19 has already thrown up some major challenges for the pharma sector, not least in logistics. But how can these issues be overcome, and what needs to be done to ensure sufficient distribution of new vaccines and therapies when they finally hit the market? Abi Millar reports.
Read the article here.
Will there ever be an HIV vaccine?
While the human immunodeficiency viruses are thought to have emerged in West Africa in the early 20th century, they weren't picked up upon until the early 80s when outbreak clusters began to appear among gay men in the US. Decades later, modern medicine has transformed the virus from a death sentence into a manageable chronic condition – but there's still no way to vaccinate against the disease. Chloe Kent reports.
Read the article here.
Predicting Covid-19 vaccine approvals with Opyl
Australia-based Opyl has applied its AI-based software to Covid-19 clinical trials to predict and compare the probability of success of vaccines and drugs in development for the viral disease. Allie Nawrat talks to CEO Michelle Gallaher about the findings and how Opyl's analytics capabilities have promise beyond Covid-19.
Read the article here.
Unequal access: understanding cancer treatment disparity in Europe
Cancer patients in Western Europe are more able to access new cancer medicines and oncology clinical trials than people in the east of the continent. Natalie Healey examines the reasons behind this disparity and the impact that it could have for patients.
Read the article here.
'Trustpilot' for medicines: can DrugsDiscovered help pharma be patient centric?
Medicine review app DrugStars is planning to give patients a chance to hold pharma companies to account through the launch of DrugsDiscovered, a review platform that works in a similar way to platforms like Trustpilot. Allie Nawrat talks to DrugStars CEO​​​​​​​ Claus Møldrup about the platform and how it will for the first time enable pharma to genuinely engage with patients about issues with their medicines.
Read the article here.
Investing in innovative biotechs with Novo Ventures
Despite the Covid-19 pandemic, Novo Ventures, the venture capital arm of the Novo Nordisk's Novo Holdings, has made 18 investments this year into innovative biotechs with promising products, including Freeline and Nodthera. Allie Nawrat talks to partner Nanna Lüneborg about Novo Ventures' investment strategy and whether the pandemic has affected the company and the wider life sciences space.
Read the article here.
Gold standard: why are Phase III trials so critical?
Phase III trials represent the final hurdle for many drug approvals, and a key safety net for patients, as highlighted by the current wave of Covid-19 vaccine development programmes. What are the key characteristics of Phase III, and how could late-stage research be improved in the future? Chris Lo reports.
Read the article here.
Brewprint: using yeast to make plant-based drugs
Many of our most important medicines are derived from nature, but the supply chain is vulnerable to upheavals such as wildfires or pandemics. Natalie Healey speaks to synthetic biologist Professor Christina Smolke who has successfully used yeast to produce plant-based drugs, such as opioids and tropane alkaloids.
Read the article here.
Next issue preview
Ground-breaking research into the Hepatitis C virus made waves in virology this year after scientists successful identified the virus – earning them the Nobel Prize for Medicine. To find out how the researchers arrived at this development, we examine the challenge of identifying Hepatitis C, compared to A and B. Plus, following a nail-biting US election, we pick apart President-elect Joe Biden's attitude toward the pharma industry and what the next four years could mean for companies operating in the US.
Also in this next issue, we track the rise of self-medication in pharma as the lines between healthcare types continues to blur, investigate the ethical implications of experimental achondroplasia treatments, and speak to industry insiders to understand what it takes to accelerate vaccine development.
Moreover, we review innovations in anti-counterfeit packaging formats for pharma products, ask if pharma's net-zero goals will be enough to reverse the damage done by one of the world's most carbon-heavy industries, and explore the clinical research potential of New Zealand.