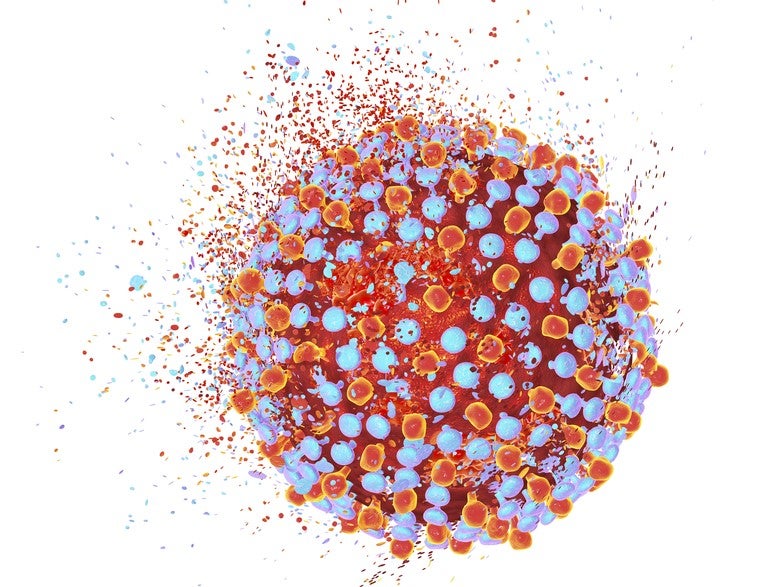 In 2016, world leaders committed to eliminate viral hepatitis by 2030, however, progress has stalled in recent years with only 12 countries currently on track to achieve this target.
This has led the World Health Organization (WHO) to designate the 28th July as World Hepatitis Day; this year the theme is 'finding the missing millions' as around 300 million people are unaware they have viral hepatitis.
There are two main types of viral hepatitis, hepatitis b virus (HBV) and hepatitis C virus (HCV). Similarly to HBV, HCV causes a liver disease called hepatitis C, which is a major cause of acute and chronic hepatitis, as well as liver cancer.
It is primary spread through blood-to-blood contact, primarily through unsafe injection practices, contaminated blood transfusions and unprotected sex that leads to blood exposure.
Treatment approaches for hepatitis C
Despite years of research, there is no vaccine for hepatitis C. However, HCV can essentially be cured by antivirals, particularly direct-acting antivirals (DAAs), which is not possible for HBV.
Continued research and development has continually improved the efficacy of DAAs in diminishing the viral load over a short course of treatment of between 12 and 24 weeks.
Unfortunately, the newer, more effective DAAs, such as sofosbuvir and simeprevir, are expensive, which limits access to care and has resulted in the rationing of medications even in developed countries like the US. It has been estimated that branded versions of DAAs can cost tens of thousands of dollars per treatment course.
According to the WHO, only five million of 13.1 million people globally aware of their HCV infection had been treated with DAAs at the end of 2017.
Rethinking paying for hepatitis C drugs
In order to overcome the price challenges related to effective hepatitis C drugs, two US states have implemented a Netflix-style subscription payment approach for DAAs indicated for hepatitis C.
Approved by the US federal Centers for Medicare and Medicaid Services (CMS) in June this year, the state of Louisiana has agreed to pay Gilead Sciences' a fixed monthly cost for its hepatitis C drug Epclusa (sofosbuvir), rather than on a per prescription basis.
The deal will last for five years, and will provide unlimited access to this highly effective antiviral through Medicare managed care beneficiaries and incarcerated patients.
Louisiana chose Gilead's subsidiary, Asegua Therapeutics, as its pharmaceutical partner because it offered the lowest price; its competitors were AbbVie and Merck.
The State's Department of Health Secretary Dr Rebekah Gee said: We were extremely pleased that three manufacturers offered proposals, with the plan submitted by Asegua offering us a clear path forward to offer a hepatitis C cure to our most vulnerable patients."
CMS administrator Seema Verma said: "The high cost of prescription drugs is one of the greatest challenges in our healthcare system, and Louisiana's innovative approach to leveraging a subscription model to promote access to hepatitis C therapy is a great example of how states can lead in designing solutions."
Asegua Therapeutics' representative Gregg Alton said: "We are excited that Asegua has been selected to partner with the Department of Health and look forward to working on an agreement for this groundbreaking subscription model to increase access to a cure for people living with hepatitis C in Louisiana."
Washington State has established a similar payment as part of the state's commitment to eliminated hepatitis C by 2030. It selected AbbVie, the manufacturer of Mavyret (glecapravir/pibrentasvir), as its pharma industry partner. CMS has also approved this scheme, and stated that the state could use the same model in the future.
Governor Jay Inslee commented: "Today's announcement is a big step not only in our efforts to eliminate hepatitis C in Washington, but to use our purchasing power in the future to control costs and improve access to care for those we serve."