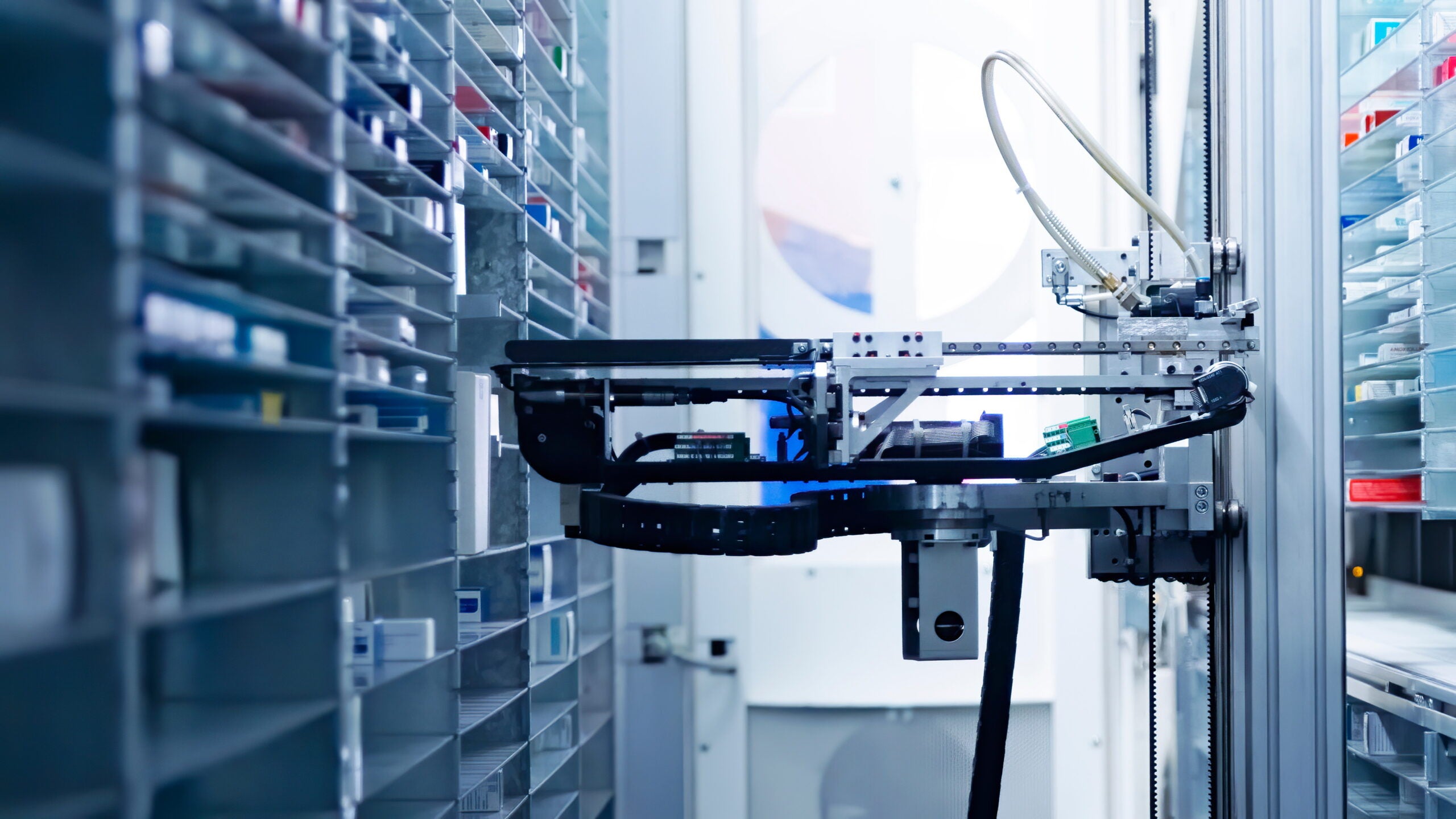 When his daughter was hospitalised at birth, Omnicell founder and CEO Randall Lipps observed how inefficiently medical supplies were managed. Notably, he found that nurses were prevented from spending time directly caring for patients because they were too busy drug dispensing.
The experience led Lipps to set up Omnicell in 1992, aiming to enhance the management of supplies and medications in hospitals and thereby improve their standard of care.
Nearly three decades later, Omnicell has expanded beyond the hospital and into retail pharmacy settings too. The company aims to support more efficient management of medication across all care settings through automation, with more than 50,000 institutional and retail pharmacies across the US and UK leveraging its robotic drug dispensing solutions.
"It's a real mainstay and focus of everything that Omnicell does that there is a patient safety or improved patient experience angle," says Omnicell sales director Cyrus Hodivala.
Designed to automate tasks such as dispensing pills, searching for medication and managing stock levels, these digital drug dispensing solutions have the potential to radically change the face of the modern pharmacy.
Chaotic vs. channel-fed dispensing
When it comes to robotic drug dispensing solutions like Omnicell's, machines tend to employ either chaotic or channel-fed dispensing systems.
Hodivala says: "In chaotic storage, the robot takes a pack and puts it on the shelves, and only the robot knows where that pack has gone. It does this for space efficiency, tessellating packs together on a shelf to fit the most packs inside that it possibly can. That's great if you've got a very big formulary, which is why hospitals love it, because you've got thousands of drugs on register."
The main problem with chaotic storage is that the picking speed can be quite slow because the robot will often need to move packs around to find the one it needs. The time between making a dispensing request to receiving the pack in a chaotic storage system is around 14 seconds.
The alternative method of channel-fed dispensing involves storing drugs in individual metal or plastic channels, each of which is dedicated to just one drug type. Channel-fed dispensing allows for much faster picking speeds compared to chaotic storage, taking around four seconds to dispense a single pack.
Hodivala says: "The downside for channel-fed is your channels need to be sized for your packs. If you've got lots of varying pack sizes, you have to continually keep reallocating channels. Also, if you're only holding one pack of a particular drug type an entire channel needs to be dedicated to it, so it's not very space efficient."
Omnicell's offering
In February, Omnicell released the next generation of its Medimat dispensing robot, tailored for community pharmacies. By automating tasks such as unpacking medication, tracking down a specific drug or keeping on top of stock management, Omnicell says Medimat can help to free up a pharmacy teams' time and reduce dispensing errors.
Medimat serves as both a miniature storage warehouse and a dispensing unit, with a semi-automated filing system.
"The beauty of Medimat is it combines both chaotic and channel-fed storage into one system," says Hodivala. "You have a chaotic storage box to hold all your slow-moving drugs which you dispense once or twice a month. Attached to the side of that we have what's called a speed box for all your fast-moving drugs, which has a dedicated picking head.
"You've got the fastest dispensing speed for your fast-moving drug lines, and the ability to adapt and store any other drug line that you'd want in the chaotic storage unit. No other system can do that in volume in retail pharmacy right now."
Omnicell is also beginning to roll out its Express system in the UK, which involves using a portion of the chaotic storage unit as if it were a channel-fed unit.
"You cut an aperture in the sidewall of the chaotic storage box, so you can see the back of the shelves," says Hodivala. "Rather than individually picking packs and dispensing them like a normal chaotic storage unit would, it literally pushes them outside of the robot.
"All the boxes are lined up on the shelf and it literally just pushes the packs off, so it's incredibly fast at dispensing multiple packs of anything in the unit. It's a really good interim solution for smaller volumes of fast-moving drugs."
Smart solutions for care home drug dispensing
Omnicell's chaotic and channel-fed dispensing solutions can also be partnered with the VBM 200F, an automated pharmacy blister card packaging machine that fills and checks personalised monitored dosage systems (MDS) for individual patients.
MDS is a medication management tool that organises a patient's solid oral dose medication according to the day of the week and the time of day it should be taken. These packs are utilised heavily in care homes to help staff administer medication correctly to the patients in their care but are also often dispensed by pharmacies for patients who don't live in care but still have lots of daily medications to take.
"Every blister card produced by the VBM has an administration barcode on the back, which can be scanned to make sure the right patient is getting the right drugs at the right time," says Hodivala.
"In care homes patients are typically on multiple medications, meaning multiple packs that have to be found, scanned, and de-blistered to the correct quantities, leaving loads of room for error in the original pack dispensing room.
"By doing it this way, every pill has been physically identified before it enters the blister. In the care homes we've done trials in, it's taken their round times from two hours to 28 minutes. Remember, they're doing these rounds four or five times a day, seven days a week, so that's a massive amount of time returned to care for the staff."
Retailers may also choose to utilise the company's eMAR software, which automates the medication management and administration process when dispensing drugs for local care homes.
Hodivala says: "Pharmacies can now go out and get care home work and effectively be able to distribute meds to care homes. The care homes know that they are using a system that is being fed to them by the pharmacy and allows them to have the right medications in the right place at the right time, with all the safety protocols in place and the best audit trail of documentation."
The benefits of an autonomous pharmacy
Daily life working in a pharmacy is dominated by administrative tasks but streamlining the process through automation can go some way toward making this burden more manageable for pharmacy staff.
Not only are both chaotic and channel-fed dispensing robots far quicker than human hands at removing drugs from shelves, but they also significantly reduce the scope for errors to be made.
Research published last year in the British Medical Journal estimated that 237 million medication errors occur at some stage in the dispensing process in England each year, with nearly 39% occurring in primary care. While 72% of these errors were thought to have little-to-no potential for harm, 66 million were thought to be potentially clinically significant.
Dispensing errors are surprisingly easy to make. If two drugs have similar sounding names, or very similar packaging, it can be easy for one to be mistaken for the other – but that small mistake can have devastating consequences. Robotic dispensing systems, being inherently unable to fall victim to these kinds of errors, can offer far superior safety, security and accuracy in the dispensing process.
But perhaps even more significant than reducing the scope for error is the increase automating drug dispensing gives to time spent on care.
Hodivala says: "How many times have you walked into a pharmacy, handed a prescription over, and they barely say two words to you because they've got to immediately go off and start picking drugs out of drawers?
"With a robotic system that directly dispenses the drugs, they've got time to have a conversation with you. They can check what other medications you're on, assess whether you're going to have any interactions with the new medication you've been prescribed, or talk about whether there are any over-the-counter solutions that could complement your treatment.
"I'm yet to meet a single pharmacist that studied for five years at university so they could check or count packs. They want to help patients, but poor processes around manual packing mean that they're stuck in a back room somewhere checking drugs, rather than being in front of a patient helping them get the best experience."