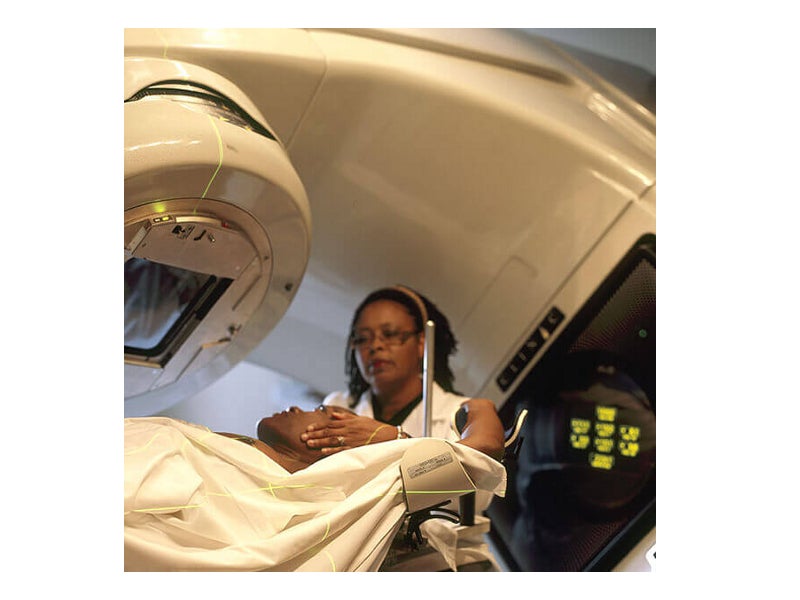 Length of clinical trials by number of years: Ranking the top ten
10. Tamoxifen for Breast Cancer
9. All-trans Retinoic Acid for Acute promyelocytic leukaemia
8. Radiotherapy with or without chemotherapy for Lymphoma
7. EPOCH chemotherapy and rituximab for non-Hodgkin's lymphoma
6. Multifactorial intervention for type-2 diabetes
5. Chemotherapy with or without radiotherapy for Hodgkin's lymphoma
4. Gonadotropin-releasing hormone effect on Kallmann syndrome
3. Implanted stimulator for restoring hand functioning in spinal cord injury
2. GnRH effect on women infertility
1. Botulinum Toxin for involuntary movement disorders
10. Tamoxifen for Breast Cancer – January 1994 till date
The UK's Queen Mary University of London initiated a phase three clinical trial titled Tamoxifen for the Prevention of Breast Cancer in High-Risk Women (IBIS-1) in January 1994. The trial enrolled 7,154 women aged 35-70 years across nine countries to investigate if tamoxifen, a hormonal drug, can prevent the development of breast cancer in high-risk women.
Patients were administered with either 20mg tablets of tamoxifen citrate or placebo daily for five years. Initial results declared in 2002 revealed that the drug reduced breast cancer incidence by 31%, but caused serious side effects such as thromboembolism. The data, however, did not reveal the benefit-to-risk ratio of tamoxifen in the prevention of breast cancer. A follow-up of the trial participants was considered essential to establish tamoxifen's efficacy in prevention.
In 2007, analysis of follow-up data showed that the drug's benefits stayed the same even after ten years while the side effects did not increase even after five years of treatment. The data further demonstrated that the benefit-to-risk ratio improved with the duration of treatment.
The clinical trial is still active to understand the additional benefit of the drug in the long run. It is expected to be completed by September 2024.
9. All-trans Retinoic Acid for Acute promyelocytic leukaemia – September 1993 till date
A clinical trial titled AIDA Protocol (LAP 0493) was initiated in 1,068 newly diagnosed acute promyelocytic leukaemia (APL) patients in October 1993 to evaluate the role of all-trans retinoic acid (ATRA) as maintenance therapy, chemotherapy or both in PCR-negative patients under remission. The prognosis of APL patients improved significantly with its use.
The trial was conducted by Gruppo Italiano Malattie EMatologiche dell'Adulto. For seven years, 807 newly diagnosed patients received ATRA plus idarubicin in the induction phase followed by three intensive consolidation phases.
The patients were then divided into four treatments arms, including oral 6-mercaptopurine and intramuscular methotrexate (arm 1), ATRA alone (arm 2), three months of arm 1 followed by 15 months of arm 2 (arm 3), and no further therapy (arm 4). Randomisation of patients from February 1997 was limited to arms 2 and 1.
The study results indicated that approximately 94.3% of patients achieved complete remission. After 12 years, 68.9% of patients achieved event-free survival while no differences were found in disease-free survival patients in the two arms.
The trial is still being conducted across 80 locations in Belgium, Italy, Germany, Netherlands and Turkey, and is expected to be completed by December 2020.
8. Radiotherapy with or without chemotherapy for Lymphoma – September 1993 till date
The efficiency of radiation therapy with or without combination chemotherapy is still not extensively known in cancer patients. European Organisation for Research and Treatment of Cancer (EORTC) is studying the combination to treat patients with Hodgkin's lymphoma in a clinical trial titled Radiation Therapy With or Without Combination Chemotherapy in Treating Patients with Previously Untreated Stage I or Stage II Hodgkin's Lymphoma. It is also assessing the long-term effect of the treatment in patients through the same clinical trial.
The trial was initiated in September 1993 and enrolled 1,158 patients. The overall survival, the reduction of toxicity related to late treatment and failure-free survival rate maintenance are the primary endpoints of the trial.
After ten years, the overall survival rate of patients treated with three cycles of mechlorethamine, vincristine, procarbazine, and prednisone (MOPP) combined with doxorubicin, bleomycin and vinblastine (ABV) plus involved-field radiotherapy was 97%, compared to 92% in patients treated with subtotal nodal radiotherapy alone.
The trial is active to further establish the role of chemotherapy and involved-field radiotherapy in Hodgkin's lymphoma patients, as well as determine its long-term safety profile.
7. EPOCH chemotherapy and rituximab for non-Hodgkin's lymphoma – May 1993 till date
National Cancer Institute (NCI) initiated a clinical trial in Maryland, US, in May 1993 to evaluate five-drug combination chemotherapy of Etoposide, Prednisone, Vincristine, Cyclophosphamide, and Doxorubicin along with Amgen's granulocyte colony-stimulating factor, NSC-614629, for the treatment of non-Hodgkin's lymphomas in patients with CD20 expressing tumours. The enrolled patients also received rituximab on the first day of the combination treatment every three weeks for six cycles.
The clinical trial titled Dose-Adjusted EPOCH Chemotherapy and Rituximab (CD20+) in Previously Untreated Aggressive Non-Hodgkin's Lymphoma enrolled 348 patients and evaluated the complete response rate of previously untreated patients.
The EPOCH-rituximab combination trial necessitated the need for radiation therapy in most patients with primary mediastinal B-cell lymphoma. Positron emission tomography (PET) after treatment, however, does not identify patients with risk of treatment failure, which affects clinical decision-making.
Patients are, hence, being recruited in the trial to establish the role of PET in primary mediastinal B-cell lymphoma patients followed by dose-adjusted EPOCH-rituximab.
6. Multifactorial intervention for type 2 diabetes – January 1992 till date
The Intensified Multifactorial Intervention in Patients with Type 2 Diabetes and Microalbuminuria (Steno-2) study was initiated by Peter Gaede from Slagelse Hospital in Slagelse, Denmark, in January 1992 to determine if an intense combination of behavioural modification and polypharmacy can reduce late-diabetic complications risk compared to standard treatment in patients with type 2 diabetes and microalbuminuria.
The study enrolled 160 participants, who witnessed an increased lifespan of 7.9 years after 21.2 years of study and a follow-up of 7.8 years, as well as lesser incidents of cardiovascular problems.
The clinical trial is still active to evaluate the long-term benefits of the intervention in the patients and expected to be completed by December 2025.
5. Chemotherapy with or without radiotherapy for Hodgkin's lymphoma – September 1989 till date
The effectiveness of chemotherapy with or without radiation therapy (RT) in stage three or four Hodgkin's lymphoma patients is being evaluated in the clinical trial titled RT or No RT Following Chemotherapy in Treating Patients With Stage III/IV Hodgkin's Disease.
Initiated in September 1989, the study is being conducted across 56 locations in Belgium, Egypt, France, Germany, Italy, Netherlands, Poland, Portugal and Slovenia to determine the benefit of involved field RT after remission with MOPP/ABV hybrid chemotherapy. A total of 739 patients were enrolled in the study and 227 patients who are in partial remission received involved-field RT.
Results from the study indicated that approximately 76% of patients demonstrated eight-year event-free survival and an 84% overall survival rate. The study is active to further evaluate the role of radiotherapy in Hodgkin lymphoma patients after six to eight cycles of MOPP/ABV.
4. Gonadotropin-releasing hormone effect on Kallmann syndrome – April 1989 till date
Eunice Kennedy Shriver National Institute of Child Health and Human Development (NICHD) enrolled 800 participants aged 18 years and older to conduct the clinical trial titled Examination of Idiopathic Hypogonadotropic Hypogonadism and Kallmann Syndrome in April 1989.
The study was initiated to determine the effect of gonadotropin-releasing hormone (GnRH) on conditions such as Kallmann syndrome (KS), hypogonadotropic hypogonadism (IHH), and GnRH deficiency.
GnRH is an important reproductive hormone, whose deficiency or reduced frequency in humans results in reproductive disorders and affects fertility. Multiple studies revealed the connection between high insulin level and low levels of testosterone in men and vice-versa, but the deeper mechanism is still not understood. Insulin resistance is also an important risk factor for cardiovascular disorders and type-2 diabetes.
The study is being conducted in Massachusetts, US, and patients are being recruited to understand the relationship for prevention and therapeutic interventions for KS and IHH.
3. Implanted stimulator for restoring hand functioning in spinal cord injury – April 1989 till date
The study was initiated in April 1989 to investigate the effectiveness of an implanted stimulator and sensor for restoring hand function in people with cervical level spinal cord injury. Titled Implanted Myoelectric Control for Restoration of Hand Function in Spinal Cord Injury, the trial enrolled ten participants.
The device, named Implanted Stimulator-Telemeter (IST)-12, was used to provide functional electrical stimulation (FES) for the activation of paralysed muscles.
Three of the ten individuals with C5/C6 spinal cord injury enrolled in the study were implanted with the system for two years. Electrical stimulations were observed in the voluntary muscles of the three patients along with improved motor skills.
Being conducted in MetroHealth Medical Centre in Ohio, US, the trial demonstrated the efficacy of neuroprosthesis in restoring hand function. It is still active to further evaluate the activities related to daily living with the implant.
2. GnRH effect on women infertility – January 1989 till date
Massachusetts General Hospital in Massachusetts, US, initiated a clinical trial in January 1989 to understand the effect of a synthetic version of GnRH on pituitaries and ovaries of women with infertility. Titled Pulsatile GnRH in Anovulatory Infertility, the clinical trial enrolled 270 participants.
The US Food and Drug Administration (FDA) approved pulsatile administration of GnRH for use in women with primary amenorrhea. A portable infusion pump is used for intravenous administration of GnRH in patients.
Currently, women with idiopathic hypogonadotropic hypogonadism are being recruited in the trial to evaluate the use of pulsatile GnRH in GnRH-deficient and women with anovulation in ovulation induction.
1. Botulinum Toxin for involuntary movement disorders – November 1985 till date
National Institute of Neurological Disorders and Stroke (NINDS) in Maryland, US, is recruiting patients to investigate the effectiveness of botulinum toxin for the treatment of various movement disorders. The clinical trial, named Botulinum Toxin for the Treatment of Involuntary Movement Disorders, was started in November 1985 and enrolled 2,000 participants.
Botulism is a type of food poisoning caused by bacteria that also produce several types of botulism toxin, which is found to be effective in treating various involuntary movement disorders. The toxin is being studied for the treatment of chorea, drug-induced dyskinesia, movement disorder, muscular disease, and tic disorder.
The study will be used to understand botulism's mechanism of action on movement disorders, to improve the technique of treatment with the toxin, and to determine the conditions that can be treated with botulinum toxin.