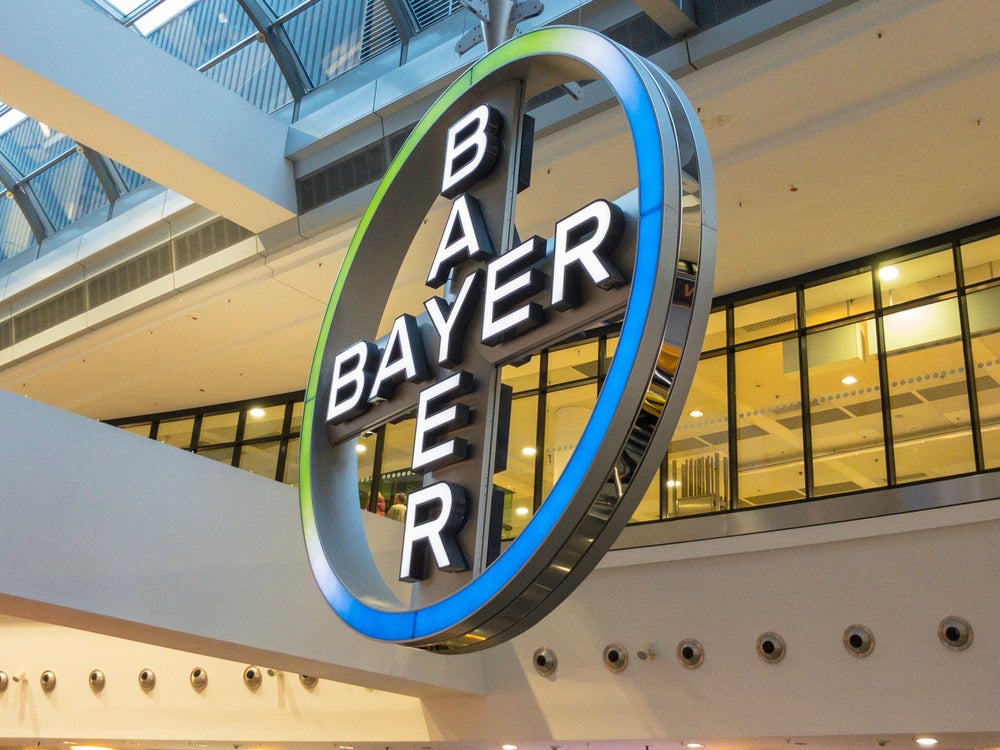 German-headquartered pharma company Bayer has published its 2020 annual report. The report suggests that Bayer had a robust 2020 despite the Covid-19 pandemic and there was positive momentum for solid operational growth in 2021, the company said.
The company reported its group sales totalled €41.4bn, which was level with 2019 figures. Bayer's group earnings before interest, taxes, depreciation, and amortization (EBITDA) and before special items was unchanged from 2019 at €11.5bn.
Bayer's pharmaceutical segment reported a stable operational business with total sales falling 1.5% to €17.2bn in 2020. EBITDA before special advance increased by 2.6% to €6bn; this was supported by the company's cost management efforts and a milestone payment for pulmonary hypertension drug Adempas to counteract the drop in sales.
Products that performed particularly well in 2020 were anticoagulant Xarelto (rivaroxaban) and oral colon and rectal cancer drug Stirvaga (regorafenib).
Chairman of the board Werner Baumann wrote in the report: "We came through the pandemic in good shape and at the same time laid the foundation for future growth.
"We invested substantially in innovation and future growth. And we did this despite the upheavals we experienced in many of our markets due to Covid-19.
"In the pharmaceuticals business, for example, demand for certain medicines decreased because people avoided going to the doctor or treatments were postponed."
According to the report, Bayer signed 25 deals in 2020. Central to its deal activity was strengthening its cell and gene therapy portfolio and technologies. To build on its acquisition of BlueRock Therapeutics in 2019, Bayer bought AskBio in October 2020 for $2bn.
Baumann said: "With this acquisition, Bayer significantly advances the establishment of a cell and gene therapy platform that can be at the forefront of breakthrough science contributing to, preventing, or even curing diseases caused by gene defects and further driving company growth in the future."
In addition, Bayer signed a partnership agreement with Atara Bio in the cell and gene therapy space in December 2020. The collaboration was central to Bayer's cell and gene therapy strategy and focuses on leveraging Atara's allogeneic cell therapy platform to treat mesothelin-expressing tumours.
To support its platforms and portfolio, which includes eight late-stage products, Bayer launched a strategic organisational unit specifically for cell and gene therapies that would coordinate activities from research to commercialisation.
Digital transformation was another key focus for Bayer's deals in 2020. In October Bayer signed a deal with Recursion Pharma. The deal centres around leveraging Recursion's artificial intelligence (AI) drug discovery technology to discover and develop new drugs for fibrotic diseases.
Another 2020 collaboration Bayer mentioned was its work with 19 other major pharma companies to launch the AMR Action Fund in July. The initiative saw the companies pledge $1bn to support small, innovative companies to bring up to four antibiotics to market by 2030.
Bayer has continued to make deals in 2021. In early January, Bayer announced it would support CureVac with the development and manufacturing of its Covid-19 candidate, CVnCoV.
"We are deploying our knowledge and our resources to help in the fight against the virus," Baumann said. "For example, we signed a collaboration agreement with biotech company CureVac to advance the further development, manufacture and supply of a vaccine against Covid-19. Using our global production network, we plan to manufacture 160 million vaccine doses in 2022."