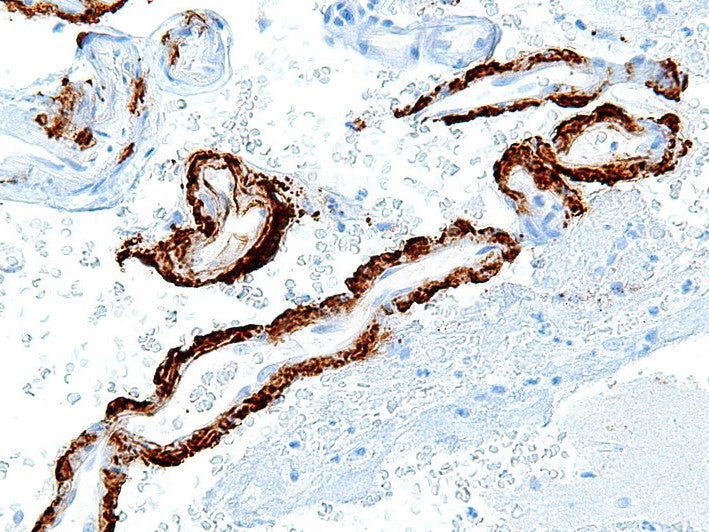 Biogen and Eisai have discontinued the clinical development programme of beta amyloid cleaving enzyme (BACE) inhibitor elenbecestat in early Alzheimer's disease.
Free Case Study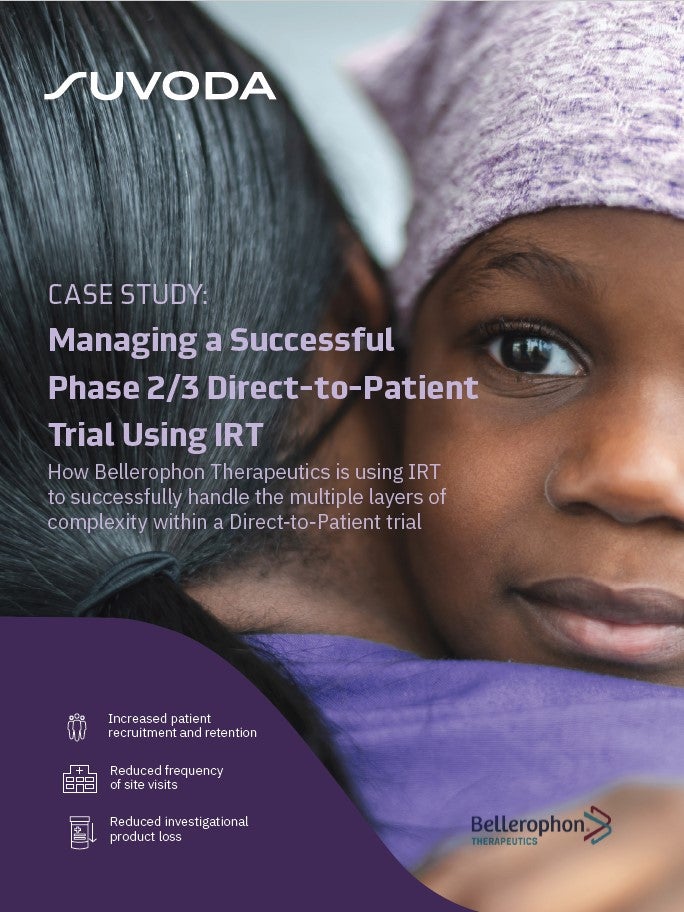 Direct-to-Patient Trials: How IRT Plays an Important Role in Bellerophon's Direct-to-Patient Trials
As the industry strengthens its focus on patient centricity, Direct-to-Patient clinical trials have emerged as a popular trial design that have the potential to increase patient recruitment and retention. IRT plays a crucial role in the success of a Direct-to-Patient trial. Because drug supplies are being managed and shipped from distribution facilities directly to patients' homes, a sponsor must have a high-quality system in place to accurately track the chain of custody, ensure patient-blinding and handle other logistical challenges. What You Will Learn Benefits and challenges associated with the Direct-to-Patient model Bellerophon's top considerations when implementing this trial design How IRT can equip study teams to successfully track chain of custody, ensure patient blinding, and handle logistical challenges
by Suvoda
The decision was made after the Mission AD programme's data safety monitoring board found there was an unfavourable risk-benefit ratio of the drug in a safety review.
In addition, the long-term extension study of an early Phase II trial of the drug will also be discontinued. Complete data from the entire Mission AD development programme will be presented at an upcoming medical meeting.
Eisai Neurology Business chief clinical officer Dr Lynn Kramer said: "We would like to thank the patients and the families, as well as medical professionals, who participated in the Mission AD studies. Without their contributions we would not be able to advance Alzheimer's disease research.
"We are very disappointed with the news, and intend to learn from these data and continue engaging with patients and investigators, to pursue the discovery of new medicines for Alzheimer's disease."
The two companies have stated they are informing trial investigators of their decision, who will in turn contact study participants about discontinuing their treatment with elenbecestat.
Elenbecestat was developed by Eisai to inhibit BACE, the key enzyme involved in the production of amyloid beta peptides, thereby reducing the build-up of amyloid plaques.
Mission AD comprised of two Phase III clinical studies, which studied the efficacy and safety of elenbecestat in 2,100 patients with mild cognitive impairment and mild Alzheimer's disease –collectively known as early Alzheimer's disease – with known amyloid pathology in the brain.
This is the second Phase III Alzheimer's development programme Biogen and Eisai have cancelled this year.
In March, the two companies announced they were terminating the Engage and Emerge trials of aducanumab in patients with Alzheimer's disease and mild Alzheimer's disease dementia. This decision was based on assessment by a data monitoring committee that the two studies were unlikely to meet their primary endpoint.
German artificial intelligence company Innoplexus predicted there was a 70% to 90% chance that aducanumab would fail due to the sites chosen, execution risk and issues with the drug.
Biogen and Eisai have emphasised, however, that these trial discontinuations do not affect their ongoing programme of anti-amyloid beta protofibril monoclonal antibody BAN2401.
Free Case Study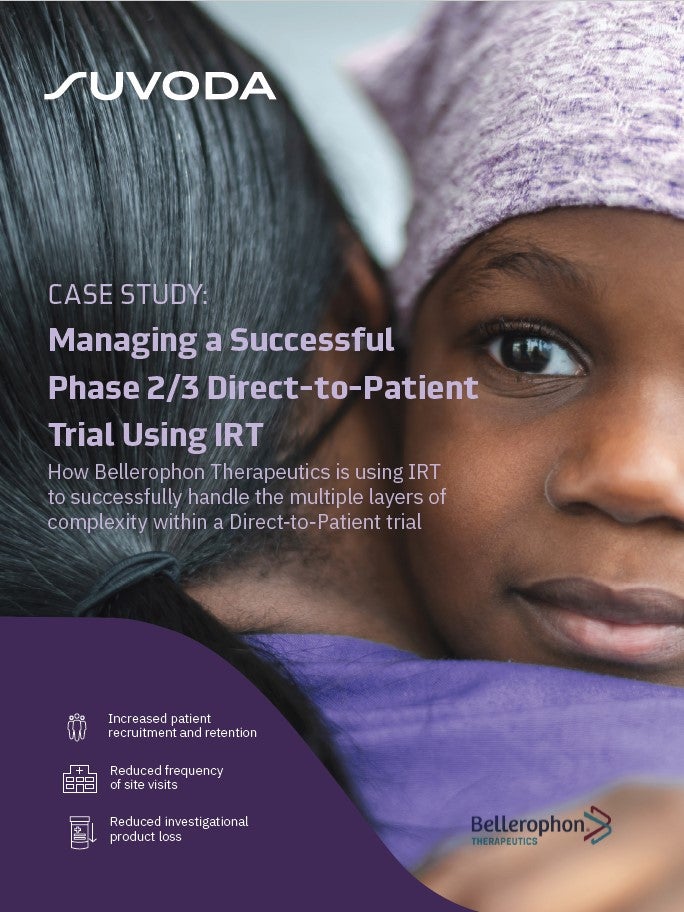 Direct-to-Patient Trials: How IRT Plays an Important Role in Bellerophon's Direct-to-Patient Trials
As the industry strengthens its focus on patient centricity, Direct-to-Patient clinical trials have emerged as a popular trial design that have the potential to increase patient recruitment and retention. IRT plays a crucial role in the success of a Direct-to-Patient trial. Because drug supplies are being managed and shipped from distribution facilities directly to patients' homes, a sponsor must have a high-quality system in place to accurately track the chain of custody, ensure patient-blinding and handle other logistical challenges. What You Will Learn Benefits and challenges associated with the Direct-to-Patient model Bellerophon's top considerations when implementing this trial design How IRT can equip study teams to successfully track chain of custody, ensure patient blinding, and handle logistical challenges
by Suvoda