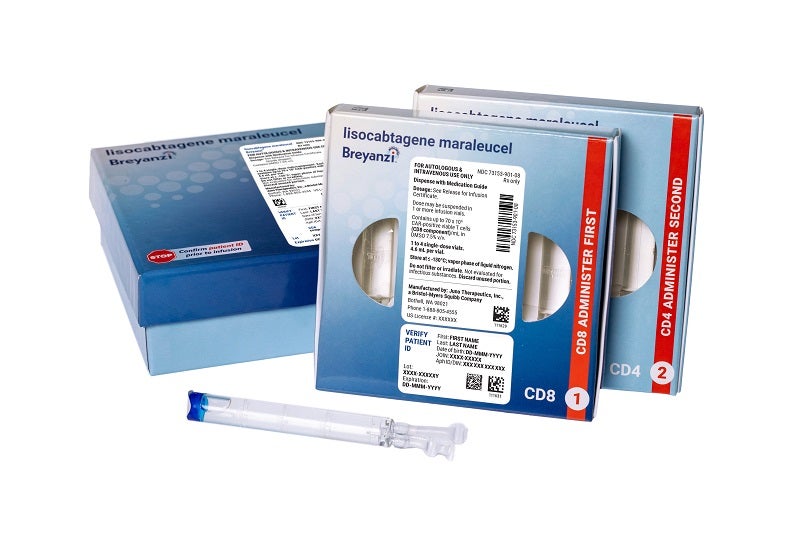 Bristol Myers Squibb (BMS) has received approval from the US Food and Drug Administration (FDA) for its CD19-directed chimeric antigen receptor (CAR) T cell therapy Breyanzi (lisocabtagene maraleucel) to treat relapsed or refractory large B-cell lymphoma (LBCL) in adult patients.
Breyanzi is given as a defined composition for reducing the variability of the CD8 and CD4 component dose.
It is indicated for the treatment of LBCL, including diffuse large B-cell lymphoma (DLBCL), high-grade B-cell lymphoma, primary mediastinal large B-cell lymphoma, and follicular lymphoma grade 3B in adult patients.
The regulatory approval expands Breyanzi's indication to include people whose LBCL is refractory to initial chemoimmunotherapy or relapse within a year, as well as those with relapsed or refractory disease who are not eligible for hematopoietic stem cell transplant (HSCT) due to comorbidities or age.
The company stated that the therapy has the broadest patient eligibility of any CAR T cell therapy in relapsed or refractory LBCL, with the two new indications.
BMS US Hematology senior vice-president and general manager Ester Banque said: "As part of our commitment to developing innovative cancer treatments for patients with critical unmet need, Breyanzi offers a potentially curative option for more patients.
"Based on the demonstrated clinical benefit, this approval of Breyanzi underscores the significant advances we are making to deliver on the promise of cell therapy."
The expanded regulatory approval for Breyanzi is based on data obtained from the Phase III TRANSFORM study and Phase II PILOT study.
In the PILOT study, Breyanzi showed 80% of overall response rate and 54% of CR rate.
The therapy demonstrated a well-established safety profile along with low grade CRS occurrences and neurologic events which were mostly resolved quickly.
Recently, BMS and Immatics expanded their strategic partnership to develop multiple allogeneic off-the-shelf T cell receptor-based therapy (TCR-T) and/or CAR-T programmes.
Cell & Gene Therapy coverage on Pharmaceutical Technology is supported by Cytiva.
Editorial content is independently produced and follows the highest standards of journalistic integrity. Topic sponsors are not involved in the creation of editorial content.