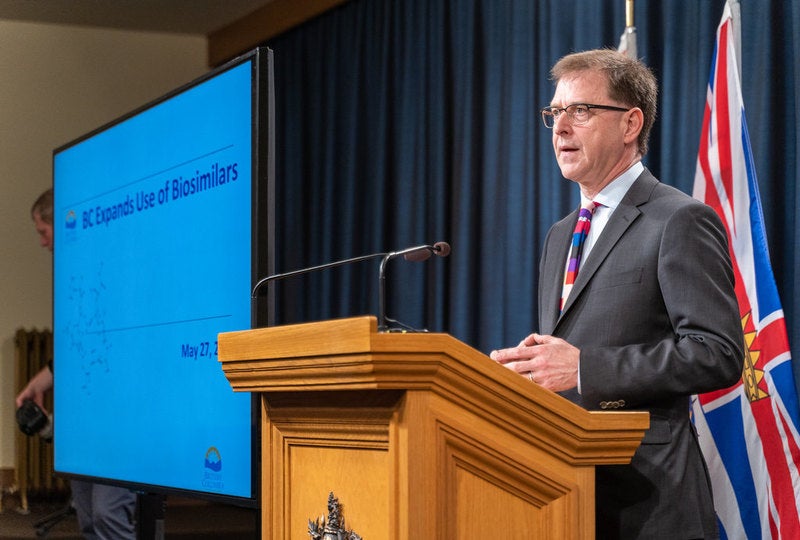 British Columbia (BC) has revealed plans to switch certain patients under public drug programme PharmaCare from biologics to biosimilars.
As part of PharmaCare, the province currently spends C$125m ($92.82m) on biologics such as Sanofi's Lantus, Amgen's Enbrel and Janssen's Remicade. These drugs are indicated for treating chronic conditions such as diabetes, arthritis and Crohn's disease.
Biosimilars cost 25%-50% less than biologics but are currently only used in around 8% of cases.
The latest move will switch nearly 20,400 patients living with ankylosing spondylitis, diabetes, plaque psoriasis, psoriatic arthritis or rheumatoid arthritis to a biosimilar drug by 25 November 2019. This will enable new drug listings and improved existing coverage, as well as saving an estimated C$96.6m ($71.73m) over three years.
With immediate effect, Boehringer Ingelheim and Eli Lilly's diabetes drug Jardiance will be listed under PharmaCare alongside Eli Lilly's psoriatic arthritis medicine Taltz.
It is expected that around 22,000 patients could benefit from the Jardiance listing, which will cost approximately C$4.1m ($3.04m) this fiscal year and C$18.9m ($14.03m) over three years.
BC Minister of Health Adrian Dix said: "B.C. is leading the country by promoting the widespread use of biosimilars, which have been proven to work just as safely and effectively as higher priced biologics. To date, Canada is far behind European jurisdictions.
"Biosimilars are a necessary step to ensure PharmaCare provides existing coverage for more people and funds new drugs well into the future."
"Biosimilars are a necessary step to ensure PharmaCare provides existing coverage for more people."
The government is providing six months for patients to transition their prescription from biologic to biosimilar drug. After 25 November 2019, the PharmaCare programme will stop covering the biologic drug for these indications, except for exceptional cases.
BC said that approximately 2,700 Crohn's and ulcerative colitis patients will transition to a biosimilar option in the coming months.
The policy is expected to benefit companies such as Merck, Sandoz, Pfizer and Eli Lilly, noted Reuters.