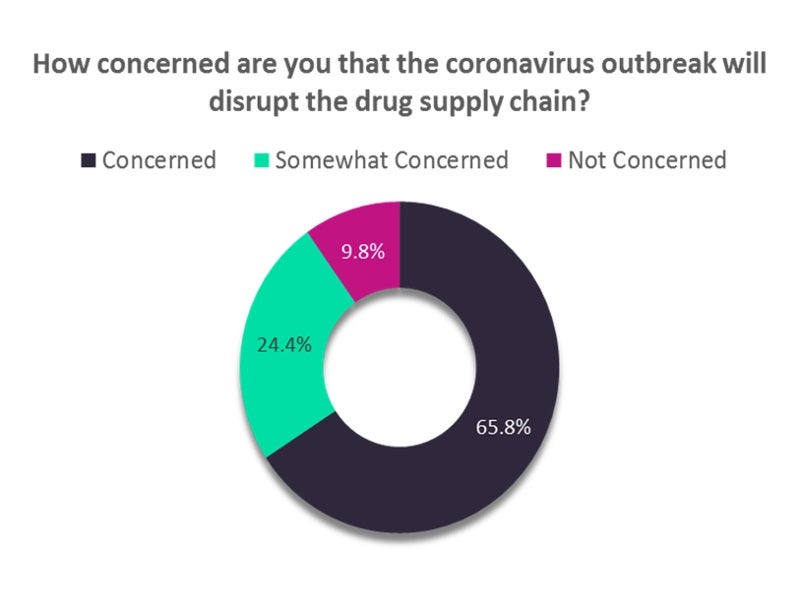 Analysis of a poll conducted by Verdict to assess the impact of COVID-19 on the drug supply chain showed that 90% are either highly or partially concerned about the disruption.
A majority 65.8% expressed a high concern over the supply chain disruption due to the coronavirus outbreak, while approximately one-fourth of the respondents were 'somewhat concerned'.
Less than 10% of the respondents were 'not concerned' about the impact.
The analysis is based on 1,100 responses, with the 'concerned' category including two responses – either 'extremely concerned' or 'very concerned'. The 'somewhat concerned' category clubs the responses of those who expressed a lesser concern by choosing either 'moderately concerned' or 'slightly concerned'.
The high concern expressed by the respondents is also reflected in fears expressed recently by multiple nations over crucial drugs such as hydroxychloroquine, an anti-malarial drug being used as a prophylaxis for coronavirus treatment.
The US feels the effects of supply chain disruption and drug shortages
Supply chain disruptions and export curbs due to the widespread coronavirus in Europe and Asian countries including India has resulted in supply shortage fears among importing countries including the US.
The US FDA had announced in February 2020 about the holding back of Chinese facilities inspections amid the coronavirus outbreak and went on to warn about the possible shortage of critical medical products if the outbreak persists.
The outbreak at the time of the announcement was not as widespread as now and the supply chain disruption is not associated with China alone.
Businesses to use force majeure to minimise the impact: GlobalData
Angad Lotay, MPharm, GlobalData Infectious Diseases Analyst, opines that most businesses will witness supply chain disruption due to COVID-19 and are expected to use force majeure as a shield to minimise the impact of the disruptions.
Further, GlobalData's pharma supply chain intelligence, based on the GlobalData Drugs by Manufacturer database, has identified biopharma companies whose drugs have vital in-house or contract manufacturing steps in regions affected by the COVID-19 pandemic.