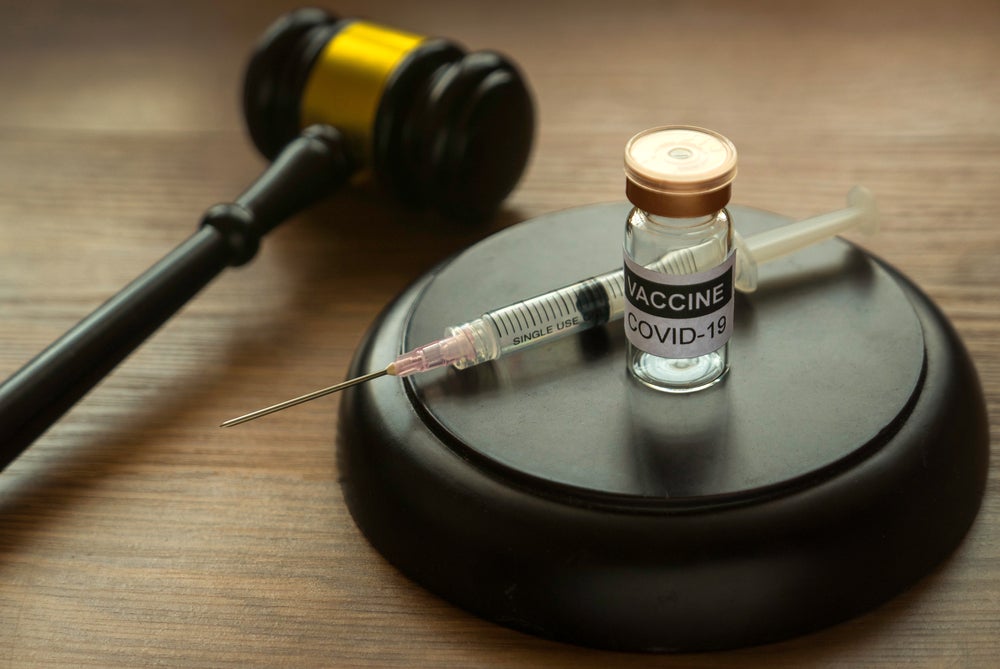 In a new chapter with emerging legal dimensions for the Covid-19 vaccine success story, last week Moderna submitted a filing to take down a patent infringement lawsuit over its Covid-19 vaccine. In a claim filed on 28 February, Arbutus Biopharma and Genevant Sciences stated that Moderna infringed on their patented lipid nanoparticle (LNP) technology, and as such, were due damages from Moderna.
Later in March, Pfizer's Canada-based LNP partner Acuitas Therapeutics filed a complaint against Arbutus and Genevant in the US district court for the southern district of New York, asking for a judgement on the non-infringement and invalidity of such patents. According to Acuitas, the company worked on developing its LNP technology prior to the pandemic, which Pfizer used under a licence. Consequently, the company describes the allegations by Arbutus and Genevant allegations as spurious, stating their claim to rights and payment for the vaccine is baseless.
Around the same time, Alnylam Pharmaceuticals entered this legal scrimmage and filed two lawsuits in a Delaware federal court, stating that both Moderna and Pfizer used the company's decade-old LNP delivery technology. For this, Alnylam is requiring damages and royalties from both vaccine producers.
"Alnylam is proud that our patented biodegradable lipid technology is foundational to the life-saving Covid-19 vaccines," an Alnylam spokesperson told Pharmaceutical Technology. According to the spokesperson, the company is not seeking an injunction and does not plan on taking action that would impede the production or the sale of Covid-19 vaccines anywhere in the world.
Such patent infringement lawsuits are not entirely surprising, as there were several companies looking at LNP technology prior to the pandemic, says Jorge Contreras, professor of law at the University of Utah, adding that some may feel that their patents covered the technology used by Moderna and Pfizer. LNPs are used in the delivery of mRNA molecules.
In its statement, Moderna claims that it served the federal government as a contractor while providing its vaccine. This would mean that Genevant and Arbutus would need to take the US government to court in order to seek remuneration, as per Moderna's reference to the US Code Section 1498.
On 11 December 2020, the FDA issued an emergency use authorization (EUA) for the Pfizer-BioNTech vaccine. Only a week later, the FDA issued an EUA for Moderna's vaccine.
A "novel" defence
According to Contreras, the fact that Moderna's defence is based on US Code Section 1498, makes this lawsuit interesting and novel. Section 1498 states the federal government cannot be prevented from using patented technology for its purposes. Although the legal validity of that section has long been established, Contreras says that it is not entirely clear if Moderna was acting as a contractor. As such, Arbutus and Genevant could base their argument on the fact that Moderna developed this technology before the government placed its order for the Covid-19 vaccines, he says. In case Moderna does not have LNP technology that infringes on the plaintiffs' patents, the question becomes whether some of the plaintiffs' patents were used along the way to get to the ultimate product, says Justin Hughes, a law professor at Loyola Marymount University. At the same time, Contreras does not see Moderna's claims as "spurious", but rather those which need to be examined by the court.
In a February 2021 10-K SEC filing, Moderna stated that it had previously used "legacy LNPs" based on known LNP systems. Since then, the company has moved to proprietary LNP systems that were developed later. Last Friday, Moderna said its LNPs do not infringe on any valid patents, but also added this is a dispute for later, with the main question now being who should be the defendant for this lawsuit in terms of the US sales.
However, since there was an express contract between Moderna and the government for the vaccine supply, the company should be protected under Section 1498, says Sapna Kumar, professor of law at the University of Houston. Kumar, an expert in US patent law, says that Moderna is "completely correct" in its reasoning, adding that she does not see a way around the federal government with such lawsuits, citing formal contracts, which were drawn up as pre-purchase orders. According to Hughes, Moderna has a good case, which falls squarely and cleanly under Section 1498.
A sign for future lawsuits
While the Covid-19 pandemic provides a new scenario, this case presents a natural extension of existing law, says Kumar. In this sense, the lawsuit fits comfortably with existing precedent, which remains centred on protecting the government from such cases, she explains. Indeed, Section 1498 was always interpreted broadly, allowing the US government to gain access to what it needs, says Hughes. Kumar also adds that a potential lawsuit with the government could feature litigation being dragged out for a very long time.
The broad applicability of Section 1498 to any patent infringement case against companies directly providing medicines or vaccines to the US government could mean that the statute will serve as a potential obstacle in other lawsuits, says Kumar. As such, this could effectively apply to the Pfizer-BioNTech vaccine, as well as to the new Covid-19 treatments sold to the US government, she adds. On 22 December 2021, the FDA issued an EUA to Pfizer's Paxlovid, and Merck's Molnupavir received one only a day later. This would be the case for both formal contracts, and possibly for more implicit circumstances, Kumar explains.
However, Moderna may now potentially need to explain its contracts with other countries, says Hughes. The question of whether such deals fall under Section 1498 could become very complicated, he states. In this sense, a deal with a foreign country could potentially be understood as part of Section 1498, depending on how much the US government participated and benefited from the deal with the foreign government, adds Hughes.