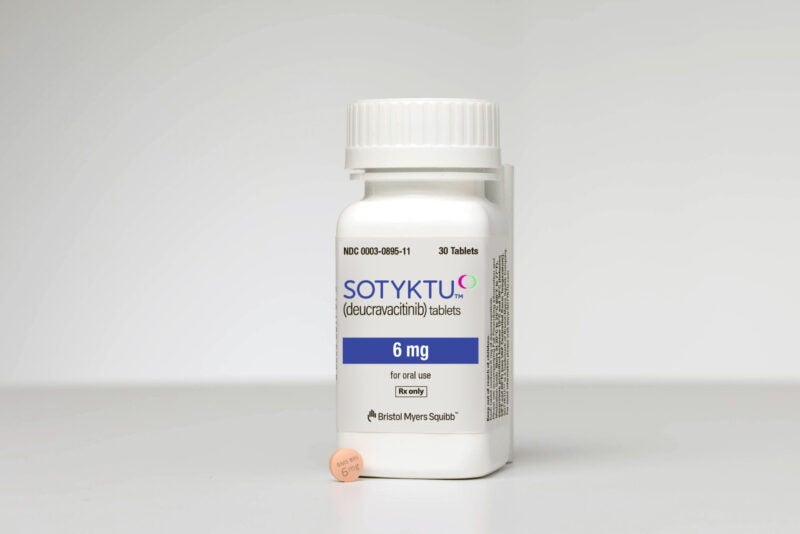 The US Food and Drug Administration (FDA) has granted approval for Bristol Myers Squibb's (BMS) Sotyktu (deucravacitinib) to treat adult patients with moderate-to-severe plaque psoriasis.
The oral treatment is indicated for such patients who are candidates for systemic therapy or phototherapy.
It should not be used along with other immunosuppressants.
The approval is based on data from the Phase III POETYK PSO-1 and POETYK PSO-2 clinical trials.
These 52-week trials assessed the safety and efficacy of a 6mg once daily dose of Sotyktu versus placebo and Otezla (apremilast) in a total of 1,684 subjects aged 18 years and above.
The percentage of subjects attaining Psoriasis Area and Severity Index (PASI) 75 as well as static Physician's Global Assessment score of 0 or 1 (sPGA 0/1) at week 16 compared to placebo were the co-primary endpoints of the trials.
Additionally, the percentage of subjects who attained PASI 75, PASI 90 and sPGA 0/1 versus Otezla at weeks 16 and 24 comprised the key secondary endpoints.
According to the findings, Sotyktu was found to have superior efficacy versus placebo and Otezla.
The treatment's efficacy versus placebo and Otezla was reported at both 16 and 24 weeks with responses lasting till 52 weeks.
An oral, allosteric inhibitor of tyrosine kinase 2 (TYK2), Sotyktu attaches to the regulatory domain of TYK2.
Bristol Myers Squibb chief medical officer Samit Hirawat said: "The approval of Sotyktu represents an exciting day for patients suffering from moderate-to-severe plaque psoriasis who are not satisfied with topical and conventional treatments.
"This is another extraordinary achievement for Bristol Myers Squibb, as we bring forward a new mechanism of action, the first oral treatment approved in nearly ten years, and the first orally dosed once-daily treatment for moderate-to-severe plaque psoriasis."
In June this year, the company obtained FDA approval for Breyanzi (lisocabtagene maraleucel) for treating relapsed or refractory large B-cell lymphoma (LBCL) in adults.