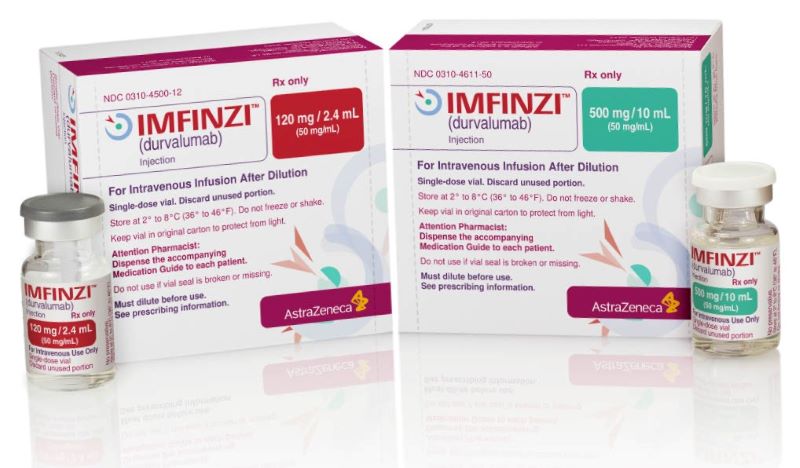 The US Food and Drug Administration (FDA) has granted approval for AstraZeneca's Imfinzi (durvalumab) plus chemotherapy to treat adults with locally advanced or metastatic biliary tract cancer (BTC).
The latest development was based on findings from the international, randomised, double-blind, multicentre, placebo-controlled Phase III TOPAZ-1 clinical trial.
Carried out at 105 centres in 17 countries, the trial assessed Imfinzi plus chemotherapy comprising gemcitabine and cisplatin compared to placebo plus chemotherapy as first-line therapy.
The trial enrolled a total of 685 subjects with unresectable advanced or metastatic BTC, including intrahepatic and extrahepatic cholangiocarcinoma and gallbladder cancer.
Overall survival was the trial's primary endpoint, while progression-free survival, objective response rate and safety were included as crucial secondary endpoints.
According to the interim assessment data, Imfinzi plus chemotherapy offered a 20% reduction in mortality risk compared to chemotherapy alone.
At two years, 25% of the subjects who received the combination treatment were alive versus 10% treated with only chemotherapy.
The findings were similar across all prespecified subgroups, irrespective of PD-L1 expression or the location of the tumour.
A human monoclonal antibody, Imfinzi attaches to the PD-L1 protein and hinders the interaction of PD-L1 with the PD-1 and CD80 proteins.
AstraZeneca Oncology Business Unit executive vice-president Dave Fredrickson said: "For the first time, patients in the US with advanced biliary tract cancer have an immunotherapy-based treatment option that meaningfully extends survival and is well-tolerated.
"This approval for Imfinzi and chemotherapy advances our ambition to challenge treatment expectations and transform care for patients with gastrointestinal cancers with high unmet need."
In July last year, the National Medical Products Administration in China approved Imfinzi as the first-line therapy to treat adults with extensive-stage small-cell lung cancer.