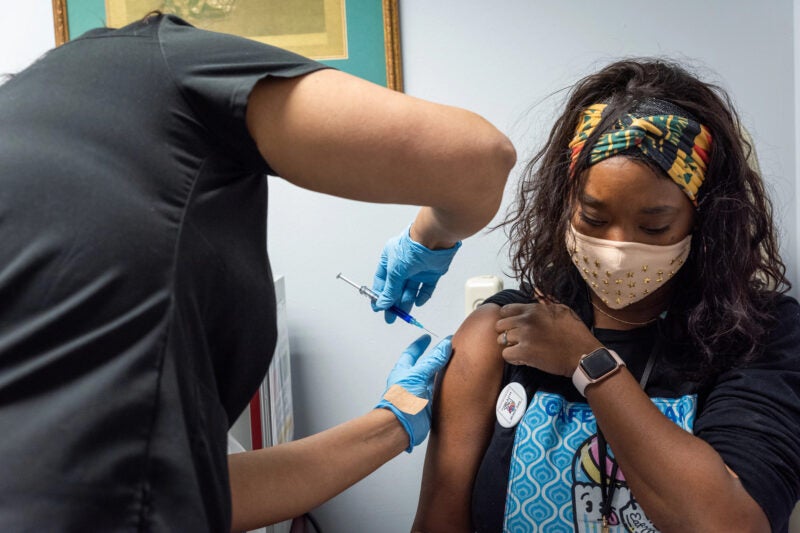 The Vaccines and Related Biological Products Advisory Committee (VRBPAC) of the US Food and Drug Administration (FDA) has voted 21 to 0 recommending the grant of Emergency Use Authorization (EUA) for Novavax's Covid-19 vaccine, NVX-CoV2373, for people of the age 18 years and above.
A protein-based vaccine, NVX-CoV2373 is created from the genetic sequence of the initial SARS-CoV-2 strain and is adjuvanted with saponin-based Matrix-M.
On obtaining the FDA EUA, NVX-CoV2373 would become the first protein-based Covid-19 vaccine to be offered in the US.
The committee considered the findings from the Phase III PREVENT-19 clinical trial that enrolled nearly 30,000 subjects of the age 18 years and above in the US and Mexico.
According to the trial data, the vaccine offered an efficacy of 90.4% with a reassuring safety profile.
The number of serious and severe adverse events was minimal and balanced between vaccine and placebo arms.
Headache, nausea, myalgia, arthralgia, tenderness/pain at the injection site, fatigue and malaise were the most common adverse reactions reported in the trial.
Furthermore, the results showed that the rate of myocarditis was balanced between the vaccine and placebo groups overall while in the post-crossover segments of the trials, the reported cases were all within the anticipated rate.
The FDA takes the recommendations made by the VRBPAC into account while making decisions on the EUA.
Novavax president and CEO Stanley Erck said: "The advisory committee's positive recommendation acknowledges the strength of our data and the importance of a protein-based Covid-19 vaccine developed using an innovative approach to traditional vaccine technology.
"In the VRBPAC meeting, we heard the overwhelming support for our vaccine from physicians, healthcare organisations and consumers who are eagerly anticipating a protein-based vaccine option."
The company obtained authorisation for usage of the vaccine in people aged 18 years and above in over 40 countries and Emergency Use Listing from the World Health Organization.
In May this year, Novavax sought expansion of authorisation from the Medicines and Healthcare products Regulatory Agency for its Covid-19 vaccine, Nuvaxovid (NVX-CoV2373), for use in adolescents aged 12 to 17 years in Great Britain.