The US Food and Drug Administration (FDA) has granted Emergency Use Authorizations (EUAs) for bivalent formulations of Moderna and Pfizer-BioNTech's Covid-19 vaccines as boosters.
According to the amended EUA, the vaccines are indicated to be administered at a minimum of two months after the initial or booster dose.
These 'updated boosters' comprise the SARS-CoV-2 virus' two messenger RNA (mRNA) components, one from the initial strain and the other one common between the BA.4 and BA.5 lineage of the Omicron variant.
Moderna's bivalent vaccine is intended to be administered as a single booster dose in people aged 18 years and above.
Pfizer-BioNTech's bivalent shot is authorised for usage as a single booster dose in people aged 12 years and above.
Since December 2020, the companies' monovalent Covid-19 vaccines with a component from the initial virus strain have received authorisations or approvals from the regulatory agency.
The EUA amendments by the FDA are based on the totality of available data.
It comprised broad safety and effectiveness data for the respective monovalent mRNA Covid-19 vaccines of the companies, as well as safety and immunogenicity findings from a trial of a bivalent Covid-19 vaccine with mRNA from omicron variant BA.1 lineage.
Nonclinical data obtained using bivalent Covid-19 vaccines were included in the dataset.
According to these findings, the bivalent vaccines are anticipated to offer enhanced protection against the Omicron variant circulating presently.
With the latest development, the monovalent mRNA Covid-19 vaccines are no longer indicated for use as a booster for people aged 12 years and above.
FDA commissioner Robert Califf said: "The Covid-19 vaccines, including boosters, continue to save countless lives and prevent the most serious outcomes (hospitalisation and death) of Covid-19.
"As we head into fall and begin to spend more time indoors, we strongly encourage anyone eligible to consider receiving a booster dose with a bivalent Covid-19 vaccine to provide better protection against currently circulating variants."
In August, Moderna sought FDA EUA for the BA.4/BA.5 Omicron-targeting bivalent booster vaccine for Covid-19, mRNA-1273.222.
Cell & Gene Therapy coverage on Pharmaceutical Technology is supported by Cytiva.
Editorial content is independently produced and follows the highest standards of journalistic integrity. Topic sponsors are not involved in the creation of editorial content.
Free Whitepaper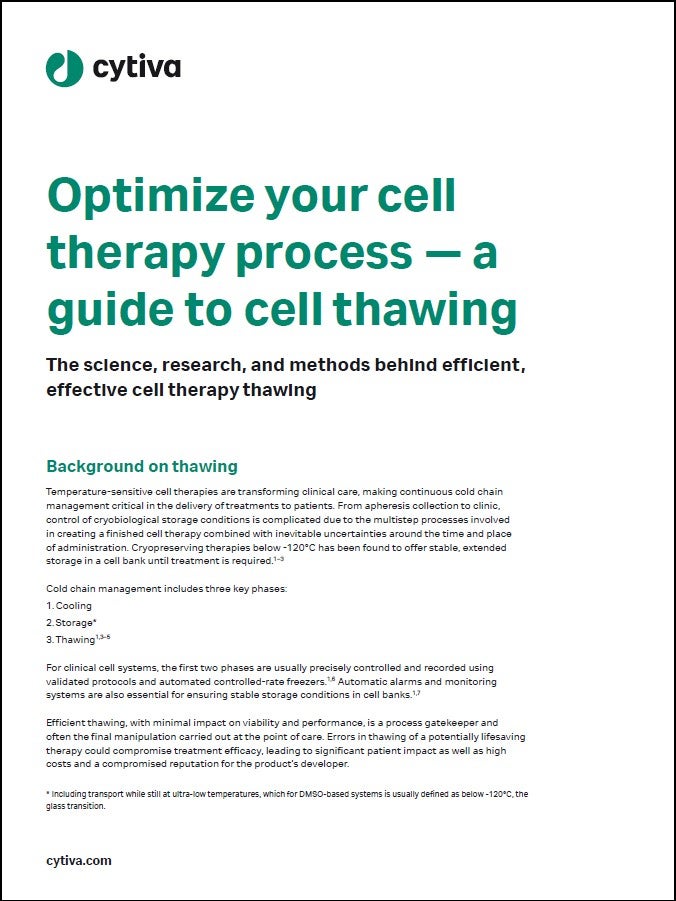 Optimise your cell therapy process: a guide to cell thawing
Typically carried out at the point of care, errors in cell therapy thawing could compromise treatment efficacy, leading to significant patient impact as well as high costs and a compromised reputation for the product's developer. This guide addresses how cell thawing has historically developed into the new techniques used today, along with the physical and biological implications of key metrics and components such as warming rate and ice structure. Also included are reviews of key studies from scientific literature and a consideration of the interactions between cooling and warming rates, as applicable to cell and gene therapies.
by Cytiva Thematic
By clicking the Download Free Whitepaper button, you accept the terms and conditions and acknowledge that your data will be used as described in the Cytiva Thematic privacy policy By downloading this Whitepaper, you acknowledge that we may share your information with our white paper partners/sponsors who may contact you directly with information on their products and services.

Visit our privacy policy for more information about our services, how we may use, process and share your personal data, including information on your rights in respect of your personal data and how you can unsubscribe from future marketing communications. Our services are intended for corporate subscribers and you warrant that the email address submitted is your corporate email address.