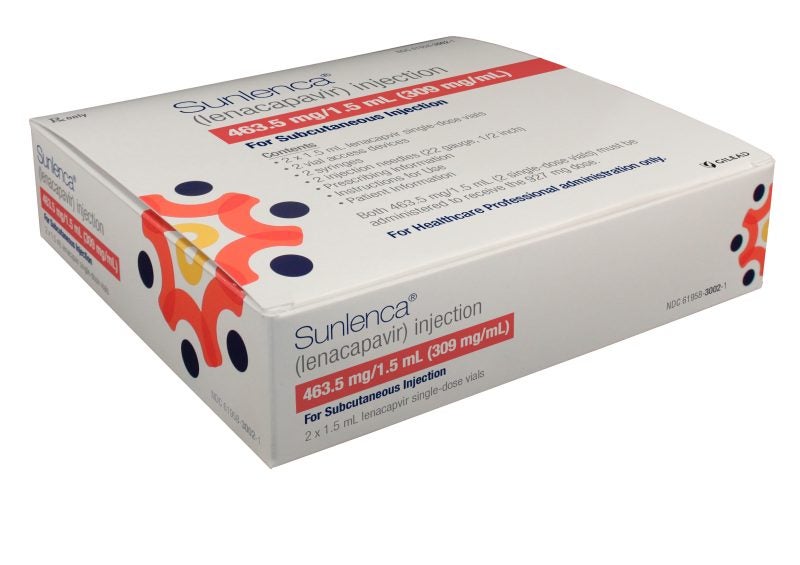 The US Food and Drug Administration (FDA) has granted approval for Gilead Sciences' Sunlenca (lenacapavir) plus other antiretroviral(s) (ARV) to treat human immunodeficiency virus type 1 (HIV-1) infection.
The treatment is indicated for adult patients who are heavily treatment-experienced (HTE) with multi-drug resistant (MDR) HIV-1 infection.
This approval is backed by findings from the multicentre, double-blinded, placebo-controlled, international Phase II/III CAPELLA clinical trial of lenacapavir plus an optimised background regimen.
Subcutaneous lenacapavir's antiviral activity administered every six months was analysed in the trial.
According to the findings at week 52, 83% of the subjects who received lenacapavir plus the background regimen attained an undetectable viral load.
These subjects also had a mean rise in CD4 count of 82 cells/µL.
A long-acting HIV capsid inhibitor, Sunlenca is intended for dosing twice a year.
It acts by hindering the protein shell (capsid) of the HIV-1 virus to hamper the viral lifecycle's steps.
Sunlenca is also said to be the first-ever capsid inhibitor-based HIV therapy to receive such approval.
At present, lenacapavir, alone or in combination, is approved by regulatory agencies in the US, UK, Canada or the European Union.
Gilead Sciences chairman and CEO Daniel O'Day said: "This news is an important milestone in the work to help end the HIV epidemic as Sunlenca is now the only FDA-approved twice-yearly treatment for people with multi-drug resistant HIV.
"Our goal is to deliver multiple long-acting options for treatment and prevention that are tailored to the needs of people living with HIV and people who could benefit from PrEP medicines."
In November this year, the company obtained expanded marketing authorisation from the European Commission for Biktarvy to treat HIV infection in virologically suppressed children.