GentiBio and Bristol Myers Squibb (BMS) have signed a multi-year partnership agreement for developing new engineered Treg therapies for inflammatory bowel disease (IBD) patients.
These therapies will be developed for re-instating immune tolerance and repairing tissue in IBD.
The alliance will merge the engineered Treg platform of GentiBio for creating stable, scalable, well-selective and long-lasting Tregs with the cell therapy and immunology expertise of BMS.
According to the agreement, BMS made an undisclosed upfront cash payment to GentiBio. 
GentiBio is also entitled to receive potential payments up to $1.9bn on meeting development and sales milestones apart from royalty payments.
BMS Immunology, Cardiovascular and Fibrosis Thematic Research Center senior vice-president and head Robert Plenge said: "Tregs have demonstrated the potential to suppress inflammation and autoimmune dysfunction in a tissue-restricted manner, thus avoiding widespread, and potentially harmful, immune suppression.
"We are excited to collaborate with GentiBio as we explore creating potentially promising Tregs for patients suffering from IBD."
Under the deal, GentiBio will leverage its modular engineered Treg platform as well as scalable production process to manufacture engineered Tregs which are stable and specific to the disease against various targets. 
Furthermore, BMS will hold the right to develop and progress up to three programmes resulting from the partnership into clinical trials.
GentiBio co-founder and CEO Adel Nada said: "Unlike existing therapies, Tregs have the unique potential to re-establish immune tolerance in autoimmune and inflammatory diseases such as IBD.
"This strategic collaboration reflects our shared commitment to creating innovative immunotherapies that are designed to be potent, durable, selective and have the potential to significantly shift the standard of care for patients with autoimmune and autoinflammatory diseases."
IBD is a fatal, chronic inflammation of the gastrointestinal tract.
In June this year, BMS and Immatics expanded strategic collaboration for developing multiple allogeneic off-the-shelf T cell receptor-based therapy and/or chimeric antigen receptor T programmes.
Cell & Gene Therapy coverage on Pharmaceutical Technology is supported by Cytiva.
Editorial content is independently produced and follows the highest standards of journalistic integrity. Topic sponsors are not involved in the creation of editorial content.
Free Whitepaper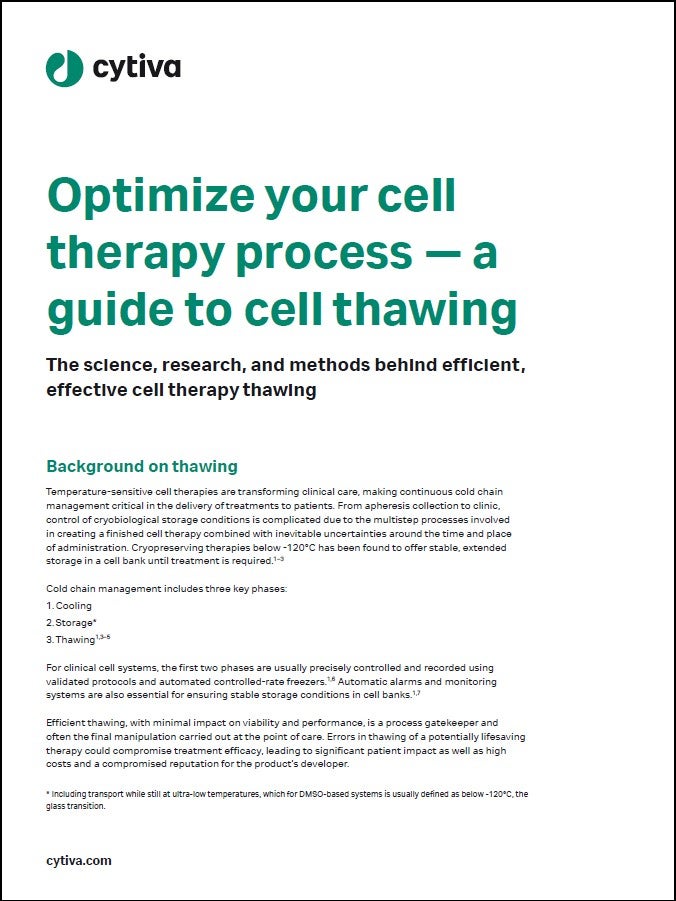 Optimise your cell therapy process: a guide to cell thawing
Typically carried out at the point of care, errors in cell therapy thawing could compromise treatment efficacy, leading to significant patient impact as well as high costs and a compromised reputation for the product's developer. This guide addresses how cell thawing has historically developed into the new techniques used today, along with the physical and biological implications of key metrics and components such as warming rate and ice structure. Also included are reviews of key studies from scientific literature and a consideration of the interactions between cooling and warming rates, as applicable to cell and gene therapies.
by Cytiva Thematic
By clicking the Download Free Whitepaper button, you accept the terms and conditions and acknowledge that your data will be used as described in the Cytiva Thematic privacy policy By downloading this Whitepaper, you acknowledge that we may share your information with our white paper partners/sponsors who may contact you directly with information on their products and services.

Visit our privacy policy for more information about our services, how we may use, process and share your personal data, including information on your rights in respect of your personal data and how you can unsubscribe from future marketing communications. Our services are intended for corporate subscribers and you warrant that the email address submitted is your corporate email address.