GreenLight Biosciences has entered a partnership with the US National Institutes of Health (NIH) for the development of Covid-19 vaccines, which offer broader protection against new variants and with durable effects.
The company will jointly design and analyse messenger ribonucleic acid (mRNA) Covid-19 vaccines in partnership with the NIH unit National Institute of Allergy and Infectious Diseases' Vaccine Research Center (VRC).
They intend to develop vaccines that provide lasting immune responses compared to existing vaccines.
Furthermore, the parties will collaborate on the joint development of systems that accelerate the latest designs into clinical usage.
GreenLight Biosciences Human Health chief science officer Amin Khan said: "This is a tremendous opportunity for us to partner with a premier vaccine discovery team and use our mRNA platform to accelerate the development of coronavirus vaccines which are more broadly protective and durable than those currently available."
According to the NIH, cooperative research and development (R&D) agreements (CRADAs) provide NIH investigators with the opportunity to collaborate with their colleagues from academia and the industry to seek similar research goals.
The human health product candidates of GreenLight are currently in the pre-clinical stage.
In March, the company entered a licensing agreement with Serum Institute of India (SII) to expedite access to messenger RNA products in emerging markets worldwide.
Under this deal, SII will gain access to the technology platform of GreenLight for developing, producing and marketing up to three messenger RNA products in markets with a combined population of over five billion.
In November last year, GreenLight and Samsung Biologics entered a collaboration agreement to manufacture mRNA Covid-19 vaccines.
Cell & Gene Therapy coverage on Pharmaceutical Technology is supported by Cytiva.
Editorial content is independently produced and follows the highest standards of journalistic integrity. Topic sponsors are not involved in the creation of editorial content.
Free Whitepaper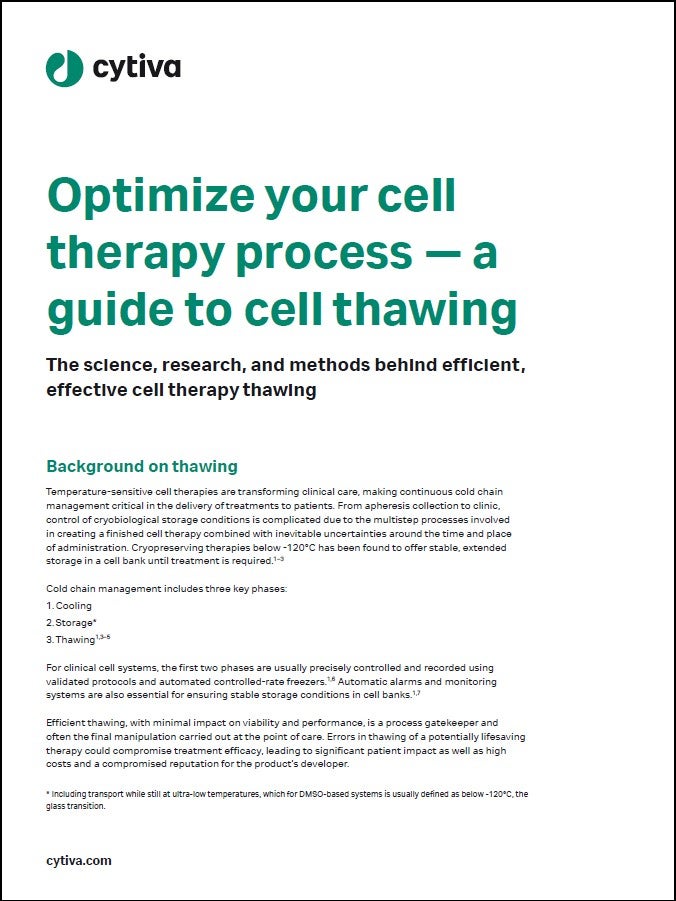 Optimise your cell therapy process: a guide to cell thawing
Typically carried out at the point of care, errors in cell therapy thawing could compromise treatment efficacy, leading to significant patient impact as well as high costs and a compromised reputation for the product's developer. This guide addresses how cell thawing has historically developed into the new techniques used today, along with the physical and biological implications of key metrics and components such as warming rate and ice structure. Also included are reviews of key studies from scientific literature and a consideration of the interactions between cooling and warming rates, as applicable to cell and gene therapies.
by Cytiva Thematic
By clicking the Download Free Whitepaper button, you accept the terms and conditions and acknowledge that your data will be used as described in the Cytiva Thematic privacy policy By downloading this Whitepaper, you acknowledge that we may share your information with our white paper partners/sponsors who may contact you directly with information on their products and services.

Visit our privacy policy for more information about our services, how we may use, process and share your personal data, including information on your rights in respect of your personal data and how you can unsubscribe from future marketing communications. Our services are intended for corporate subscribers and you warrant that the email address submitted is your corporate email address.